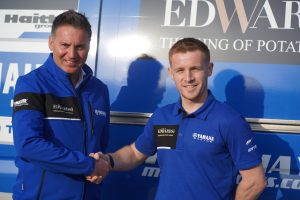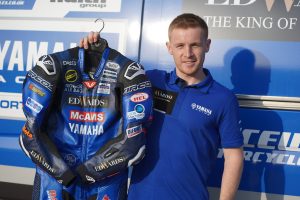 Flat-track ace turned circuit star Tim Neave will ride a Raceways Motorcycles-prepared R1 for the Edwards 1902 Yamaha team in the 2022 Pirelli National Superstock championship.
The Edwards 1902 Yamaha set-up will again run as part of the McAMS Yamaha team – 2021 Bennetts British Superbike Champions – with full support from both Raceways Motorcycles and Yamaha Motor UK.
Neave will contest an R1 built by the team in Raceways Motorcycles' purpose-built GYTR workshop alongside Tarran Mackenzie and Jason O'Halloran's race-winning superbikes.
A multiple winner in the Superstock category, Neave finished ninth in the 2021 Superstock series but has shown a vast amount of potential in his relatively short circuit-racing career.
The Lincolnshire rider has already undergone two successful shakedown tests with the R1 in Spain and will get a further taste of the machine as the first official British Superbike test gets underway at Snetterton later this week.
Launched in 2020, Edwards 1902 is a multiple award winning Single Variety Premium Vodka made exclusively from King Edward Potatoes grown on the Yorkshire Wolds and distilled at the Elsham Wold Distillery.
As well as featuring as the title-backer of the Superstock bike, Edwards 1902 branding will again feature on the McAMS Yamaha Superbike machines of Tarran Mackenzie and Jason O'Halloran.
Tim Neave
"I am really excited to be joining the Edwards 1902 Yamaha team with Raceways and McAMS Yamaha. I have been personally supported by Richard and Edwards/AKP over the last few years so it's nice to join up together for an attack on the championship in 2022. The team's pedigree speaks for itself, they dominated the superbike class last year with Tarran and Jason. I have already ridden the R1 in Superstock trim in two tests in Spain and it felt mega, there is definitely a lot of potential in there. The level is again really high in Superstock this year so it's not going to be easy, but we are up for the challenge and can't wait to get started. I'd like to thank Richard and Steve for the opportunity."
Richard Arundel – Edwards 1902 Team Manager
"The whole team at Edwards 1902 are delighted to be working with Yamaha, Raceways and McAMS for a second year and we are very pleased and excited to have signed Tim to ride for us. Edwards and the AKP Group have supported Tim as personal sponsors over the past three seasons, so the culmination of putting this great package together for him for 2022 is a proud moment for us all and we look forward to him mounting the championship challenge we know he is capable of.
"Following two very productive winter tests in Spain, we now look forward to the official BSB tests starting this weekend and going racing in less than a month.
"None of it the above would be possible without the help of some great friends and sponsors who help us go racing so I'd like to thank all of them and add a special thanks to Steve Rodgers and the team at Raceways for doing all of the hard work behind the scenes to make it happen."
Steve Rodgers – Team Principal McAMS Yamaha
"It's great to have the Edwards 1902 guys back in the garage for 2022. Our journey together has come a long way since we first joined up 12 months ago and we feel over that time we have developed the bike into a machine capable of fighting at the front in the Superstock class.
"When we heard Tim was interested in riding the R1, it seemed a natural fit for us all. He's a proven race winner and we cannot wait to see what he can do on the bike this year as we believe it has a lot of unlocked potential in Superstock trim. The first two tests have been very promising so we are looking forward to getting the season underway"