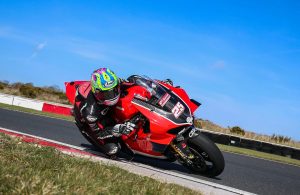 Josh Brookes was back on track ahead of this week's Bennetts British Superbike Championship R&G Official Test as the double champion completed a two day test at Bishopscourt circuit with the MCE Ducati team.
The team broke cover for the first time in 2022 at the Northern Irish circuit with Brookes completing an initial test ahead of this week's opening official action at Snetterton. The 2020 Champions utilised the track time to get back up to speed and make initial changes as they continue their preparations for the new season.   
Brookes said: "I did limited laps at Bishopscourt many years ago so it was like a new track for me on the first day. There was a bit of weather that spoiled proceedings a little on day one, and day two there were some cold and strong winds, which restricted improvement of lap times, but the focus was obviously to get going again after the winter.
"We made some good changes and I have had a change of staff on my side of the garage, as Chris [Adams] has moved across for this season. We focused on throttle connection, fueling and acceleration – the feeling of the bike and what he can do with the throttle maps. That was all positive and I felt a good direction, we still have lots more to work on but that is the focus for Snetterton.
"For us to go under the lap record was really positive given that we were out just to get things started and introduce some basic changes, I finished up happy so that was all good."
Posted on Tuesday, March 22nd, 2022 in News