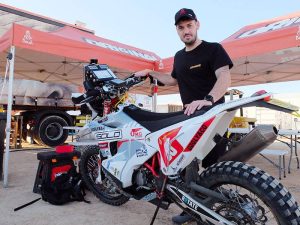 This will be a first Dakar outing for James Hillier, but the British biker is certainly no stranger to riding under extreme conditions. Since 2008, he has regularly taken part in the famous Isle of Man TT, which involves hurtling around the island's narrow and winding roads at speeds of well over 200 kilometres an hour. Having started with trials as a boy and spent over a decade participating in the world's 'ultimate road race', as he describes it, the 37-year-old is now looking forward to his debut at the world's 'ultimate offroad race'. James has gradually been drawn to hard enduro and rally raid in recent years, showing his potential by claiming top-20 finishes in Andalusia and Abu Dhabi. The Dakar is a different beast, though -and, as if getting through 15 gruelling days in Saudi Arabia wasn't enough of a challenge, he has decided to compete in the assistance-free Original by Motul class. For a man who has clocked the seventh-fastest lap time at the Isle of Man TT (at an eye-watering 132.414 miles per hour), it won't be easy sacrificing speed to make sure he stays on top of navigation and keeps his bike in one piece, but James is determined to make sure he is standing on the finishers' podium in Dammam on 15 January.
James, the first winner of the Tourist Trophy to enter the Dakar, hopes his road racing experience will assist his risk calculus and help him make it to the finish.
James Hillier has only just started dipping his toes into rally raids. The Englishman has been an enduro racer for a long time, but he has only participated in two rallies so far, Abu Dhabi and Andalusia, where he earned his ticket to the 2023 Dakar in the Original by Motul class. Yet the man from Ringwood, Hampshire, is no newcomer to motor sports. James is one of those road racing junkies who are hooked on adrenaline and want nothing more than to hurtle past the trees and low walls of the British countryside at over 200 km/h. The 37-year-old father, now based in Bournemouth, has a win and several podium places to his name in the Tourist Trophy, as well as the North West 200. He also holds the seventh fastest time ever on the 60 km Isle of Man TT Mountain Course. "Road racing puts your life into perspective", he says. "There's nothing more hardcore than this. It makes you want to seize the moment because you never know when the end will come." This taste for adventure led him to sign up for the Dakar. "I already used to watch this race as a little boy. The idea of gearing up for it and make it to the finish after starting from scratch was very exciting. That's why I decided to take the plunge." The man on KTM number 80 only truly realised the scale of the challenge when he reached the Sea Camp. "Before I got on the plane, I was so busy with all the preparations that I hardly had any time to think about the road ahead", he confesses. "I'll be honest, the bivouac blew me away. It's on a completely different level from what I saw in Abu Dhabi. It's all new to me —the people, the atmosphere…" James chose the freedom of the malles-moto for his first Dakar, which should also help him keep his feet on the ground. "My goal is to make it to the finish. I'll have to take good care of my machine, which means not pushing to the limit", he points out. "Rally raids may be less dangerous than road racing, but not by a wide margin. At any rate, my experience will help me to keep my ambition in check, as I know how far I can push and where my limits lie. Clarity of mind is key in events where everything can change at any time." Last year, Danilo Petrucci stole the show in his Dakar debut. The British biker, of course, is aware of the former MotoGP rider's exploit. "What he pulled off was incredible", he says. "I'd love to be capable of performing well here someday, but that's not my goal right now. I'm here to have fun at a reasonable pace and get my hands on the finisher's medal. I'm the first TT biker in the Dakar, I know I'll be peppered with questions when I get back home. There are quite a few road racers who would also love to discover this event." James Hillier is all set to be an inspiration for Old Blighty.
Stage 14. After completing the LAST Special Stage of
Dakar Rally
2023 James is very happy as you can imagine. HE'S ONLY GONE AND DONE IT! After Stage 5, James thought his Rally was over, BUT he pushed on to the end. Completing the Rally and doing it solo in the Motul Malle Moto with a dislocated collarbone… An amazing achievement!
Stage 13. James is currently on the Dakar Rally Special Stage of 153 km (95 miles) and then he has the second Liaison ride of 511km (317 miles) that's equal to Lands End to Donington Park, back to the bivouac.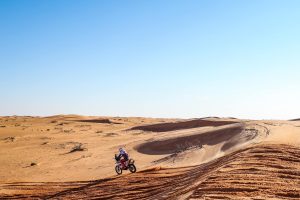 Stage 12. Whilst waiting to see if James sends us an update, GPS says he's back in bivouac after another strong performance over the 185km.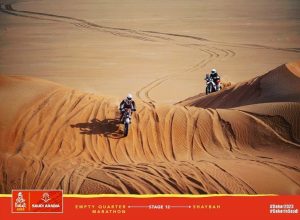 Stage 11. James is at the bivouac and after 426km today, 275km of them over some of the biggest dunes on the planet. We hope he's having a cold beer!
Stage 10. We have been waiting for a message from James, but looking at the map, I don't think there is a signal! Rally GPS says he's back at the bivouac.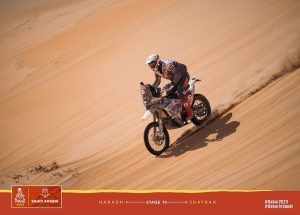 Stage 9 complete. Back at the bivouac and although tired James is happy to get the stage completed with no incidents! It was a fast SS and as you can see in the photo, he rode with several of the
Motul
Original riders. Now it's eat, prep, shower then bed!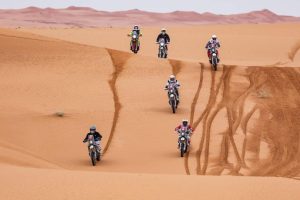 Rest day done! James spent the day giving the bike a good clean, full service, tweaks and all ready for 687km on Stage 9. Not much of a rest, but a day out of the saddle was good!
Stage 8 done. James is back at the
Dakar Rally
Bivouac and is looking forward to a rest day tomorrow. Rest day? that bike needs a wash! Another 823km today and still smiling!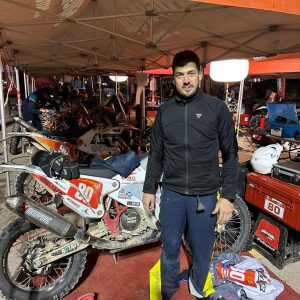 BIKE RACE: STAGE 7 CANCELLED
Faced with the weather problems experienced again today and the level of tiredness observed among all the riders in the category, the Dakar organizers have decided to cancel the special for stage seven between Riyadh and Al Duwadimi.
The bikes and quads will therefore be invited to leave the bivouac in Riyadh from 10 AM tomorrow morning and take the road section to Al Duwadimi. On Sunday 8th January, they will then contest stage 8 as rescheduled, i.e., with the special of stage 7 from the initial route, reduced to a length of 345 kilometres.
However, stage seven will be contested by the crews in the car and truck categories as well as by the competitors on the Dakar Classic.
Stage 6. The longest day on the Dakar Rally and James is back after completing 919km / 572 miles. A few changes tonight and it's started raining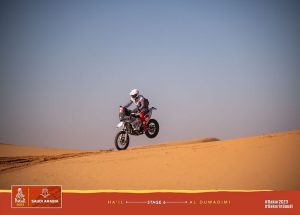 Stage 5. James has finished and back at the bivouac. Waiting for him to message for updates of how it all went but he's currently 10th the Originals and 66th overall. Lots of changes for
Dakar Rally
Stage 6 so James is busy preparing.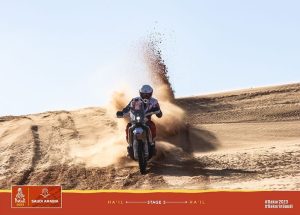 James: "Hi all, today, Stage 4 on
Dakar Rally
was another tough day. Yesterday was very hard with rain and very very cold. Early one again tomorrow but going to go a little slower, as I got a bit carried away today in places and used up too much energy. Need to save it for later in race!"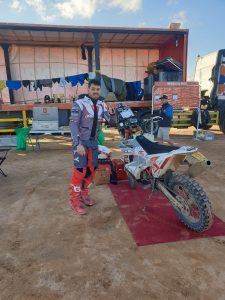 Stage 3. James took a selfie from the ride back to the bivouac after the stage was cancelled due to weather. Much like the
Isle of Man TT Races
, the weather grounded the air support so no good!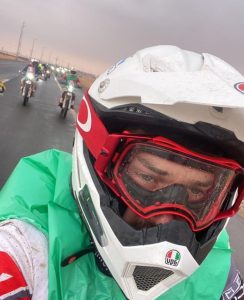 Stage 2. James: "Not going to lie, it's tough out there. Today's stage was 430 km (267 Miles) Approx 7 laps of the TT course on the sand! Got back to the bivouac and showered and ate. I had to change the wheels, and the tyres also needed replacing, then an oil change, filters etc and clean down. I'm feeling more relaxed on the bike, processing everything, and reading the terrain along with the GPS and roadmap. Plus keep out an eye for cars, quads and dust! Thanks again for the support. I'm off to bed now."