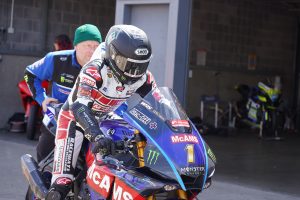 The McAMS Yamaha team is hopeful of returning to full force for the third round of the 2022 Bennetts British Superbike Championship at Donington Park this weekend.
It's the series' first of two visits this year to the iconic Leicestershire circuit, with three races over the two-mile National Layout across Saturday and Sunday.
The reigning champions were scaled down to a single-bike effort for the opening two rounds after champion Tarran Mackenzie broke his left ankle in a testing accident, but the #1 returned to the saddle of his McAMS Yamaha R1 last Thursday at Donington Park just five weeks after his crash.
Completing 30 laps of the Donington Grand Prix circuit, Mackenzie felt good on the bike and having also visited his surgeon last week for further x-rays, he was given the all-clear to proceed with a planned return at his home round. He will still require approval from the BSB medical team on Friday morning before rolling out in Free Practice for the first time this year. The 26-year-old faces an uphill challenge as he returns to action, but is excited to get his season underway at a venue where he won two races last year.
Jason O'Halloran is hoping progress made last time out at Oulton Park will see him return to the sharp end at a track where he won a race and finished on the rostrum in 2021. The Australian rider has taken a different approach in 2022, opting to use the opening few rounds to evaluate a number of new parts, but satisfied with the direction chosen in Cheshire, the rider who took the most wins last season feels confident ahead of the weekend.
Pirelli National Superstock 1000 Championship leader Tim Neave also returns to action this weekend on the Edwards 1902 Yamaha. 12 points clear at the top of the table, the Lincolnshire rider is looking to maintain his advantage with a pair of strong results from the two races this weekend.
Jason O'Halloran
Championship: 6th  (60 points)
"In the final race at Oulton it felt like we had made some real progress with the bike, so I'm looking forward to continuing that at Donington this weekend. So far this year we have worked through a lot and from that we've learned quite a bit about our package, in theory this weekend we should be able to hit the ground running and look at only fine-tuning the bike. We won at Donington last year so we know it's a good track for the bike, so hopefully we can get back up the sharp end."
Tarran Mackenzie
McAMS Yamaha
"It was great to get back on my R1 last week and I felt quite good all things considered. I've seen my surgeon and had some X-Rays and he's happy with where I'm at so I'm confident I'll be able to race. I'm looking forward to pulling my leathers back on and getting out for my first race of the year. I have no expectations, I'm just looking forward to getting back with my team and riding my bike! It will be the first time I've raced since Brands Hatch so I am really looking forward to getting back to what I love."
Tim Neave
Edwards 1902 Superstock
Championship: 1st (60 points)
"We had a test at Donington straight after Oulton and I was really happy with how it went. The R1 seems to really like the faster, flowing corners and Donington National is pretty much all fast and flowing so I'm feeling confident for the weekend. Qualifying as high as we can will be important and then we can give it all in the races to achieve the best possible result."
Steve Rodgers
Team Principal
"It will be nice to have a full garage again this weekend. I know there was some hope of Tarran returning at Oulton, but we always knew it was a long shot. This weekend we are fairly sure he will be able to return to action, he's been given the all-clear by his surgeon so if the BSB medical team are happy we should be good to go. He hasn't raced since Brands Hatch and has only done 30 laps on the bike since his injury, so we will take it as it comes this weekend – it's early days in terms of his come back. Jason and the team learned a lot at Oulton Park so hopefully we can hit the ground running at Donington, we know the potential our bike has so there's no reason we can't be at the sharp end this weekend. Tim had a really good test at Donington the other week, so we are feeling confident about what he can achieve this weekend."