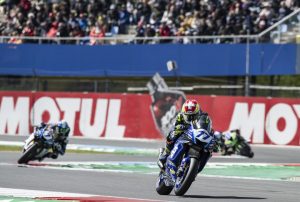 This weekend the third round of the FIM Supersport World Championship is scheduled to take place at Circuito Estoril in Portugal. At this circuit Dominique Aegerter scored his first World Supersport victory last year on the Yamaha YZF-R6 of ten Kate Racing in Race 2.
After the great weekend at the TT Circuit Assen, with a double victory from pole position for Aegerter and two points finishes for Leonardo Taccini under the watchful eye of the many sponsors and relations, Ten Kate Racing hopes to maintain this form for the third race weekend of 2022. This winter Ten Kate Racing tested at the Circuito Estoril but the two-day test at the Portuguese circuit was mainly hit by bad weather conditions.
For Leonardo Taccini it will be a challenging weekend, the Italian had to undergo an 'arm-pump' operation last week as he suffered from arm pump in Assen. The operation was successful but the wound on his arm will need some time to fully heal.
Dominique Aegerter: "I am really looking forward to this weekend in Estoril to be back with Ten Kate Racing after a one-month break. The weekend in Assen was great with the double win. We are thirty points ahead in the championship but that doesn't mean anything yet. Last year I took my first World Supersport win at Estoril and we tested there this winter, even though it was only twenty laps in dry conditions. It's a track I love and our aim will again be to compete for the podium and the win."

Leonardo Taccini: "This race weekend at Estoril will be a bit strange because it's going to be tougher than the previous race weekends this year. The goal is obviously to become faster than I was with my arm which is now operated, but that is going to be difficult this weekend. The problem I had in Assen with my arm was too big and it was holding back my performance, so there was no other option than to have the operation.

The operation went well so now I am trying to prepare as well as I can for this weekend's races. Of course I will do my best in Estoril but I want to make sure I don't have any further injuries to my arm so I am fit for the rest of the year and can achieve the goals I have set with the team."

Kervin Bos – Team Manager: "The third round of the World Supersport championship is coming up at Estoril, a circuit we like. We tested there this winter and we had a good weekend there last year as well. With Dominique's double win at Assen and his MotoE victory at Le Mans last Sunday, we can say he is in top form.

For Leonardo it will be a tough weekend as he had surgery on his right forearm last week, the infamous 'arm pump' operation. In consultation with him we decided to have the operation as soon as possible so he can be fit for Misano. But Leonardo is very tough so I expect him to score points in both races again this weekend. The team is really looking forward to racing again at Estoril."