Brad Ray – OMG Racing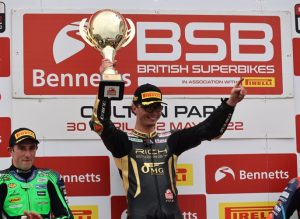 Bennetts British Superbike Championship leader Bradley Ray begins the 2022 Showdown heading the chasing pack as Oulton Park hosts the decisive opening round of the final three round title fight this weekend.
The Rich Energy OMG Racing Yamaha rider carries the momentum of a treble win last time out at Snetterton, holding a 13-point advantage over his closest rival Jason O'Halloran ahead of the crucial nine races.
Ray said: "I am looking forward to getting to the Showdown; obviously I have had a really good run heading into it and probably the best BSB season of my career. It is crunch time now and we have the last nine races to try to be as consistent as possible.
"I have an advantage going into the Showdown of 13 points and 30 on Taz who are closest, so we will be doing the best job we can and trying to stay in front. It is going to be difficult over these last nine races but I am feeling good and we have come off of a run of two really positive rounds, including the triple win at Snetterton, my first ever. I am feeling really good in myself and I am looking forward to it.
"It has been an unbelievable season so far and we will keep attacking every round like we have been, we won't change too much as the outcome will be the outcome, but I will approach every weekend the same as I have all season. We will hopefully then work out what the plan is as we head to Brands Hatch! I am looking forward to heading to Oulton Park this weekend to start the Showdown fight and we will see what happens."
Jason O'Halloran – McAMS Yamaha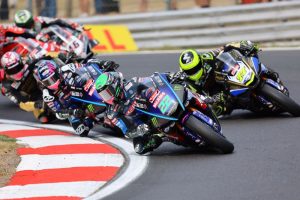 Jason O'Halloran kicks off the Bennetts British Superbike Championship Showdown at Oulton Park this weekend holding second in the standings for McAMS Yamaha, with the Australian trailing his Yamaha rival by just 13 points.
O'Halloran starts the Showdown with seven victories to his tally, matching that of Bradley Ray ahead of him in the title chase, but ready to overhaul his rival in his quest to become British Champion for the first time.
O'Halloran said: "I am looking forward to Oulton Park and the Showdown getting started now. We have had another strong Main Season with seven wins, which has been good and working through a lot of things so now we are looking forward to the final nine races we have coming up. We will put our best foot forward to be as strong as possible.
"Snetterton wasn't ideal as I had quite a few problems and it wasn't the weekend that it could have been, but the best thing was that we finished on a positive note and were strong in the last races with the changes that we had made and the bike felt good. I am looking forward to taking that positive momentum now into Oulton Park, a track that I enjoy and really like racing at and to getting started.
"It is a busy couple of weeks coming up now with back to back rounds with Oulton Park and then straight to Donington and then the one weekend off before Brands Hatch, but I feel that we are in a good place and I am looking forward to what is ahead. I can't wait to get started and see what we can do."
Tarran Mackenzie – McAMS Yamaha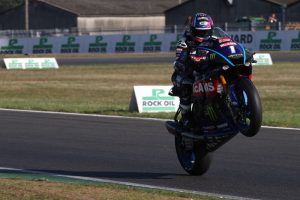 Tarran Mackenzie is ready for the opening round of the Bennetts British Superbike Championship Showdown at Oulton Park this weekend (23/24/25 September). The reigning champion starts the final phase of his title defence in Cheshire with exactly the same deficit as he overcame last season to claim the crown.
Mackenzie was sidelined earlier in the season through injury, but since returning the McAMS Yamaha rider has continued to claw back the lost ground, crucially making the all-important top eight last time out at Snetterton.
Three victories and a total of nine podiums means the defending champion begins the Showdown from third in the overall standings, with a 30-point deficit to Bradley Ray at the top of the title fight, with the pair split by his McAMS Yamaha teammate Jason O'Halloran.
Mackenzie said: "For me coming back from injury at the start of the year, my expectations and the team's expectations were just to try and get into the Showdown so that was a big box ticked at Snetterton. I think for me now anything from now until the end of the season is going to be a big bonus.
"It is one thing to be in the Showdown, but the fact that I am in it and in a position where I can still realistically challenge for the championship is great and anything is a bonus now.
"Oulton Park is a track I absolutely love and I have good memories there from last year for the first round of the Showdown. I unfortunately missed it earlier this year due to injury, but I still think I can go there and have a really good race weekend.
"The way I left there last year was good and the bike hasn't changed too much, so it will be a case of getting back into the swing of things there. Obviously, I left Snetterton full of confidence and as we know in the Showdown, anything can still happen. We just have to take it race by race, like we did last year and see what happens.
"I think Brad is one of the favourites for sure, he is leading the championship and having a really strong year so far. Jason is going to be strong and with his experience and the bike he has underneath him, he can turn it around going into the last three races.
"They are the two that lead the standings, but all of us in the Showdown have won a race or been on the podium and have every chance to do it again over the last nine races. Anything can happen in the Showdown and it is going to be a very exciting end to the year.
"For me and the way the season has gone, to still be in with a chance of winning the championship is great. It's also weirdly the exact same points that I was off the lead going into the Showdown last year, so it is quite funny how it has turned out.
"It has definitely gone better than expected so let's see what happens in these next three rounds. I just want to enjoy it and end the year on a high."
Glenn Irwin – Honda Racing UK
Glenn Irwin is gearing up for this weekend's opening Bennetts British Superbike Championship Showdown round at Oulton Park, bidding to build on his fourth place in the overall standings as the Honda Racing UK contender bids to overhaul the Yamahas ahead of him.
Irwin has claimed three victories this season and is optimistic that the recent development undergone by the Honda Racing UK team in recent rounds will provide the boost he needs for the final three rounds Showdown.
Irwin said: "Firstly it was really nice to secure the Showdown spot and go into the final three rounds in fourth in the championship and ever so close to third. Now we start again at Oulton Park this weekend. The last time we raced there was probably the best round we had there on the Honda – I had my fastest ever lap and since then the bike has changed a bit, particularly with the swingarm and the engine braking so I am optimistic and excited to see how our upgrades feel and work there.
"It was confidence-wise, to be able to run with Brad and Taz, matching their pace in race two and physically being with them in race three, has given us all a great lift at Honda. We aren't looking at any particular riders, but if anything now I have to look at the three riders in front of me.
"We have a fighting chance to win the championship and I think we have a great chance of finishing in the top three, but I am also very aware that if we drop our game and feel like the job is done now we have made the Showdown that we could end the championship in eighth. That is something we can't think about whatsoever.
"We need to keep our heads down; Oulton Park is a track that has been more difficult for the Honda in the past but it improved the last time we were there. I feel that with the recent chassis and electronic improvements, we can make another step and a step that will be needed if we will challenge for the podium this weekend."
Lee Jackson – FS-3 Racing
Lee Jackson kicks off his first Bennetts British Superbike Championship Showdown appearance this weekend (23/24/25 September) when the Cheshire Mouldings FS-3 Kawasaki contender heads to Oulton Park, the circuit where he claimed his first race win earlier in the year.
Jackson begins the Showdown holding fifth place in the overall standings with a 47-point deficit to championship leader Bradley Ray. There are still a maximum of 225 points available across the final nine races at Oulton Park, Donington Park and Brands Hatch, with the Lincolnshire contender ready to try and fight back into a podium position this weekend.
Jackson said: "I am really looking forward to Oulton Park; obviously it is the track where I got my first win in Superbikes earlier this year so I am ready to go back there and get stuck in! There can be pressure going back to somewhere where you have won or had a good weekend before, but I think I can take that as confidence going there and knowing we were strong. We had been running in the 33s which up until this year was literally a one off or the odd person did, so I am going back with an open mind and knowing that everyone is on form.
"My form hasn't been as good recently but I know that we can get back to the front and fight for the podiums again. The aim is the podium and if I can do that, then that will be fantastic as it will draw me closer to the championship and the aim of being in the top three and fighting for the championship.
"Of course, the Showdown is only three rounds long, so if I can get the form back that we had earlier in the season then there is no reason why we can't be fighting for the British Championship, but Brad is very strong. I need to be pushing on and aiming for the podiums now in every race to get the Cheshire Mouldings FS-3 Kawasaki back up the front."
Kyle Ryde – OMG Racing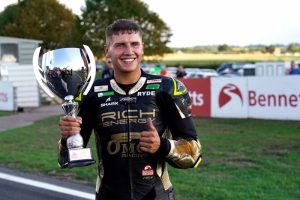 Kyle Ryde claimed his place in the Bennetts British Superbike Championship Showdown for the first time at Snetterton as the Rich Energy OMG Racing Yamaha rider withstood the pressure to deliver the results that would see him cement a top eight position.
Ryde had been precariously holding eighth in the standings ahead of Snetterton, but a weekend that included a return to the podium in the eBay Sprint Race was enough to hold off the opposition and in doing so qualify as a Title Fighter for the first time. Now the Rich Energy OMG Racing Yamaha contender has his sights set on ending his season on a high and carry the momentum to Cheshire.
Ryde said: "It was the best thing to get into the Showdown. It was a massive bonus just to get in and I dealt with the pressure at Snetterton pretty well I think, as it was massive. I qualified on the front row and I got a third place got me what I needed.
"I don't really know what to expect from the Showdown as I haven't been in one before. I know both me and Brad were fast at Oulton Park the last time we were there and then we have Donington Park, which is my favourite track and Brands Hatch, which is good for the Yamaha too."
"I am going to take it as it comes; points make prizes as they say, so we need to be consistent. I have been quite strong at some of the tracks this year, but found others more difficult. I expected to be in the Showdown when we started this year but I didn't expect it to be this hard!
"I am happy to be in the Showdown so let's see what we can do at these next three rounds."
Rory Skinner – FS-3 Racing
Rory Skinner has shown he is ready to take on the best of the Bennetts British Superbike Championship in only his second season in the premier class, making made history by becoming the youngest contender to line up in the Showdown with the Cheshire Mouldings FS-3 Racing Kawasaki team.
The 20-year-old Scot secured his Title Fighter position for the first time with one round remaining before the Showdown, as he bids for a debut race win in the class as the championship returns to Oulton Park this weekend.
Skinner starts the Showdown holding seventh place in the overall standings, but knowing that a strong weekend in Cheshire could see him surge up the order at a circuit where the team have already been victorious this season.
Skinner said: "To get into the Showdown with one round remaining was good for me, especially with how it went at Snetterton. That was a tough weekend and I had an off in qualifying and it took its toll on me. The time off to recover since then has been good and now we are looking forward to Oulton Park, the place where I got my first Superbike podium at the start of the season."
Tommy Bridewell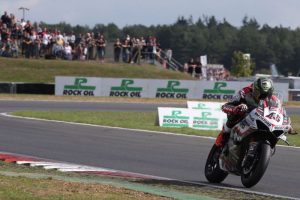 Tommy Bridewell starts the 2022 Bennetts British Superbike Championship Showdown in eighth position this weekend at Oulton Park (23/24/25 September), but the Oxford Products Racing Ducati rider is determined to try and overhaul his 53-point deficit to standings leader Bradley Ray.
Bridewell has been a runner-up in the title chase previously and knows that he needs a winning return to Oulton Park this weekend to keep their chance of celebrating a debut title alive with three rounds remaining to decide the title.
Bridewell said: "Looking ahead to Oulton Park, for me the objective is very clear. I am not interested in anything else other than becoming British Champion. I don't care about finishing in second, third, fourth, fifth, sixth, seventh or eighth – it is all the same to me.
"The objective is fairly simple; we need to win and that is it. I have to look at my main competitors and if I don't win, then it is very likely that one of my main competitors will win. I think it is fairly simplified for me, going into Oulton Park my aim is to win all three races to claw points back in the championship and I feel that if we can go there and do have that kind of a weekend then I will certainly be more optimistic that we can fight for the championship.
"If we are not able to overturn our competitors at Oulton Park then we will have more of an uphill challenge for the final two rounds. We will certainly be trying to achieve that goal, get the most out of the bike and our package and see what happens at the weekend."