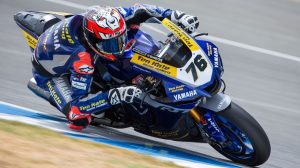 Loris Baz pictured in action with Ten Kate Yamaha
Loris Baz is off to the United States to race a Ducati Panigale V4 R Superbike for HSBK Racing in the 2021 MotoAmerica Superbike Championship.
The deal has been rumored in European-based media reports for weeks, but it has now been confirmed that the deal has gone through.
"Our only goal is to win, to be honest," Baz said. "I don't give myself two chance. I just want to win. I don't go for something else. I know the level is high in MotoAmerica and I'm not taking it easy when I say I want to win. I know what I have to do, and I know how fast I have to ride if I want to win there. It's a lot of change for me personally and a big risk moving to America and I think I still have my place in World Superbike. I want to use this opportunity to win and use it for the future. I'm happy for the opportunity that the team and Ducati and the championship gives me and I will do everything I can to win the championship this year."
"It's really cool and exciting," Baz continues. "I like the challenge and I never chose the easy way in my life. When I was in World Superbike, I tried everything to be in MotoGP. I like to challenge myself and to try new things. If I see it's not possible going the way I want, I have an open mind and I can go somewhere else. It's what I'm doing now. I know a little bit the championship, I know the guys, I've been following for years and I always watch the races. I know a little bit, but I know it will be like when I joined British Superbikes with some crazy tracks… I have everything to learn, but I am looking forward to it."
"I'm feeling good," Baz said. "It's been pretty quick, honestly, since the first call we had. We've been working really hard to make the World Superbike happen, but it was harder. I've had my mind fully on this (World Superbike) so in the beginning I was like, 'Oh, I don't know.' In 24 hours, I switched my mind and said, 'Okay, go for it. Let's do this.' I like the challenge. I've always been like this and I don't like to be on the grid to be 10 or 15. I like to be somewhere with some opportunity to win. When I understood this opportunity to go to America and win with Ducati, I was full on it so since the first day, 24 hours, and it was only big motivation to do it."
Baz knows what he's up against in coming to a series and a country that is new to him. It will be just the second time racing on Dunlop tires and he will have a new team, a new crew and new racetracks to learn. None of those faze him.
"I think there will be a time (to learn) for each thing. I'm not scared of anything and there's not one thing that I think, 'Oh, this is going to be tough.' I've been racing nearly every tyre and every bike in my life. I have only done one race with Dunlop, in the Germany Championships, but I'm not sacred of that. Racing with many tyres and many bikes in my life. Learning the tracks is something we are used to and there is a process to do it and I've always been pretty quick to do it. Learning the bike and the tyres will be at the first test, may be the end of February for the first time. That will be when I really focus on learning how to ride the bike and ride the tyres. The target is to be ready for the qualifying on Saturday and the races on Sunday."
Celtic HSBK Racing Ducati started out the 2020 season by fielding American PJ Jacobsen on a Ducati Panigale V4 R in the MotoAmerica Stock 1000 and Superbike Cup classes. Jacobsen dominated, winning the first two Stock 1000 races and the first three Superbike Cup races. But during a practice session on June 28 at Road America, Jacobsen's Ducati caught fire while he was on track at speed and he suffered serious burns that kept him out of action for the remainder of the 2020 season.
Celtic HSBK Racing, renamed as Warhorse HSBK Racing Ducati New York, brought Italian rider Lorenzo Zanetti over to fill in for injured Jacobsen in the second half of the 2020 MotoAmerica season. Initially, Zanetti rode Jacobsen's Stock 1000-spec machine in the Superbike races at Ridge Motorsports Park with mixed results. Then Warhorse HSBK Racing Ducati New York brought Zanetti back with a factory-spec Superbike and factory Ducati technicians for the round at Indianapolis Motor Speedway (IMS).
Zanetti went on to win a MotoAmerica Superbike race at Indianapolis and finish on the podium in the two other Superbike races at IMS. The 33-year-old then got on the podium in all three Superbike races at WeatherTech Raceway Laguna Seca at the end of the 2020 MotoAmerica season.
At that time, Zanetti, an official test rider for Ducati's Superbike program, and Celtic HSBK Racing leadership all said they hoped to return with the same program in 2021 if they could find the budget.
Now, Baz (who turned 28 years old on February 1) is joining the HSBK Racing Ducati team, which will be led by legendary Ducati tuner Eraldo Ferracci as Team Manager.
Baz, then 19, burst into the FIM Superbike World Championship in 2012, winning a race on his factory Kawasaki in his rookie season. Baz won another World Superbike race in 2013 and finished on the podium 14 times in total during his three seasons with Kawasaki.
Baz left World Superbike to join the MotoGP World Championship, where he raced for three seasons (2015-2017) with best race results of a fourth at Misano in 2015 and a fourth again at Brno in 2016.
Last year, Baz raced for Ten Kate Yamaha in the FIM Superbike World Championship, reaching the podium four times and finishing eighth in the eight-round, 24-race Championship.