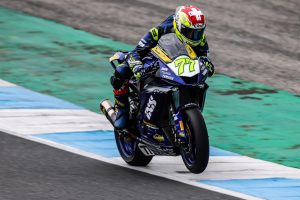 Ten Kate Racing recently travelled to southern Europe to begin preparations for the 2022 FIM Supersport World Championship season in Aragón and Estoril. For Leonardo Taccini and Dominique Aegerter it was their first introduction to the new 2022 Yamaha YZF-R6, an introduction unfortunately marked by cold, windy and wet conditions.
Traditionally, racing teams travel to the Southern European circuits during the winter months to start their preparations for the new season in sunny conditions. The Dutch Ten Kate Racing team also travelled to Motorland Aragón in northern Spain for a two-day test with Leonardo Taccini and Dominique Aegerter. Unfortunately, the weather conditions were not favourable for the team and the riders: temperatures of around 10°C, an asphalt temperature of only 6°C and a lot of rain prevented most of the riding.
From Aragón, the team travelled on to Estoril for two more days of testing on Tuesday and Wednesday. Although the temperatures were a bit higher on the Portuguese circuit, it was raining there as well.
But despite the bad weather, the team made optimal use of the scarce dry track time and was able to do the necessary testing on a wet track. Reigning world champion Aegerter showed his quickness on a dry track and made progress in the rain. Taccini too got used to the new Ten Kate Racing Products prepared Yamaha YZF-R6 despite the poor weather conditions during these two tests.
Dominique Aegerter: "During these first two tests the weather wasn't favourable to us. But okay, I think we managed to get the maximum out of it all. Here in Estoril I was immediately very quick on the first day on a dry track, but soon after it started to rain here as well. Unfortunately, I also crashed and injured my shoulder a little bit and I didn't feel completely fit for the second day. Anyway, despite the bad weather I think we managed to get the maximum out of it. I will now go back to Barcelona, try to get some rest there and then travel to The Netherlands on Sunday to test at the TT Circuit Assen on Monday and Tuesday. Hopefully the weather will be good for us and we can do two days of testing in the dry.
Leonardo Taccini: "It's obviously a shame that we were able to do so little on a dry track during these tests. But I think I have made a lot of progress. I'm getting more and more used to the Ten Kate Racing Yamaha R6 and that makes me happy. This week we will test for two days at the TT Circuit Assen, the team's home circuit. Hopefully the weather gods are better for us there, we'll see. I'm looking forward to it."
Kervin Bos, Ten Kate Racing team manager: "What can I say, the idea that you need to be in southern Europe at this time of year to get good conditions for testing doesn't seem to hold true anymore. While the weather in The Netherlands was beautiful, in Aragón and Estoril we only got cold, inclement and wet weather this past week. A pity, but we cannot control the weather. Fortunately, the boys were impressive during the scarce dry track time. It was clear that our own world champion Dominique Aegerter was immediately fast, but Leonardo Taccini – who rode for us as a substitute last year in Argentina – also managed to make good progress. We are now going to Assen for two days, hopefully the weather will be better in the coming week. "