O'Halloran quickest and Mackenzie on the pace on first day at Brands Hatch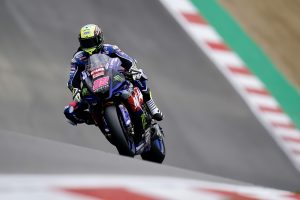 Jason O'Halloran drew first blood as the final round of the 2021 Bennetts British Superbike Championship got underway at Brands Hatch.
Murky conditions in the morning gave way to a warm October afternoon and as proceedings got underway at 12:45, both Mackenzie and O'Halloran were raring to get their final title fight underway. Focusing on used tyre pace in the opening session, the duo were quick throughout the opening session and rounded it out seventh and tenth on the timesheets, but happy with their feeling with the R1.
The temperature had risen ahead of FP2 and feeling confident, both riders were immediately up to speed. At the mid-way point, they sat first and second with Mackenzie leading O'Halloran but just 0.065 seconds split the pair.
In the final ten minutes, O'Halloran improved his time to 1'25.229 to top the pile by 0.103 seconds. Mackenzie was unable to improve his time due to a small technical problem, but remained just 0.256 seconds from the top in sixth place despite having not put new rubber in at the end. Their FP2 positions earned both riders a direct pass to tomorrow's Q2 session.
Ian Hutchinson returned to action on the Edwards 1902 R1 Superstock machine, setting the third fastest time in FP2 he rounded out the day seventh.
Jason O'Halloran
Free Practice: 1st  – 1'25'229
"It's been a really positive day for us, I feel that's the best day we've had in two rounds so I'm really happy. I've got the feeling I had with the bike in the middle of the year so I'm chuffed with that. I had a really solid run at the end and was going to improve again at the end but got caught up with a bit of traffic. We'll make a few little changes for tomorrow and get ready for race one."
Tarran Mackenzie
Free Practice: 6th – 1'25'485
"We've hardly changed the bike all day and the feeling was good but there was something feeling a bit strange with the bike in the second session so the boys worked really hard and managed to fix it in the final minutes but it meant we weren't able to improve the lap time. To have such a good feeling and be fast when the bike wasn't quite right is a good sign and tomorrow should be a better day."
Steve Rodgers
Team Principal
"Today has been good, the weather played ball which was nice and both riders were on the pace in both sessions. After setting some really competitive lap times on used tyres in the first session, they were both quick again in FP2. Jason was able to take the top spot in his second run but Tarran was unable to get back out until the very end after the bike had a slight issue, fortunately the guys found it and were able to fix it. Fingers crossed the weather continues to play ball tomorrow and we can have a good day."
Magnificent Mackenzie extends advantage with race one victory
Tarran Mackenzie delivered an exceptional performance to extend his advantage atop of the Bennetts British Superbike Championship with a sensational victory in the opening race at Brands Hatch.
Despite a decent forecast, the British weather threw a spanner in the works in the morning with drizzle during FP3. Confident with his set-up, Mackenzie sat out the session while O'Halloran had a few things to try.
Before qualifying, the heavens opened leaving the track wet. Mackenzie kept his cool and was quick throughout, taking provisional pole on two occasions before dropping down to third to secure an important front row start. Caught up in a moment involving another rider, O'Halloran was unable to improve the time he'd set earlier in the session and qualified 11th.
As the race got underway, Mackenzie got off the line strong, taking the early lead before Iddon came past. A safety car intervention on lap four, which lasted for four laps, brought the pack together. On the restart, Mackenzie was pushing his rival before making a pass at Paddock Hill bend on lap nine.
What would follow was a tense six laps, with Iddon attempting to thwart the Scotsman before Bridewell also became involved. It was the silver Ducati who would push Mackenzie at the end, but Bridewell couldn't quite secure a pass enabling the #95 to cross the line with a 0.160 second advantage. The victory extends his championship lead to 22 points with two races remaining.
It was a tougher race for O'Halloran, starting 11th, he got an impressive start making up four positions on the opening lap. After the safety car period, he moved up to sixth before picking off fifth place and then taking fourth, but the gap to the front was too much to bridge meaning that would be where he'd cross the line. He remains second in the championship, 22 points behind his team-mate.
The championship will reach its conclusion with two final races on Sunday.
Ian Hutchinson will start the National Superstock race from ninth on the Edwards 1902 Yamaha.
Tarran Mackenzie
Qualifying: 3rd         Race 1: 1st         Championship: 1st (1152 points)
"I didn't have the strongest day yesterday so to do consistent 1'25 lap times like that without much practice was great. We left the bike very similar to how it was at the first Brands in Round 3. The pace was faster in the colder conditions and I felt strong, set my fastest lap of the race on the last lap which was great. The championship isn't done yet but we have put ourselves in a better position. We have two more goes at it tomorrow. Credit to everyone as we didn't have an easy day yesterday and the boys worked their backsides off to make it right."
Jason O'Halloran
Qualifying 11th         Race 1: 4th         Championship: 2nd (1130 points)
"It was a difficult race. It was never going to be easy starting on row four and we got into a bit of a battle in the early part of the race, when I managed to get through I struggled with a bit of grip so couldn't quite chase down the front three. I gave it my all until the end and managed to take fourth place, which isn't ideal for the championship but it is what it is now. We've just got to look forward to tomorrow, unfortunately we're starting from row four again tomorrow so we'll look at the package overnight and see if we can find a bit more grip and try and win tomorrow."
Steve Rodgers
Team Principal
"We said we'd come here and treat Saturday like a normal race day and Tarran did just that. He's been so impressive this second half of the year, he's cool, calm and collected and it's showing on track as that was another mature, intelligent ride under a lot of pressure from his rivals. It definitely feels better having a bit of a bigger buffer over our rivals now, but this is BSB and it's not over until it's over. We've got two races tomorrow so let's see what it brings. It was a tougher race for Jason who struggled with a lack of rear grip. We'll take a look at the data tonight and see if we can improve the package for tomorrow."
Mackenzie crowned 2021 British Superbike Champion with Brands treble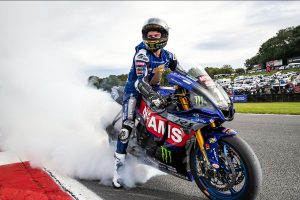 Tarran Mackenzie secured the 2021 Bennetts British Superbike Championship crown this weekend with three stunning displays at Brands Hatch. Team-mate Jason O'Halloran returned to podium form and secured the team a one-three in the 2021 standings.
After victory on Saturday, Mackenzie and team-mate O'Halloran sat out much of the cold and damp morning warm-up, opting to complete a single lap ahead of Sunday's two races.
The title-deciding second race was a tense affair with Mackenzie holding second position throughout the opening stages. Catching the leader by the halfway point, Mackenzie was looking to get ahead. A brave but clean pass into Paddock Hill bend gave the #95 rider the lead, but it didn't last long.
Recovering from a moment at Stirling's, which saw the leading two collide, Mackenzie slipped back to second with four laps to go. Not giving up, the Scotsman dug deep, bridging another gap to put the Yamaha within striking distance. With the battle going to the wire, Mackenzie ducked underneath Bridewell on the run to the line, taking victory by just 0.087 seconds, crowning him the 2021 Bennetts British Superbike champion.
After a strong start, O'Halloran settled into the top four positions early on. Fighting Iddon for third, the McAMS Yamaha rider made the move stick on lap eighteen. Unable to catch the riders ahead, O'Halloran settled for third.
Race three got underway and immediately saw Mackenzie at the front. However, the 25-year-old had to relinquish the lead to Bridewell as battle commenced once again. Sitting behind the Ducati, an identical move to his race two-winning overtake put the Yamaha in front, but the lead was short-lived. Determined, Mackenzie launched another attempt on the final lap and secured the lead, but a mistake at Stirling's saw him slip back to second once again. Keeping his cool, he passed Bridewell in another final corner showdown to claim a heroic treble.
O'Halloran got off to a strong start in his final race of the season. The 33-year-old dropped to fifth in the early stages of the race. A crash for two riders ahead promoted him back onto the rostrum where he eventually finished. The third place for O'Halloran confirmed his third position in the overall 2021 standings.
Mackenzie's treble and a brace of podium finishes for O'Halloran take McAMS Yamaha's win total for the season to 21 victories with an additional 20 podium finishes between the pair. A sensational season also saw McAMS Yamaha and Yamaha crowned team's and manufacturer's champions.
Tarran Mackenzie
Race 1: 1st       Race 2:  1st        Race 3: 1st                Championship: 1st 
"It was nice to end the year with ten victories, a nice round number! The goal for race two was to get the job done, I knew I had to win and it was amazing to do it as it took the pressure off for the final race. I didn't have much preparation between races two and three but I felt comfortable behind Bridewell. He was setting a good pace but I managed to claw it back at the end. I made the pass on the last lap but after a mistake at Stirling's, he got me back. I managed to get it across the line to complete the triple and to extend the championship lead, which I didn't need to do anyway! It's been an amazing weekend and an incredible season for everyone involved and I can't thank the McAMS Yamaha Team enough."
Jason O'Halloran
Race 1: 4th       Race 2:  3rd       Race 3: 3rd                Championship: 3rd
"Looking at the year as a whole, we've had a great year. 11 wins and 22 podiums and I secured my 50th BSB podium in race three, which is a nice way to end the season. Unfortunately, the showdown didn't go our way, but that's life, you have to accept it, take it on the chin, regroup and come back stronger. I'm always looking to improve so I'll be busy over winter doing my homework, that's for sure. Congratulations to the team and Taz, they deserve the title with how Tarran has performed in the final few rounds and I'm so happy for Steve and everyone at McAMS for the championship."
Steve Rodgers
Team Principal
"Wow, what can I say? Today has been absolutely incredible. An excellent way to end an excellent season. We have been racing for a long time and always finished second, I think overall we've been runner up five or six times so for Tarran to take us to the top today is superb, and what a way to do it too. This season has been phenomenal, 21 victories and only a handful of races without one of our riders on the podium. It was great to have Jason back on the podium this weekend, he has had such an immense season it's a shame it just didn't quite work out for him in the end but you can't take away what he's achieved this year, he's been brilliant. A huge thanks to our entire team, every single person in it plays a huge role and without them it wouldn't be possible. Thanks to our sponsors, supporters and everyone else involved. It's time for a beer!"