Mixed fortunes for Honda Racing UK at Brands Hatch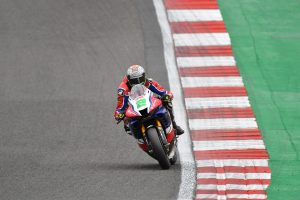 Glenn Irwin secured a top-ten finish in today's opening British Superbike race at Brands Hatch – where ninth place for Glenn aboard the Honda CBR1000RR-R Fireblade SP was the pick of the results. 
Having qualified eighth earlier in the day, across the 16-lap race Glenn had made his way into sixth, but eventually slipped back to ninth where he crossed the line, with teammate Takumi Takahashi 17th, having made his way through the pack from his 24th grid place. Ryo Mizuno's race came to an early end after an issue with the gear shifter saw him pull in at the end of lap seven, where he was sitting 23rd, having made his way through from 27th.
Today was bittersweet for Tom Neave who qualified 19th in mixed conditions ahead of tomorrow's final Pirelli National Superstock Championship race. Tom's result from today doesn't reflect the pace he's had aboard the Fireblade in dry conditions, where on yesterday's combined practice times he was second fastest overall, and topped the time sheets in this evening's final free practice. 
Tomorrow the team will be back in action at Brands Hatch, as the 2021 Bennetts British Superbike Championship draws to a close with the final two Superbike races and the deciding Superstock race. 
Glenn Irwin 
"Qualifying was good and we tried the new Pirelli rain tyre, but it wasn't what we expected and perhaps we needed a different setting, so a quick pitstop gave us the chance to try and get up there on the grid and we managed eighth. The race was good fun, and our pace at the end was quite comparable to the likes of Jason [O'Halloran] during the last few laps, which is a huge step from when we were here last time. The race was throughly enjoyable, I felt good, the shoulder is what it is and I'm starting to use my body to compensate the weakness, but it was enjoyable and was nice to be battling with the right riders at Brands Hatch."
Ryo Mizuno
"It was an unfortunate opening race for us. I crashed early in FP2 yesterday, and today I had to retire from the race with a broken shifter. It's been a difficult session all weekend but tomorrow is the end of the season, and I'm looking forward to giving it my all."
Takumi Takahashi
"I didn't have a good feeling during qualifying in the wet and I couldn't get a good lap time. In Race 1 we made some improvements with the swingarm that we've been using since the last race at Donington, and I was able to ride consistent lap times, although we still need more. Tomorrow for Race 2 I will start from a better grid position than today, so we will try to make even better steps."
Tom Neave
"We've had really good speed in the dry across the weekend and on the practice combined times we were second fastest, I felt really good and everything was working really well, but we got caught out in qualifying today. It was spitting for 3/4 of the session and dried up with about eight minutes to go, and unfortunately we didn't get the tyres swapped in time. No one was to blame – it was just one of those unfortunate things that hampered my qualifying position. On dry times we were second fastest and tomorrow we're starting the race 19th, which clearly doesn't reflect any of our speed or pace this weekend in the dry. My start position tomorrow will make an entertaining race, and we'll try to turn it into a positive. "
Celebrations at Brands Hatch for Honda Racing UK
Today at Brands Hatch for the final round of the 2021 Bennetts British Superbike Championship, Tom Neave and the Honda Racing UK team are celebrating after being crowned the 2021 Pirelli National Superstock Champions with the CBR1000RR-R Fireblade SP. 
Going into the race Tom was 22-points ahead of his championship rival Billy McConnell, meaning that to secure the championship, Tom needed only four points, irrelevant if Billy won the race, but having qualified 19th there was some work to do for the Honda-rider. 
Off the line Tom knew what he had to do and made his way through the pack lap by lap, and by lap seven he was up to 13th. Meanwhile up ahead Billy had taken the lead and the pair were both tied on points, however Tom rode carefully to keep pushing up through the pack where he eventually took the chequered flag in eighth place, and as the 2021 Pirelli National Superstock Champion.
Meanwhile in the British Superbike Championship, Glenn Irwin took a ninth place finish in the day's second race, but retired early from Race 3 following an engine issue. Plagued with a shoulder injury throughout the latter part of the year, Glenn finishes the season eighth overall having scored a win, two-second places and a third throughout the season. 
For Glenn's teammates and BSB rookies Ryo Mizuno and Takumi Takahashi, the British championship has been an exciting, but a steep learning curve with new circuits to learn each time out. Finishing today's races in the points Takumi took a brace of 15th places, with Ryo finishing 20th in both.
Honda Racing UK will now look forward to the 2022 season, where the team will be announcing its plans very soon. 
Glenn Irwin
"I felt confident in the last race of the day and I felt strong but a technical problem put me out of the race, which wasn't an ideal end to the season. But huge congratulations to Tom and the team, there's a good vibe, he's a rider with a lot of talent and deserved the title. It's been a rollercoaster of a season and huge thanks to my team, we've come a long way this year from where we started and they turned it around. We made the Showdown, four podiums, a race win and a couple of Pole Positions in what I would call a difficult year, it could have been much worse."
Ryo Mizuno
"It was a difficult weekend. We did the best we could but we couldn't get the feeling right. It was a disappointing end to the season but it also showed that we can still improve. I have been racing in BSB this year and it has been a very good experience for me. I will continue to work hard every day to improve. Thank you very much to the team for the whole year."
Takumi Takahashi
"In Race 2 I didn't get a good start and lost some places but I started to feel better with the swingarm that we have been using and I was able to push a bit more. In Race three I tried a different set-up to make it even better but I didn't get a good feeling and it was a difficult race. But I think we can see some possibilities to use this swingarm better after the last two races, so that's a good thing.
Thank you to the team for all the hard work all year!"
Tom Neave
"It's an absolute dream come true, it's not just a championship for me, but it's a championship for the whole team, all my crew, everyone who's supported me and got behind me – it's been a hell of a year and the best season to win the title in, I'm not just saying that as I've won this year, it's been unreal, the riders and the depth of field. I'm so grateful to Honda for giving me this opportunity three years ago when I wasn't too proven, so the championship is for them and I cannot wait to see what the future holds."