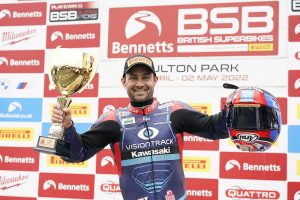 Leon Haslam returns to Donington Park for his home round of the Bennetts British Superbike Championship next weekend (20/21/22 May) and the 2018 champion is bidding to build on his podium finish from last time out at Oulton Park.
Haslam has been getting to grips with the VisionTrack Kawasaki since making his return to home soil from the World Championship, claiming his first podium with the team last time out.
Haslam said: "We are making good progress; round one was obviously very difficult with limited testing and being thrown into it, but we made massive steps from there to Oulton Park. I struggled in race one, but then made some really good steps with the information that we found to actually get onto the podium, which was very unexpected at this early stage.
"Looking ahead to Donington Park, my home round, I can't even remember if I have ever even raced on the National circuit before! That should be a different experience for me, so I am looking forward to that.
"It is a circuit that obviously I know very well, and the Kawasaki has worked well there in the past, so hopefully we can continue making the progression with the bike and the team to continue working towards where we need to be."
Posted on Wednesday, May 11th, 2022 in News