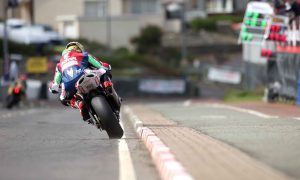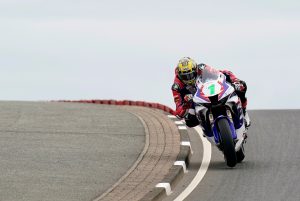 Glenn Irwin set the fastest-ever lap around the current 8.9-mile NW200 circuit on Thursday morning to claim pole position for Saturday's two Superbike races.
The Honda Racing rider led for much of the session but after briefly being pushed back to second by Peter Hickman (FHO Racing BMW), a lap of 4'20.205s (124.102mph) sent him more than two seconds quicker. Richard Cooper (Hawk Racing Suzuki) placed third to join them on the front row.
Strong winds were again an issue but the 8.9-mile circuit was dry all round and it was Irwin who was first to set a time, a lap of 4.25.498s already 3.5s quicker than Josh Brookes' quickest lap from Tuesday. That put him 3.3s ahead of Cooper with James Hillier, Alastair Seeley, Conor Cummins and Lee Johnston following. Ian Hutchinson, Dean Harrison, Michael Rutter and Hickman completed the early top ten.
Next time around, Irwin quickened his pace to a 4'24.340s but although Cooper was still in second, he'd cut the gap to 1.9s. Johnston moved up to third and was a similar distance behind whilst Cummins, Hutchinson, Harrison, Rutter and Hickman all returned to the pits to make adjustments.
Meanwhile, an impressive lap came from newcomer Nathan Harrison, the Manxman slotting into 14th, one place behind John McGuinness and ahead of the likes of Brookes, Michael Dunlop and Gary Johnson.
Circulating at the head of the field, Irwin continued to bang in the laps and shaved another 1.3s off his time on his fourth flying lap, a time of 4'23.036s extending his advantage over Cooper to 3.2s. Johnston, Hillier, Seeley and Cummins continued to occupy third to sixth with Nathan Harrison now up to 12th.
With 30 minutes to go, more changes in the leaderboard started to happen and Davey Todd was one of the first to move, the Milenco by Padgetts Honda man moving up to fifth. He wasn't there long though as Dunlop jumped up from 16th to second on the Hawk Racing Suzuki although he was still 2.3s adrift of Irwin.
Dean Harrison then moved up to fourth before Todd quickly relegated him a position whilst Brookes got back into the top ten as he moved up from 17th to ninth in the MCE Ducati albeit still 1.6s off his Tuesday time. Cooper also improved his time to close to within 0.6s of Dunlop but he remained in third.
With 15 minutes to go, Hickman went to the top of the timesheets to finally dispose Irwin, his time of 4'22.447s putting him half a second clear of the Carrickfergus rider. Cooper also made a late improvement, a time of 4'23.996 seeing him go third quickest and push Dunlop back onto the second row.
However, Irwin responded in brilliant fashion with a stunning lap of 4'20.205s some 1.8s inside the outright lap record and putting him a more than healthy 2.2s clear of Hickman. It was also 1.5s quicker than the best ever qualifying lap, set by Irwin in 2019, of the current NW200 circuit configuration.
Hickman and Cooper remained in second and third with Dunlop, Harrison and Todd completing the second row. Hiller, Brookes, Johnston and McGuinness rounded out the top ten with Seeley, Rutter, Cummins and Hutchinson outside. Nathan Harrison's impressive session ended with him in 16th place.