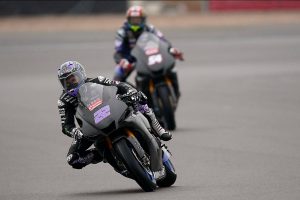 Jason O'Halloran was on the pace as pre-season testing came to its conclusion at a soggy Silverstone, competing for the top of the timesheets on the final day of testing despite only having limited laps under his belt.
Testing was a challenging affair for the team with all four days wet, limiting running for O'Halloran and rookie team-mate Tim Neave. Weighing up risk versus reward, they sat out most of the Donington test before hitting the track at Silverstone, mainly on the second day with conditions at least warmer if not drier.
O'Halloran was able to evaluate the new engine spec in the wet and a couple of other components. With two bikes in the garage for O'Halloran to allow him to back-to-back different specs, the Australian instantly felt comfortable on both bikes and with Silverstone traditionally a strong track for the R1, the team are feeling confident ahead of the opening round next weekend and will seek to further evaluate the new components at the Oulton Park test later in April.
Tim Neave's pre-season was all about getting up to speed on the bike. The team barely touched a click on his R1 as he lapped in the wet, getting more and more comfortable as the sessions went on. Comfortable on the bike and with nothing to test, he sat out of the final session at Silverstone having lapped competitively in the penultimate outing prior to a red flag bringing the session to an early end.
O'Halloran returned to the track for one final session ending the day second quickest overall with a lap time of 59.321 but more crucially feeling strong on the bike.
The team return to the track at Silverstone next weekend for the opening round of the 2023 Bennetts British Superbike Championship.
Jason O'Halloran
McAMS Yamaha
"Obviously I'd have been a lot happier if we'd had four dry days on track, but all things considered I'm finishing pre-season testing feeling pretty good. You are limited what you can try in the wet, but I'm feeling really comfortable on the bike and I'd say at this stage we have taken a step forward for 2023 with the engine, so it will be interesting to evaluate that in the dry. I felt comfortable on the bike every time I went out, on both the new specification bike and the older one so we know whatever we go with at Silverstone next week we should be competitive." 
Tim Neave
McAMS Yamaha
"Testing hasn't been perfect given the limited track time but the time I've spent on the bike has been really positive, every lap I felt more comfortable and especially in the final session I rode, I felt good and almost up to speed – for in the wet anyway! I'm looking forward to trying it in the dry now. We sat out of the final session at Silverstone as it's not about lap times, it was more about feeling comfortable and I got to the stage where I was feeling good so we left it at that and will get back on next week when it really matters!"
Steve Rodgers
Team Principal
"It's not been the best four days on track weather wise but the running we have had has been really positive. Tim just needed laps on the bike and he's had a fair few, albeit in wet conditions, but it's a good introduction to a Superbike without traction control! He really impressed me to be fair, not just with his speed but the fact he's got a sensible head on his shoulders. What can we say about Jason? He's hardly turned a wheel since Brands Hatch last year and he's straight on and mixing it at the top of the timesheets immediately in quite sketchy conditions. We feel we've managed to take a further step with the bike this year so despite a lack of laps in testing, we are feeling good ahead of next weekend."