Today is International Women's Day and we want to give a huge shout out to all the women in motorcycling from professional racers to road users, track day riders and off roaders. Here we have rounded up some of our best female professional racers…
Leah Tokelove
First up on our list is Leah Tokelove. Leah has been taking the flat-track scene by a storm. She started her racing journey off in 2013, progressing rapidly, and then become the first female to win a Championship in the 125cc class in 2014. After taking the podium a number of times in 2018 Leah got offered by Indian Motorcycles to race their Scout Sixty Hooligan bike in the DTRA Hooligan Championship. Not only having an excelling racing career, Leah also founded a race-school called 'Days in the Dirt' which offers women who are interested in riding an opportunity to learn new skills and get on the track.
Maria Costello MBE
Next on our list is Maria Costello MBE. Maria is the only person on the list that has managed to earn herself that prestigious title and we completely understand why. Maria is from Northampton. Costello broke history when she was the first woman to stand on the podium at the Isle of Man TT. She took third place in the 2005 Manx Grand Prix. She was also a Guinness World Record holder for being the fastest woman to cover the Isle of Man TT course until someone took the record in 2009. Alongside this she's also managed to accomplish being a Sports Personality of the Year, a published author, a character in a video game and even a stunt double in a Hollywood movie. Maria continues to keep inspiring women riders by also created her women only track-days 'Woman on a Motorcycle' which has been run by BMW Motorrad UK. They are proving to be extremely popular with the female riders as Maria aids to improve their skills with her expertise.
Ana Carrasco
Now we have Ana Carrasco. Ana is from Murcia, Spain. She had been riding motorbikes since the age of 16 and she started her racing career racing in the Moto3 world championship, however she found it difficult to grow and had to learn how to become great on her own as the male riders didn't like the idea of Ana racing. In 2017 Ana switched to the Supersport 300 World Championship and made her first bit of history by becoming the first woman to win a world championship motorcycle race in Portugal. She has recently recovered from a horrendous crash to start her 2021 season.
Beryl Swain
Now we have the late great Beryl Swain. Beryl is possibly one of the most well-known racers on this list. She was born in 1936 in London, England and sadly passed in 2007 at the age of 71. Beryl made her part of history by becoming the first woman solo motorcyclist to complete a TT Race on the Isle of Man in 1962. The Isle of Man TT Course was seen as extremely dangerous and was known for riders having a wide range of life- threatening injuries. Her chosen machine was an Italian Itom 50cc Racer and she raced in the 50cc Ultra Lightweight class. However not everybody liked the idea of a woman racing in TT and within that following year the International Federation of Motorcycling revoked her racing licence so she couldn't legally complete in the next race. The race organisers were not willing to take the risk of bad publicity if Swain got injured during one of the races. There were no female racers who raced on the TT again until 1978.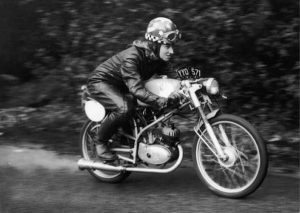 Jenny Tinmouth
Jenny Tinmouth is a complete record breaker with an astonishing amount of achievements under her belt. She is the current female Isle of Man TT lap record holder; in 2009 she broke the record and gained a Guinness World Record for it. Then in 2010 she bettered her time and broke the record again.  Jenny is also the first and only female competitor in the British Superbike Championship and in 2011 she started racing in her own race team. Jenny currently has 36 podiums and 16 wins so far.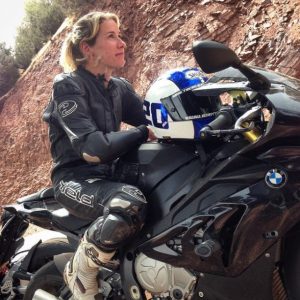 Laia Sanz
Next on our list we have Laia Sanz. Laia is from Barcelona, Spain. She is a thirteen-time Women's Trial World Champion and ten-time Women's Trial European Champion. In 2010 she started to train for the Dakar Rally and also took part in the Women's Enduro World Championships as part of her training. In the 2011 Dakar Rally she won the female class and came 39th position overall and repeated the same position the year after.
Patsy Quick
Patsy Quick is a British off-road motorcycle racer from Sussex. Patsy has been widely known for her success in the Dakar Rally. She first took part in the rally in 2003 but she did suffer a life-threatening crash while completing it. It actually took Patsy four attempts to complete the rally which she successfully did in 2006, making her the first woman to ever complete it. Currently Patsy runs an off-road riding school in Sussex called the Desert Rose Riding Academy which provides training to anyone wanting to gain the skills to be able to adventure bike.
Melissa Paris
Melissa Paris is a motorcycle racer, team owner, mother and wife from the United States. Melissa was the first female to actually qualify for a World Supersport race. She also owns her own race team in MotoAmerica called MP13 Racing. We think that Melissa is super as she also raced while pregnant and she is married to the four times AMA Superbike Champion Josh Hayes'. While also still competing Melissa also spends her time mentoring young girls that want to get involved in road racing.