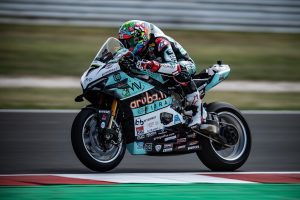 April 3, 1988, the Superbike World Championship was born on the British track of Donington Park! The spectacular English Up & Down will host the fourth Round of the 2021 season.
Team Go Eleven and Chaz Davies are looking for redemption, to eliminate the memories of the unlucky Misano weekend as soon as possible. For the number seven it is a return to his homeland, on a circuit that has often been difficult for him. The right shoulder, injured two weeks ago following the contact with Mahias during the Superpole Race, has not yet returned to 100%, but the motivation of the spectators and the adrenaline of the home Round will give Chaz a further boost. The weather variable seems to be able to shuffle the cards, especially on race days, both Saturday and Sunday.
A weekend that promises to be interesting with the public returning to the Paddock, in the heart of Superbike, even if in a restricted number.
Chaz Davies (Rider):
"Here we are at Donington! It's the home race. Hopefully it will be a more positive weekend than the last one in Misano, difficult to be worst. It has been a though couple of weeks to be honest; I have been waiting for a better feel from my shoulder and it's going in the right direction, but I need a bit more time to be a 100%. We will try to put that at the back of the mind, and the extra motivation of the home race, to be here again with a few spectators back, hopefully it is gonna help me to carry it through the weekend. Overall we had some good result here in the past at Donington, but we will have to take each session as it comes this weekend and try to enjoy it!"
Posted on Friday, July 2nd, 2021 in News