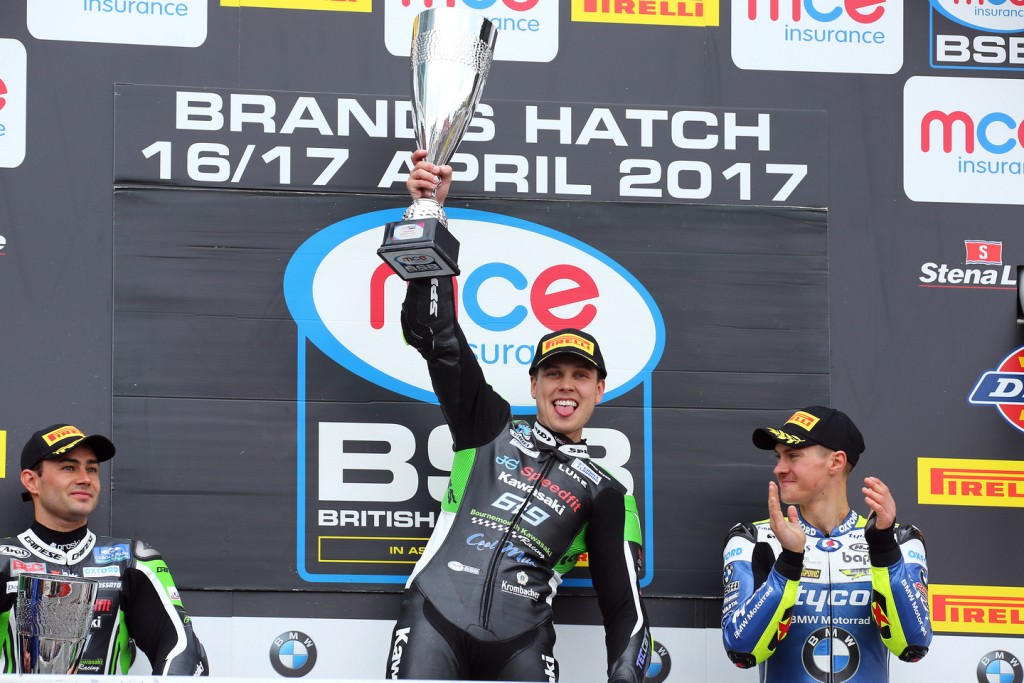 Photo Credit: Impact Images
The Kent circuit was filled with action-packed excitement with 4 days of track activity over the Easter Weekend.  Eazi-Grip™ supported riders had another fantastic showing at the Brands Indy circuit with podium finishes in multiple classes.  McAms Yamaha's Tarran Mackenzie added three more wins to his championship charge in the Dickies Supersport class.  JG Speedfit's Team Ricky and Ryan had their first race weekend of the season and started in fine form with their new Kawasaki machinery finishing 2nd in both of their races.
Young gun Luke Mossey had his first ever British Superbike win and made it a double topping the podium steps in both Race 1 and 2.  Race one saw JG Speedfit's Leon Haslam in second with Tyco BMW's Christian Iddon finishing off the podium spots in third.  Race two showed familiar names topping the podium with Iddon finishing in second and Halsam in third.
British Superbike Race 1 results
1. Luke Mossey – JG Speedfit Kawasaki
2. Leon Haslam – JG speedfit Kawasaki
3. Christian Iddon – Tyco BMW
5. Dan Linfoot – Honda Racing
7. Jason O'Halloran – Honda Racing
8. Michael Laverty – McAms Yamaha
10. Josh Brookes – Anvil Hire TAG Racing
British Superbike Race 2 results
1. Luke Mossey – JG Speedfit Kawasaki
2. Christian Iddon -Tyco BMW
3. Leon Haslam – JG Speedfit Kawasaki
4. Josh Brookes – Anvil Hire TAG Racing
5. Jason O'Halloran – Honda Racing
6. Dan Linfoot – Honda Racing
8. Bradley Ray – Buildbase Suzuki
10. Sylvain Guintoli – Bennetts Suzuki
Posted on Wednesday, April 19th, 2017 in News, Sponsorship