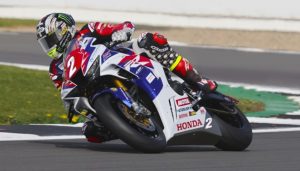 The wait is over for Glenn Irwin and John McGuinness as this week, after a two-year hiatus, the fonaCAB and Nicholl Oils International North West 200 roars into life, where the Honda CBR1000RR-R Fireblade SP will make its long-awaited NW200 debut.
Leading the charge on the Fireblade SP is four-time Superbike race winner Glenn, who arrives at the 8.9-mile circuit in good spirits after a successful opening British Superbike campaign, where at the opening round he took all three race wins and is sitting second in the overall standings.
Referring to the NW200 as his 'back garden', the circuit not only holds happy racing memories for the Irishman, who took his first Superbike victory in 2017, but also personal memories from when his father raced there and attending the event as a youngster. With four wins already under his belt, Glenn is looking to add to his tally aboard the Fireblade in both the Superbike and Superstock races running the #1 plate.
Lining up beside Irwin is TT legend, and six-time NW200 winner McGuinness, who for the 2022 season returns to Honda machinery. In preparation for the international road races, John has been in action at the first two rounds of BSB in the Pirelli National Superstock class, as well as enjoying a successful test at Castle Combe.
Running the #2 plate, John will be taking part in the Superbike and Superstock classes with Honda Racing UK, as well the Supersport races aboard the SMT/Blue Earth Construction Honda.
Practice for the 2022 fonaCAB and Nicholl Oils International North West 200 starts on Tuesday 10 May, with further practice on Thursday (12 May), with racing action taking place that afternoon with the first three races; Supersport (6 laps), Superstock (6 laps) and the Supertwin race (4 laps).
Racing continues Saturday (14 May), with five races across the day with two Superbike instalments, as well as the second Supersport, Supertwin and Superstock races.
#1 Glenn Irwin
"Finally, it's here! My road racing debut with Honda Racing UK and there's no better place for it than the North West 200. It's somewhere I have missed these last few years and I think everyone in road racing, whether in Ireland or further afield has missed it, so there's a lot of excitement and a lot of happy memories for me here. I think a lot of that excitement is the potential we have to achieve good results, we're on a four-race win streak on the Superbike and that's my main objective. That being said I'm looking forward to riding the Stock 1000cc  Fireblade, I've never raced the Honda stock Fireblade so I'm looking forward to racing that, but the main objective is to come away with a Superbike win."
#2 John McGuinness
"I'm super excited for this week and getting back to the North West 200 after a few years away, my first year was '94 which was 28 years ago and the excitement is still the same now and being back with Honda it's like putting on an old pair of slippers. The Fireblade is great, pre-season testing has gone well and I'm in a good place. My teammate Glenn is the hotshot at the NW200, so if we can get anywhere near him, we'll be going alright! Win, lose or draw I'm looking forward to the races, it's great to have everyone back together on the road racing scene, and I hope everyone has a good, safe and successful North West."