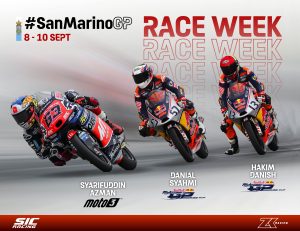 San Marino Grand Prix, round 12 will take place at the Misano World Circuit Marco Simoncelli in San Marino. This circuit has a length of 4.23 kilometers with 10 right corners and 6 left corners. The Misano round will showcase the action of three different championships, namely MotoGP, MotoE, and also the Red Bull Rookies.
All three national riders, Damok, Danial, and Danish, are eager to return to action with their bikes. Damok, who recently completed the Moto3 test session in Catalunya last Monday, is optimistic about giving his best performance and redeeming himself from the mistakes made in the GP Catalunya race last week. Red Bull Rookies riders, Danial Syahmi and Hakim Danish, are also positive about showcasing their best performance in Misano this weekend, which is also the final round of the championship.
For the record, Damok arrives in Misano with a total of 5 points in the Moto3 category, while Danial Syahmi has 40 points, and Hakim Danish has 67 points in the Red Bull Rookies category. The SanMarinoGP race will take place from 8 – 10 September 2023.
#63 Syarifuddin Azman (Damok): "Back-to-back race, and I want to do my best in the San Marino GP after last week's CatalanGP. I completed the test session last Monday, and I hope I can use what I gained and learned with the team, as well as my bike, in the Misano round. My team and I will continue to work hard for this season."
#13 Hakim Danish: "I'm very happy and excited to be back. This is the final round for the Red Bull Rookies Cup, and I hope I can give my best. I'll try to secure a podium finish and end the season with a strong result."

#57 Danial Syahmi: "The final round for the Red Bull Rookies Cup, and I want to continue to strive and aim for my first podium of the season. Now, it's time to get back on the track, and I can't wait to ride again and give my best."