Friday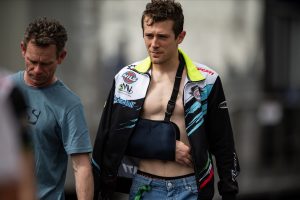 What a bad luck for Philipp! On the last available lap of FP 2, in which he was improving his time, finishing in projection in sixth place, he ran into an hard high-side out of turn 13. Impacting into the gravel, he suffered a displaced fracture of the right collarbone, resulting unfit for the continuation of the Portuguese Round. The operation has already been scheduled on Monday, in Germany, by a specialized medical team. Recovery times will be better defined a couple of days after the operation, but optimism filters in view of the next Round, in Misano, which will be held from 10 to 12 June. That's really a shame because even today the German rider was showing good confidence with the Ducati V4-R, continuing his growth path in WorldSBK. Unfortunately, these are the races and these are things that happen, hoping to see number 5 on the track as soon as possible, but without forcing recovery times.
Get Well Soon Philipp, we can't wait to have you back in our team!
Free Practice 1: 
P 1   G. Gerloff   1.36.572
P 2   T. Razgatlioglu   + 0.204
P 3   A. Bautista   + 0.583
…
P 13   P. Oettl   + 1.543
Free Practice 2: 
P 1   T. Razgatlioglu   1.36.290
P 2   A. Bautista  + 0.173
P 3   J. Rea   + 0.305
…
P 15   P. Oettl   + 1.423
The Go Eleven Team, in agreement with Philipp Oettl, will race with the Spanish rider Xavi Fores, currently engaged in Endurance with Ducati and in MotoE, who achieved six podiums in World Superbike, all riding the bike from Borgo Panigale. Xavi was already in Estoril for a commitment in the role of commentator, so the idea was born to honor the Round, fans and sponsors and not keep the bike in the garage, despite the limited time available.
Philipp Oettl (Rider): 
"What a pity about this injury! It just didn't take us now, as I was becoming more and more familiar with this Ducati. In FP 1 we rode the whole session with the same tyre, taking it beyond the race distance, then in FP 2 we were trying to get a good time on the SCX soft tyre, and right at the last corner I crashed with an hard highside! Rolling in the gravel I broke my collarbone, and will have to have an operation to recover as soon as possible. I was also lucky enough , however, because the crash was heavy, and the consequences could have been even worse. I thank the Team for the work done in this Round, we were also competitive here in Estoril and that's what counts. If everything goes according to plan, with a some optimism, see you in Misano!"
Xavi Fores (Substitute Rider):
"I am really happy with this opportunity to ride on a track and a bike that I really like. I was already on the circuit, my job this weekend was to be a commentator for Eurosport but when I received the news from the Go Eleven team I was really happy to be able to do so. It will be everything really fast, but I just think about having fun and doing a great job for the team. I send a big hug to Phillip and hope he gets well soon!"
Denis Sacchetti (Team Manager):
"I'm really sorry because Philipp is growing really fast, we were even more competitive here than in Assen and we didn't need this stop. It's an uncomplicated fracture and hopefully at Misano he will be ready to resume the growth path. Luckily Fores was already here, with him we can try some things on the bike we had in the thoughts and thus continue the development of our package. I am sure that his experience will be fundamental and I thank him for accepting this opportunity "
Saturday
What a comeback for Xavi in race one
Xavi Fores, who jumped on the Ducati Go Eleven this morning in FP3, was the author of a great Race 1 on the Estoril circuit! Final eleventh position, after a bad start that relegate him penultimate at the first sector. And he showed impressive laptimes, in line with the Top 5, especially in the last part of the race!
The first day of the experienced Spaniard was a kind of sprint; on Saturday, time is very short, and making his debut on a new bike in World Superbike is never easy. The first session started with quite low temperatures, which put the SCX tyres slightly in crisis; Xavi had to quickly gain confidence, already trying to push, to understand the limits of the bike. Towards the middle of the session he was already able to run on the low 38, that means great speed and adaptability. Unfortunately it was not possible to improve further, due to a sharp drop in the rear tyre, but the feeling was immediately excellent. Back in the pits, he was happy and satisfied with the starting point, providing information on the set-up of the Ducati V4-R, so as to be able to sew it on his riding style.
Free Practice 3: 
P 1   T. Razgatlioglu   1.36.233
P 2   J. Rea + 0.338
P 3   A. Bautista   + 0.782
…
P 15   X. Fores   + 1.926
In Superpole Fores had to use the new SCQ, the qualifying tyre, for the first time ever. It's not always easy to get a good feeling with an all-or-nothing tyre, but he still managed to set a good time that gave him the sixth row. In his best lap he made a small mistake in the third sector, quantifiable in about 0.5 seconds compared to his best, without which he would have been able to gain a couple of rows. In any case, the feeling with the bike was promising for the race!
Superpole: 
P 1   J. Rea   1.36.290
P 2   T. Razgatlioglu  + 0.091
P 3   A. Bautista  + 0.617
…
P 17   X. Fores   + 2.175
In Race 1, rider number 12 showed a truly impressive pace! After a bad start, which saw him pass in penultimate position in the first sector, he set his pace, overtaking rider after rider (about ten) with strong brakings and determination, losing very little time in the battle. Once he freed himself from the pack, he went in pursuit of the Top Ten, setting laps in succession on the 37 and a half. With two laps to go, he entered the battle with Bassani, recovering almost a second from each lap, then overcoming him in the last corners. The only remorse is that he came within a second of the Best Independent, but failed to truly enter the battle. This does not detract from the excellent performance of Fores. With a few small improvements in the set-up, you can really have fun tomorrow, even if the weather looks rather uncertain!
Race 1: 
P 1   A. Bautista   33'58.478
P 2   T. Razgatlioglu  + 0.126
P 3   J. Rea  + 4.835
…
P 11   X. Fores   + 27.516
Sunday schedule (Italian time)
WUP: 10.00 – 10.15
SP Race: 12.00
Race 2: 15.00
Xavi Fores (Rider): 
"I had a lot of fun in the race! I started quite badly, I was at the bottom on the first lap, so I concentrated on my pace to comeback as many positions as possible. The bike was fine, I managed to pass many riders, keeping the pace of 37 until the end; I was in line with the top 5. If we get a better start tomorrow, we can easily fight in the top ten. We are working to improve a little more on our Ducati, and tomorrow we just open the throttle!"
Denis Sacchetti (Team Manager):
"I would say that no one expected Fores to be this quick right from the beginning. In WorldSBK, getting on the bike at the last minute, skipping Friday practice, with a bike you don't know, is very complicated. He did more than what we expected and what could be asked of him, he was riding with fast times. At the start, he did not find the feeling with our gearbox, which is different from that of the Endurance. On the first lap he was far behind and had to make a comeback race, with many overtakes without wasting time. His pace was incredible. Xavi is an experienced rider, who has brought experience to the team and a different point of view on the bike set-up. He needs something different than Philipp, so we are working to get the bike in his direction, especially on the transfer and weight distribution. Today we met each other, tomorrow we will try to improve again!"
Sunday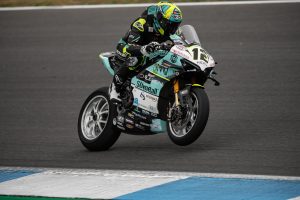 Crazy weather in Estoril, but Xavi achieves 2 top 10 results for the team
On Sunday in Estoril, Round 03 WorldSBK, the weather conditioned all the day; Wet Warm Up, Superpole Race in mixed conditions and Race 2 dry but with constant light rain. Xavi Fores got two Top Ten finishes, ninth in the Sprint race, tenth in the afternoon, proving to be fast, reliable and aggressive in all grip conditions.
The Warm up takes place on very wet asphalt, due to the rain that fell during the night. Xavi found a good pace from the start, looking comfortable on the wet track, improving lap after lap. He finishes in tenth position, without risking more than necessary in a not very useful for the result session.
Warm Up: 
P 1   J. Rea   1.48.832
P 2   A. Bautista   + 0.708
P 3   L. Baz   + 0.763
…
P 10   X. Fores   + 2.525
In Superpole Race the choice of tyre is really a lottery; the track is drying, but several points are still very wet, especially in the last sector. The choice of Xavi and the Go Eleven Team was directed towards the intermediate, but just one minute before the end of the grid, the technicians and the rider opted for the rear slick. A choice that proved to be thew right one, with the Spaniard quickly recovering from the seventeenth position close to the Top ten. In the last two laps he still managed to improve a few tenths on the lap, overtaking Bassani, entering ninth position valid for the grid inversion in Race 2, and then finishing extremely close to Rinaldi. An excellent performance, which allowed Xavi to get a point and, above all, to start from third row in the Main Race.
Superpole Race: 
P 1   J. Rea   16'21.784
P 2   T. Razgatlioglu  + 0.174
P 3   A. Bautista  + 4.925
…
P 9   X. Fores   + 29.541
Race 2 starts again with a few drops of rain along the entire circuit, but the asphalt remains dry and in good condition. Xavi does not have a perfect start and loses some positions, then in the first laps it is a bit difficult in adapting to the new set-up. With the drop of the tyre he finds more and more feeling, so much so that he settles on the high 37, thus managing to pass the BMWs and catching up on Vierge. In the last two laps he "eats" two seconds from the Spaniard from Honda, but closes behind in the sprint by thousandths. Another Top ten conquered, a solid and fast race finished less than twenty seconds from the leaders. A great performance for Xavi, it's really good to see him back and so competitive in WorldSBK!
Race 2: 
P 1   J. Rea   34'10.420
P 2   A. Bautista  + 0.194
P 3   T. Razgatlioglu  + 4.350
…
P 10   X. Fores   + 18.412
Three weeks to the next Round, home race for Team Go Eleven! Philipp Oettl will start his recovery path from injury immediately after the surgery, and the goal is to welcome him back to the track at Misano. The chances are good, but recovery times should not be forced because it is important not to worsen the condition of the collarbone.
Go Eleven would like to thank Xavi Fores immensely for his availability and for the great weekend spent together on the Estoril Circuit, in which the Spanish rider number 12 enjoyed making a lot of overtakes and finding excellent feelings on the Ducati Superbike. All the staff had a great time with him, a rider who puts his soul into every race and wishes him the best for his next engagements.
GET BACK SOON PHILIPP, THANKS FOR EVERYTHING XAVI!
Xavi Fores (Rider): 
"It was a positive day, this morning the conditions were a bit difficult, in the Warm Up I rode for the first time in the wet, finishing tenth, but with a constantly improving pace. The feeling was good. Then in Superpole Race, the conditions were mixed; we were on the grid with intermediate tyres, the easiest choice was to keep them, but in the end I saw many riders change and on the grid we decided to put the slick on the rear. It was the right choice, because in the last laps I managed to recover and finish in the first nine, so to have a better starting position in Race 2. In the last one I started badly, as in the other races, I lost a bit at the beginning . We made some changes that I requested to the team, and in the first laps I didn't feel strong; then I started to understand how to ride with that set-up and I was going well. I went through Redding and tried to take Vierge, but I couldn't. I finished tenth, I expected more from Race 2, but given how the weekend went, since I missed Friday and everything, I'm very happy! I have to thank a lot the Team for the chance they gave me, I send a big hug to Philipp, I hope he recovers soon and that he can race in Misano!"
Denis Sacchetti (Team Manager):
"Xavi was incredible, he got on the bike yesterday morning and made results that no one expected. It was important for us to race this weekend because we were able to carry on the work on the bike, try some new features and have confirmations on parts where we have to work to improve. Today was a strange race because a light rain fell during the race and this made it difficult to find the right set-up of the bike, in addition to the difficulties of the rider on how much and how to push, but in the Superpole Race Xavi made another great effort, conquering the third row! We are happy with his contribution and we thank him heartily. Of course we missed Philipp, tomorrow he will have to undergo surgery and I send him a big good luck, we need him at Misano and we have to come back stronger than before!"