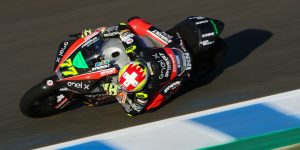 Ten Kate Racing Yamaha is currently working hard behind the scenes to complete their plans for 2021. This week the first step was made: the in Nieuwleusen based team will be back with their own team in the FIM Supersport World Championship next season. The first rider that will be riding one of the Ten Kate Racing prepped Yamaha YZF-R6 bikes is the Swiss Dominique Aegerter.
Since the 2020 FIM Superbike World Championship recently came to a close in the Portuguese Estoril, a lot of work went on in Nieuwleusen to prepare the plans for next season. The Dutch team will definitely be back in the FIM Supersport World Championship with their own team, the championship where they have had amazing success in the past with no less than nine world titles.
This week they have come to an agreement with the first rider of this new project and the person who has set his signature is the experienced Dominique Aegerter.
The 30-year old from Switzerland is the first rider within the Ten Kate Racing Yamaha World Supersport project. The name of the second rider will soon be announced.
Dominique Aegerter: "I am very happy that I will be a part of the Ten Kate Racing Yamaha WorldSSP project in 2021. First of all I owe a lot to Gerrit – and Ronald ten Kate and Kervin Bos for all the faith they have in me and giving me a chance in their professional and very experienced team. It is an amazing opportunity and it is my goal to be able to fight for the top positions in every race next season. It will be the first time for me to ride a Yamaha YZF-R6 but I have ridden a lot of different machinery in the last couple of months so I do not expect that it will be hard to change my riding style to this machine. Besides that I will be entering a very experienced team and I am convinced that, together with my crew chief and mechanics, I will get used to this machine quickly and be able to go fast. I can't wait to start together and I can finally get on this Yamaha YZF-R6 for the first time in early January. Finally, I would like to thank my brother and manager for creating this great opportunity for me. Also thanks to IXS Hostettler Yamaha in Switzerland for their support.
Kervin Bos, Ten Kate Racing Yamaha team manager: "Ten Kate Racing Yamaha back in World Supersport, how nice is that. We have started this project with only one goal in mind and that is fighting for the top positions. The first rider that we have signed an agreement with is Dominique Aegerter. He is a Moto2 winner, a Moto2 podium finisher, a multiple podium finisher in the famous Suzuka 8H World Endurance race and in the past season a double winner in the MotoE World Cup. This means that he is very experienced but also fast, we are very proud to be welcoming Dominique into our team. We think that his experience, drive and fighter's mentality are a very good match with our new World Supersport project. But this announcement is just the start, in the coming weeks we hope to bring you more news regarding this new World Supersport project but definitely our World Superbike plans for 2021 as well."
Posted on Monday, December 14th, 2020 in News