Motorcycle licences can be confusing, with a car it's one theory test and one practical test from 17 years of age and over, whereas bikes are split into different categories. Your age dictates which licence category you can go for and what bikes you can ride.
Here we let you know what bikes you can ride with each licence.
If you're looking to take your motorcycle test, please have a look at our article on what to expect by clicking here.
CBT (Compulsory Basic Training)
After you've completed CBT, you can ride a:
moped if you're 16 or over
motorcycle up to 125cc and with a power output of up to 11kW if you're 17 or over
You must use L plates (L or D plates in Wales).
You must pass your full moped or motorcycle test within 2 years, or you have to either take CBT again or stop riding.
When you do not need to take CBT
You do not have to take CBT if you:
want to ride a moped (up to 50cc) and you passed your car driving test before 1 February 2001
want to ride a motorcycle and have a full moped licence from passing a moped test since 1 December 1990
have a full motorcycle licence for one category and want to upgrade to another
live and ride on some

 

offshore islands
want to

 

ride a trial e-scooter
A2 Licence
An A2 licence allows riders aged 19 and over to:
Ride a bike that produces no more than 35 kW (these are normally advertised as A2 bikes in dealer showrooms)
Ride without L-plates
Carry a pillion passenger
Ride on motorways
Engines with restricted power
You can restrict the engine power of a motorcycle so that it fits within subcategory A2 (up to 35kW). You cannot restrict it below half its original power.
This means that if the unrestricted power of the motorcycle is 60kW, you cannot restrict it any lower than 30kW. A motorcycle's unrestricted power must not be more than 70kW.
A Licence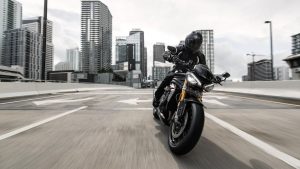 The A licence entitles you to ride any machine of any cc and unlimited power, carry a pillion passenger and ride on motorways.
You can take your A licence test when you are 24 years old or over, or 21 years old and over if you have held your A2 licence for a minimum of 2 years.
Automatic and semi-automatic motorcycles
If you pass your tests on a motorcycle with automatic or semi-automatic transmission, you'll only get a licence for those types of motorcycle.