We offer 3 materials for our Motorcycle Tank Grips, Evo, Pro and Silicone.
How do I know which material will be best for me?
This is mostly down to personal preference.
The Evo material features unique hemispherical traction domes and provides the maximum grip. You can feel the material through your clothing which some riders like, as it gives added confidence under cornering and braking. It locks you in position on the tank and is ideal for track riding. Evo is available in black and clear.
The smoother circular embossed patterned profile of the Pro material has been specifically designed to allow greater movement on the bike, whilst giving high levels of grip when needed under heavy braking. Like the Evo, Pro is also ideal for track riding plus commuting. Pro is available in black and clear.
Our Silicone material features a subtle textured surface for ease of rider movement and a cushion feel, making this grip ideal for both grand touring and commuting. Silicone is available in charcoal grey.
Which material do the professional racers and race teams use?
Evo
LCR Honda, Pol Espargaro, McAMS Yamaha, Glenn Irwin, Team Go Eleven, DesmoSport Ducati, Lovell Kent Racing Honda, Max Cook, John McGuinness, Honda Racing UK, Lee Hardy Racing and Rapid CDH Racing.
Pro
BMW WorldSBK, PTR Triumph, Kawasaki Puccetti Racing, Westby Racing, Attack Performance Yamaha, Tommy Bridewell, FHO Racing, Hawk Racing, Synetiq BMW, Mar-Train Racing Yamaha, Christian Iddon, Lee Jackson, DAO Racing, Peter Hickman and Michael Dunlop.
Silicone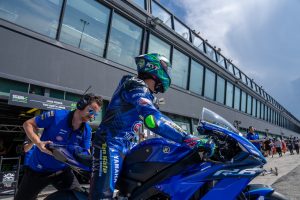 Ten Kate Racing and Dominique Aegerter.
Why should I use Motorcycle Tank Grips?
Our Tank Grips are designed to reduce pressure on your shoulders and wrists whilst riding by creating more contact points between yourself and your bike. Without Tank Grips it takes a surprisingly amount of work to keep planted to your bike, as you have to grip harder with your knees and assist with your arms and shoulders. With our Tank Grips, they take the pressure off your body so you don't have to fight to stay in position and therefore make riding your bike even more enjoyable.
Eazi-Grip Motorcycle Tank Grips also protect your tank from clothing rubbing the paintwork, as well as zippers/buttons scratching your tank, therefore keeping your bike's resale value and its looks safe.
Are there any independent reviews for your Tank Grips?
We are rated 4.5 stars on Trustpilot which can be seen here https://uk.trustpilot.com/review/www.eazi-grip.com
Visor Down have reviewed our Tank Grips which you can read by clicking here.
Michael Neeves at MCN has also reviewed our Tank Grips. Here is the article…
What if I cannot find Tank Grips for my bike?
Get in touch with us. If it's a new model it may already be in production. If your bike is an older model we may be able to create them, or our Universal cut-your-own sheets are an option too.
Visit https://www.eazi-grip.com/cat/eazi-grip/ to get a set for your bike.