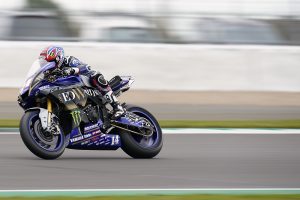 Tricky weather conditions made the final Bennetts British Superbike pre-season test at Silverstone a difficult affair for the McAMS Yamaha team ahead of their championship defence getting underway at the circuit next week.
Rain, low temperatures and strong winds saw almost all of the six sessions interrupted as the riders looked to perfect their feeling with the bike ahead of next weekend's opening round.
Jason O'Halloran continued to work through a number of set-up changes with new crew chief Les Pearson. Keen not to over-do it in the high wind, he worked through the motions and was happy with the end result. His quickest time of the test was a 54'223.
Reigning champion Tarran Mackenzie suffered a high-speed crash on the final session of the opening day of the test. A fast high-side out of the final turn saw the 26-year-old taken to hospital where it was confirmed he'd broken his left ankle. He will see a specialist in Nottingham tomorrow (Friday) for further consultation.
It was another strong test for Edwards 1902 Yamaha's Tim Neave in the Pirelli National Superstock 1000 class. Again, all of the Lincolnshireman's sessions were interrupted by poor weather, but as he did at Snetterton, he built up his pace session by session before setting the fastest lap of the test in a strong run in the final session. His 54'945 was enough to see him top the field by almost two tenths of a second.
With testing now concluded, the 2022 Bennetts British Superbike Championship will officially get underway at Silverstone between 15th and 17th April.
Jason O'Halloran
Time: 54'223
"Considering everything, I am pretty happy with the last couple of days. I don't think we got a clear session apart from the first one so it's been a tricky test with not a lot of track time, but we managed to get through quite a bit and I've learned a lot about the bike over the tests we've had. Conditions were awful, especially today, with very strong winds so I took it a little bit easy. I think we're in a strong position for next week and I'm looking forward to getting started."
Tim Neave
Edwards 1902 Superstock 
Pos: 1st          Time: 54'945
"I am really happy with how this test has gone, I was excited to ride the Yamaha here as it's a circuit I've won at in the past and we know the R1 goes well here too and I wasn't disappointed. The time came relatively easily and the best thing for me is I know there's a lot more to come, both from the bike and myself so I can't wait to get back here next week."
Steve Rodgers
Team Principal
"It's been a tricky test all round with the weather conditions less than ideal. Tarran had a huge crash on Wednesday and, considering the speed, we have to be glad he wasn't more hurt than he was. It's not the best start to his championship defence, but it's a long year. We will see what the specialist says and make a plan for moving forwards. Jason spent a lot of time working through a number of things, but was also mindful of the high winds on the final day. I have to say I am very impressed with Tim Neave – he's like a sponge, absorbing everything throughout each test, building away and then boom, he goes quickest. I am really looking forward to seeing what he can do next week."