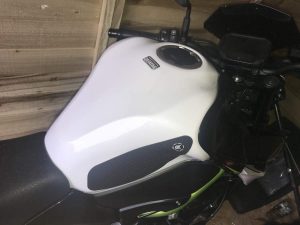 Visordown have been trying out our Eazi Grip tank grips on their long-term Kawasaki Z900.
They have posted a review with their thoughts and it's a good read…
"TANK GRIPS on motorcycles have pretty much been around for as long as humans have been trying to eke out as much performance as they can from their machines.
Since day dot, motorcyclists have been pushing their bikes to the limit, and sooner or later, the limiting factor is how well the fleshy bit on top can physically hold on to the damn thing.
Now, to a non-motorcyclist, the answer is simple; grip the handlebars tighter and use your upper body strength. The reality is vastly different. Doing this will leave you exhausted after just a few miles of riding, you'll be too tight and won't be able to respond to the motorcycle's movement beneath you.
One solution is to use your whole body to grip the bike. And for that, you need a bike that is as easy to grip onto as possible. That's where Eazi-Grip comes in and their stick on tank grip solutions.
They enable you to grip the bike with your inner thigh and inner knee, relieving pressure on your upper body and allowing you to stay supple and relaxed. Just how your bike likes you.
They are easy to fit, taking around two-minutes to attach our Kawasaki Z900, and are ready to ride in a few hours – although Eazi-Grip advises allowing the glue to set for a day or two. In truth, I was far to eager for any of that waiting game. After about an hour of being on the bike, I donned my leathers and headed out to try them on my favourite twisty B-Road.
It's a proper nice little road, with fresh Tarmac put down earlier this year. The corners are cambered nicely and let you carry a shed load of speed and lean angle. The difference is immediate, with the previously slippery sides of the Z900's fuel tank now allowing me to plant my thigh on the side of the bike, allowing my body to hang off the inside of the machine properly, teasing the road with an outstretched knee.
If you are already happy with the handling of your bike and are looking for a quick, cost-effective and easy to fit solution that makes you an instantly more comfortable and relaxed rider, there is probably no better product you can buy.
Check out Eazi-Grip's website where you can browse products for hundreds of bikes."