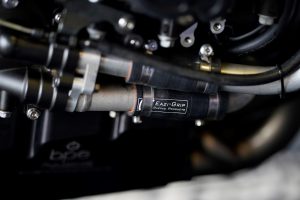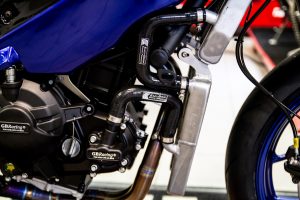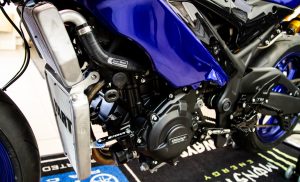 Eazi-Grip Racing Products produce our Silicone Coolant Hose Kits exclusively for road and race motorcycles. Our specialist knowledge has been gained by supporting leading race teams in paddocks worldwide from road racing, through to Moto GP, where the Eazi-Grip™ brand is trusted and respected as one of the foremost suppliers of high quality performance products.
Eazi-Grip Racing Products high performance Motorcycle Silicone Coolant Hose Kits replace the OEM rubber hose kit that is fitted as standard to all bikes. It is an essential upgrade for both racers and road riders alike.
Our Motorcycle Silicone Coolant Hose Kits feature an easy to maintain heat resistant surface that also offers fantastic abrasion resistance and remains pliable during the life of the product. Manufactured from only the highest quality silicone, our Silicone Hose Kits are designed to operate at temperatures from -50°C up to +180°C and at operating pressures of 2.5 – 15 bar meaning running temperatures can be reduced by up to 5°C.
Working Pressure: 4.5 Bar. Burst Pressure: 13.5 Bar.
Meet or exceed requirements of SAE J20 R1 Class A.
Hardness Shore: 60±5 A.
Silicone rubber with 5 ply polyester reinforcement.
Working Temperature: -50°C – +180°C.
What are Eazi-Grip motorcycle Silicone Hoses?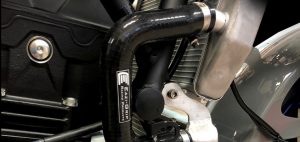 Silicone coolant hoses are used to replace your standard rubber coolant hoses. They are stronger, more reliable, can cope with higher temperatures and look better than rubber hoses too.
What temperatures can Silicone Hoses operate at?
Silicone hoses have a much greater temperature resistance compared to rubber hoses. They will perform much better in conditions of temperature extreme and are suitable for use across a temperature range of -50 to +180 Degrees Celsius.
Flexibility
Rubber hoses become hard and brittle over time and are prone to splitting. Our Motorcycle Silicone Hose Kits are more flexible and stronger and they retain this flexibility over their life cycle.
Do Silicone Hoses last longer than standard rubber hoses?
Rubber hoses age faster with heat, whereas Silicone Hoses have a greater life expectancy due to their heat resilience. Rubber hoses become stiff, and crack failing at their job, while Silicone Hoses remain in excellent working order for years.
Are Motorcycle Silicone Hoses easy to work with?
Silicone hoses are mush easier to work with than rubber hoses. Simple installation jobs can be completed quickly and easily with silicone hoses. Rubber hose can be very difficult to remove as it has a tendency to bond with fittings over time. Silicone will not 'stick' to your radiator in the same way that rubber will.
Are Silicone Hoses more resistant to chemicals?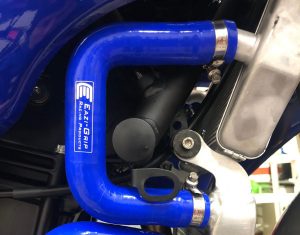 Silicone hoses demonstrate an increased resistance to chemicals such as coolant. Compared to rubber, silicone hose structure displays greater physical integrity when it comes into contact with common garage chemicals such as coolant.
Noise and vibration
Silicone has an inherent physical property that allows it to absorb vibration and dampen noise above and beyond that of rubber. The point at which rubber is mated to another surface is well known for causing unwanted noises and vibration. Silicone Hoses are better than rubber for a smoother, quieter engine experience.
Weather resistance
Silicone demonstrates better weather resistance than that of rubber. This is an important choice if you are living in a climate with challenging environmental conditions such as rain and humidity. Silicone will stand up better to the tests of time when the weather is a factor to be considered – strong durability to weather conditions is one of the key benefits of Motorcycle Silicone Radiator Hoses.
Aesthetics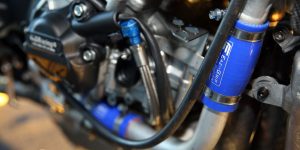 Silicone looks a whole lot better than rubber. It has a visually pleasing gleaming finish and is readily available in a range of colours. Of the many Silicone Intake Hose Benefits, looking great is another. If you want to jazz up the look of your motorcycle, switch to silicone.
What clamps should I use with my Silicone Hoses?
We recommend our Silicone Hose Clamp Kits, as you get all the clamps you need, and we will give your Eazi-Grip Motorcycle Silicone Hoses a lifetime guarantee.
Which race teams use your Motorcycle Silicone Hose Kits?
2022 BSB Champions OMG Racing, 2021 BSB Champions McAMS Yamaha, BSB team Synetiq BMW, World SBK team BMW Motorrad and 2022 World SSP Champions Ten Kate Racing. Check out Tarran Mackenzie's Crew Chief, Chris Anderson's recommendation here. https://www.youtube.com/watch?v=XWckba8GkRk
So, when it comes to the question Silicone Coolant Hoses or rubber? We have a clear winner.
If you are looking for high quality Silicone hoses to replace your standard motorcycle hoses then please click here to view our range.