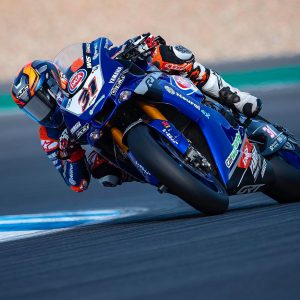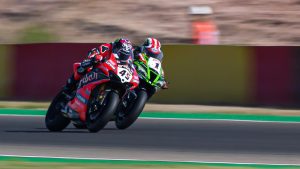 The 2020 MOTUL FIM Superbike World Championship may have come to a close but the season had huge headlines throughout, especially with some top riders in 2020 being rookies. In this top ten feature, we look back at some of the stand-out rookies in WorldSBK history, from Grand Prix arrivals to WorldSSP graduates.
10.) Garrett Gerloff surprises us all: 2020
When Garrett Gerloff announced he was coming to WorldSBK with the GRT Yamaha WorldSBK Junior Team, nobody could have expected that by round six, he'd be on the podium at a circuit almost completely new to him. But now with three podiums banked and a MotoGP™ debut made in place for Valentino Rossi at the European Grand Prix, Garrett Gerloff has impressed almost everyone in the sport. The 25-year-old American has a big future ahead of him, that is guaranteed.
9.) Jonathan Rea enters the WorldSBK stage: 2009
Jonathan Rea came to WorldSBK and lined up on the Portimao grid for his debut in 2008 but he made a full-time move to the class in 2009 with the Ten Kate Honda team. A fine season consisted of a career-first victory in Race 2 at Misano, seven other podiums – including a win at the Nurburgring – and fifth overall in the standings, also finishing as top Brit. Two wins of his current total of 99, Rea's 2009 season was brilliant and one of the best put together by a WorldSSP graduate.
8.) Nitro Nori's charisma arrives: 1998
Mad, crazy and WorldSBK's crown prince: Noriyuki Haga's full-time debut in 1998 started his rookie season in style with three wins in the first four races at Phillip Island and Donington Park – tracks he'd never seen before. Sadly, big injuries at Monza ruined the bulk of his season but two more wins and a podium in WorldSBK's first visit to South Africa meant that Haga took sixth overall and challenging for a top five. His last victory of the year was the last race of the year, at home at Sugo.
7.) Bulldog spirit makes Crutchlow shine: 2010
The 2010 season saw Cal Crutchlow step into WorldSBK as WorldSSP Champion and despite crashing out of his first race, podiums would follow soon enough. Crutchlow was third at Portimao and took a first win at Silverstone, where he'd go on to complete the double – the first British rider to do that at the track since Neil Hodgson in 2003. One more win at Magny-Cours, six other podiums and fifth overall in the standings, Crutchlow's only WorldSBK year was impressive before his MotoGP™ move.
6.) Melandri reignites rivalries as a rookie: 2011
2011 would be the year that Marco Melandri came back as a World Championship contender, having had the last three years in the doldrums in MotoGP™, yielding a sole podium. In WorldSBK, he hit the ground running at Phillip Island with a podium before going on to come from row three on the grid at his beloved Donington Park to take a career-first victory. Regularly on the podium and with four wins, he was a runner-up rookie overall, behind former MotoGP™ teammate Carlos Checa.
5.) Redding powers into WorldSBK with a bang: 2020
Coming into WorldSBK as reigning BSB champion, Scott Redding (ARUBA.IT Racing – Ducati) was out to take the crown at the first time of asking in 2020. Although it wasn't to be, it was a stellar year from Redding – five wins, nine other podiums (including three thirds in his first three races) and second overall to Jonathan Rea (Kawasaki Racing Team WorldSBK), Redding can look back at his year as a proud rookie. He even led the standings too, perhaps a sign of things to come in the future.
4.) Biaggi's quest for success begins: 2007
'The Roman Emperor' had eight seasons in the premier class of Grand Prix racing to take the title and didn't do it, but after a year out in 2006, where he tried to come to WorldSBK, he finally arrived in 2007 and in style. He won the first race of the year at Losail in Qatar and of his first 11, missed the podium just three times. Going into the final round at Magny-Cours with a gap of 29 to points leader Toseland after a Vallelunga win, Biaggi settled for third overall in his rookie year, a fine effort indeed.
3.) From a year learning to waterski to nearly walking on water for John Kocinski: 1996
From Little Rock in Arkansas, John Kocinski's unique way of going about business landed him in WorldSBK for 1996, after taking 1995 out to learn how to waterski. The 1990 250cc World Champion and 500cc GP winner erupted onto the scene with an immediate double win at Misano; three more wins would come along with seven other podiums and going into the season finale at Phillip Island, he had a chance of the title but would take third overall, before going one better in 1997.
2.) What could've been for Bautista: 2019
Not only had WorldSBK never seen anything like it but world motorsport never even considered it: Alvaro Bautista joined the grid in 2019 and instantly took victory not once, twice or even three times consecutively… 11! 11 wins to start off 2019 but he crashed heavily in the middle part of the year to finish a distant second to Jonathan Rea. Despite one of the biggest downfalls in motorsport history, Bautista's start to his rookie season was simply unbelievable and probably, unrepeatable. Majestic.
1.) Big Ben gets his Elbowz out: 2009
Ben Spies' talents were never in doubt but despite his three American Superbike titles in succession in the three years before, the 2009 season couldn't have been imaginable. Unbelievable bad luck, exquisite victories and pole records coming out of his ears, Ben Spies' year was crazy. From 88 points back at Kylami, Spies was the Championship leader by the Nurburgring, but title rival Noriyuki Haga wasn't done yet and the two went head-to-head for the showdown at Portimao. Spies took victory in Race 1, the title in Race 2 and in all of WorldSBK history, remains the only rookie World Champion.