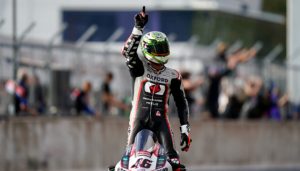 Tommy Bridewell arrives at the title-deciding round of the Bennetts British Superbike Championship Showdown at Brands Hatch this weekend (October 15/16/17) still in the thick of the title fight, just 21 points adrift of standings leader Tarran Mackenzie.
The three races on the Grand Prix circuit will decide the champion, and not since the first time the Showdown was introduced back in 2010, have the top four Title Fighters been closer heading into the crucial final round at Brands Hatch.
Bridewell and the Oxford Products Racing Ducati team had a storming start to his Showdown with a double win at Oulton Park, cutting the advantage at the top from 47 points to nine ahead of Donington Park.
"The Showdown so far; we have had two good rounds but also had a couple of little hiccups in both," reflected Bridewell.
"In race one at Oulton Park we went in the wrong direction with the bike and I really struggled to get the feel that I wanted so came home in sixth and we bounced back for the two races on Sunday to take the double win. That was the only slight disappointment that weekend."
At Donington Park the fortunes changed again as Bridewell was caught out by the conditions in race one and scored a best rest of fourth place in the final race of the weekend, as Mackenzie was halted by a technical problem.
"Then going into Donington Park everyone really knew it was always going to be a gamble with the weather and sure enough it was. It caught me out in Saturday's race and I crashed out. In hindsight, which is such a great thing, it would have been better to have bought it home in the top four because if I had, we would be in an even stronger position. But we bounced back and had some half decent results on the Sunday to keep me in a very realistic position of contention for the championship.
"I am a realist; if I was 34 points behind Tarran going into race three at Donington, and if I had left there with that kind of mountain to climb, then you are really massively on the back foot and would need a miracle to overhaul that. But luckily for me, we had a decent last race at Donington and of our main rivals, Jason was down the field and Tarran had a technical, so only Christian made hay while the sun shined over me there."
Six Showdown races are complete with three more this weekend to decide the destiny of the 2021 championship and Bridewell believes he is ready to come out fighting.
"All in all, we have worked well and we can only learn from our mistakes as a rider and a team and now we need to be more aware of everything that is happening around us. We are luckily in very strong mathematical contention still to take the championship.
"For me the job is simple; for me there is still pressure on my shoulders as I feel that I have a lot to lose if I don't win the championship, but it is going out at Brands Hatch and being smart. That is where the team come into play, as I need to know the information of what is going on, especially on Sunday. I think we will come out swinging in Saturday's race, and then go from there.
"Let's say for example, me and Tarran are running in first and second – he can follow me home in all three races and he will still win the championship, so as much as I have done everything in my power to win the races, it still isn't good enough. So I need to know every aspect of the championship.
"The good thing for me is that the racing in BSB is so close. In one race, I could be winning and be battling against Buchan, Hickman and Brookes, but then in the next one it might be against Iddon, Mackenzie and O'Halloran, so if I am honest I think a big factor in this weekend will be the other riders.
"There is a big spot light on the top four, but the biggest influence on that I believe will be the other riders. If I am out front and win race one, and the other three get mixed up between some of the other riders, all of a sudden I could have a massive points haul over them in one race. I do feel it will be what it will be, but we need to focus on going out and fighting to win every race."
The stakes are higher when it comes to the Showdown, with Bridewell admitting that on the previous visit to the Grand Prix circuit earlier in the year he was more reserved as he bid to gather podium points for the final decider.
"The only thing I will say about this round compared to earlier in the year; if you look on paper at Oulton Park and Brands Hatch are very good for Yamaha and Ducati," added Bridewell.
"At the start of the year, the plan with the team was always to find our feet and build up after 2020, so I rode very reserved at Oulton Park at the start of the year and fairly reserved at Brands Hatch earlier in the year, as I wanted to keep the points and podium points ticking on nicely.
"Oulton Park for the Showdown I didn't ride reserved and I rode exactly how I know I can and how I wanted to and I won both races, so the target and the plan and the mentality into Brands Hatch is exactly the same as we approached Oulton Park for the Showdown.
"I have got to come out and not be worried about building points, I need to come out and just ride. If I am honest, I feel Tarran has a massive weight on his shoulders now; before it was on Jason as he was leading but unfortunately for him it has gone a bit wayward and now it's Tarran flying the flag – the pressure is on their shoulders.
"I believe they might well stumble or crack under pressure themselves and I might not need to have to influence that. At the end of the day for me, it is about going out and trying to win all three races, and if I can do the best we can then what will be, will be."