Saturday
Tom Neave scores a championship point with 15th at Knockhill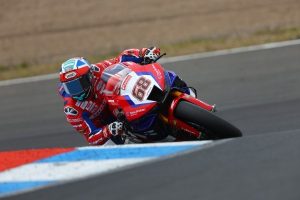 Tom Neave adds to his championship tally with a 15th-place finish in the opening Bennetts BikeSocial Sprint Race at Knockhill Racing Circuit.
Tom had made a strong start to the weekend, taking all of the momentum gained from a recent test at the undulating Knockhill Circuit, to sit within the top ten positions in FP1 in ninth. However, as the pace of his competitors increased Tom struggled to find a comfortable setting and reduce his lap time further. He would end the opening day fourteenth on combined times heading into Saturday's Qualifying sessions.
In cooler conditions on Saturday afternoon Qualifying 1 began. Tom rolled out of the pitlane knowing that he would need to break the 48-second barrier to progress into the second qualifying session of the day and give himself a solid grid position for the afternoon Sprint Race. Tom dug deep and managed to set his quickest-ever lap of the 1.27-mile circuit with a 48.083 lap. Sadly, he missed the advancing qualifying positions by just 0.025 seconds and would therefore qualify in 19th position.
The BikeSocial Sprint Race roared into life in the afternoon and Tom made a strong start from his grid slot to hold position into turn one, before moving up into 18th position by the end of the short lap. As his pace improved throughout the race, Tom slowly picked off those in front of him as he broke into the point-scoring positions by lap 15, setting his quickest lap of the race in the process. He would hold this position through to the flag on lap twenty.
Elsewhere in the paddock the Honda Fireblade yet again encountered further success in the Pirelli National Superstock Championship. Irishman Richard Kerr of AMD Motorsport lapped underneath the race lap record during Qualifying on his way to a sensational 48.252 lap, as Fireblade-mounted riders occupied the top five positions of the grid.
The race itself brought even quicker lap times as Fireblades filled the podium positions again, as it has in four of the five races so far this year. Dan Linfoot, Optimum Bikes Racing, won the fight and set a 48.092 lap time on the way, a new lap record. Richard Kerr and Alex Olsen finished second and third respectively.
The Honda Racing team now turns its attention to the longer feature races that will be taking place tomorrow at 13.35 & 16.30. Tom's quickest lap of the opening race today, 48.140, places him 18th on the grid for the initial 30-lap race.
#68 Tom Neave
15th isn't the result that I was hoping for, but it is good to get a race distance under my belt. I know where I can improve because I didn't take full advantage of some of the passing opportunities early in the race, which really cost me. Once I did get through I began to start catching the next group in front of me up to 12th place. I am confident that tomorrow I can get stuck in early and have some good late race pace. I know I can get the results that I am capable of. 
Sunday
Tom Neave scores two top ten results at Knockhill
Tom Neave scores a brace of top-ten positions with an eighth and seventh at Knockhill Racing Circuit during round four of the Bennetts British Superbike Championship.
After the shorter Sprint race yesterday, Tom lined up for the first of two 30-lap feature races at the sun-kissed Knockhill Circuit in 17th place after setting a lap time of 48.140.
With strong late-race pace on used tyres, getting a good start and racing away with the quicker riders ahead early on was going to be vital to secure a strong result. So as the lights went out, Tom quickly got his head down to settle into a rhythm, setting his quickest lap early on with his fourth circuit (48.031). At this stage of the race, he was already into the points in 15th.
As the race progressed, Tom picked off his competitors one by one showcasing his excellent race craft with an 8th-place finish, scoring valuable championship points in the process. A just reward for the grit and determination that Tom has displayed throughout this season.  He also displayed exceptional consistency as 28 of his racing laps were within ¾ of a second. At this stage of the weekend, Tom's eighth-place finish equalled his best-ever finish in the premier class series to date.
For the second feature race of the weekend, Tom would line up in thirteenth position as a result of his lap time set in the day's earlier race. Determined to keep up the good form that he had shown earlier in the day, he raced away from the lights and gained positions early on to end lap one in eleventh. Keeping the pace hot, Tom set his fastest-ever lap of Knockhill on lap nine with a 47.875, breaking that 48-second barrier for the first time of the meeting. At this point of the race, he was engaged in a fierce fight for seventh.
As the chequered flag was waved at the end of lap 30, Tom Neave would cross the finish line in a Superbike career-high finish of seventh, keeping two-time BSB champion Josh Brookes behind in the process.
In the Pirelli National Superstock race, the Fireblade maintained its record as the only model to have won a race this year as Dan Linfoot, Optimum Bikes Racing, doubled his win tally for the weekend. Richard Kerr, AMD Racing, also finished on the podium in second.
The Honda Racing team now has a short break before heading to Round Five of the championship at Snetterton, 7-9 July.
#68 Tom Neave
I'd say that first race was the best ever race I have had in my Superbike career. Same old story at the start of the race, where I don't get my finger out and get a better track position. But this time I managed to get through enough to settle in and as the laps ticked by I was able to keep picking them off one by one. I also saw that the gap behind me kept increasing which was really nice. 
It was nice to be able to manage the tyre and keep a consistent pace throughout. I feel like the Fireblade strength is being able to really look after the tyre well, I could see that the others were struggling whereas I was consistent all the way through. I could stand it up well and fire it out. I was also really strong on the brakes, catching some really quick experienced riders and outbreaking them. I take loads of confidence from this race, I am super happy coming through to eighth from seventeenth.
I thought race one was good but that was awesome. I cannot tell you how happy I am! Before I would get these random ok results and you start to think it's a bit of a fluke. But in this race I took places from people in front of me. I started in 13th and finished in 7th. I am so happy. What I have been lacking is confidence, and now with these results, I have that self-belief that I can do it. Even earlier in the weekend, I was miserable with my qualifying. But this, I felt so in control, the bike felt so stable and I am starting to show my true potential.