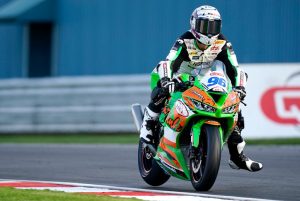 Tom Booth-Amos will return to the Gearlink Kawasaki team for the forthcoming Quattro Group British Supersport Championship season, combining a full-time campaign in Britain alongside the World Supersport series.
Booth-Amos joined the Gearlink Kawasaki team at the end of the 2022 season for the final two rounds as a stand in rider and the 26-year-old quickly got to grips with the series, narrowly missing out on a podium finish with a best result of fourth place in the two races at Donington Park.
Booth-Amos completes the team's three-strong rider line-up for the 2023 Supersport season as he joins previous Champion Luke Stapleford, as well as upcoming contender Zak Coderoy who is set for his debut season.
Booth-Amos said: "I'm really pleased to be back with Gearlink again. I enjoyed my time with the team in 2022, so it will be good to see what we can do with the bike with a full season this year. I have a busy year ahead as I will also be racing in World Supersport, but I will give both Championships my full commitment. I would like to thank Gearlink Kawasaki for the opportunity and hope I can win the title for them."
Team Manager Ben Wilson commented: "We are really pleased to have Tom onboard for 2023. I am really looking forward to seeing what he can do on our bike when he gets comfortable on it following testing. The last two rounds of 2022, he literally jumped straight on the bike with a basic setting.
"We are looking forward to getting a good set up and seeing Tom at the sharp end again. It will be a busy season ahead now that we are running three bikes, but the quality of talent within the team this year will be great for the championship."
Posted on Wednesday, January 25th, 2023 in News