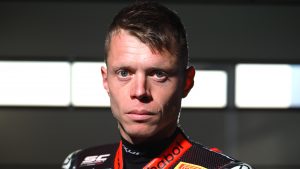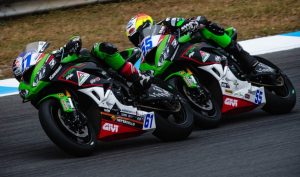 The fourth round of the Superbike and Supersport World Championship is taking place this weekend in Italy, at the circuit in Misano Adriatico. This is the home round for Kawasaki Puccetti Racing and, after more than two years, the paddock will finally reopen to the public and sponsors, who will be able to closely follow the Puccetti riders once again.
At the Misano round, all three Kawasaki Puccetti Racing bikes will head out on track with the historic ELF livery, similar to that used in the 80s by "Rocket Ron" Haslam. Manuel Puccetti's team has already used this livery in recent years, one that celebrates the partnership between Total Italia and Kawasaki Puccetti Racing, a professional relationship that has only become stronger over time and that represents a point of pride for both parties, who renew the agreement each year.
At the previous Estoril round, Supersport riders Can Oncu and Yari Montella proved that they can fight for the win in each race and, while for Oncu this comes as a welcome confirmation, for Montella this marks the achievement of a goal the rider set himself at the start of the season.
As for Superbike, Mahias was definitely unlucky at Portugal, suffering a crash during the Superpole Race in which he fractured the fifth metacarpal on his right hand. Despite his best efforts, the French rider is still not ready to get back on his Ninja at Misano, and will be replaced by Tito Rabat, who already competed for Kawasaki Puccetti Racing at the last three WorldSBK of the 2021 season, again as a replacement for Mahias.
The Italian track of Misano was designed in 1969 and underwent significant restructuring in the 90s, work that made for a more efficient facility. In 1993 the track was extended to 4060 metres and a new building to house additional garage space appeared. At the end of 2006, the facility was closed to allow for the construction of a new track, and in just five months the track was extended to 4180 metres, and its direction reversed (now running clockwise), while the grandstands increased their capacity to be able to accommodate 23,000 spectators. The track currently measures 4226 metres and features sixteen turns, ten of which right-handers and six left. Pole position is to the right.
Manuel Puccetti
"We are very determined and keen to give it our all at our home round, in front of our fans and sponsors. At the last three Supersport rounds, we scored two podiums and were consistently frontrunners, so we can only be optimistic ahead of the Misano races, also considering the results that we achieved in pre-season testing, held at this track in March. In Superbike, unfortunately, Mahias has not yet fully recovered from the injury he suffered in Estoril and we will replace him with Tito Rabat, who knows the team and the bike from having raced with us the last three rounds of last season. I'm pleased and proud to use the historic and beautiful ELF livery for the first year, which formalizes and reinforces our collaboration with Total Italia."
Tito Rabat
"I'm really very pleased to be back racing with Kawasaki Puccetti Racing and I thank Manuel and the whole team for putting their trust in me, at their home round no less, which I know is very important for them. I'm highly motivated and fully committed. I hope that the weather is good and and that we can enjoy a weekend that will be challenging but also wonderful. I can't wait to get back to work with the team, after getting on with them so well last year."
Can Oncu
"I know that this is the home round for my team and that everyone really wants to do well. This only spurs me on to do as well as I possibly can. In the previous races, we've shown that we are very competitive and that we can fight for victory, and it would be good to be able to achieve that at what is my team's home event."
Yari Montella
"It will be a different kind of weekend, but I feel relaxed because I've trained hard over the last few weeks, taking care of every detail. The home round is always something special, and it will be emotional to race in front of our fans and with the support of our sponsors. I've even prepared special graphics for my helmet. I'm ready and waiting and can't wait for Friday so that I can get out on track."