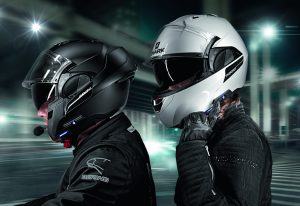 A new helmet will last three to five years, depending on use. After that, the interior cushioning and structure will start to break down under attack from the sweat and oils from your scalp. Meanwhile, sunlight and heat cycles can begin to degrade the strength of the outer shell, reducing its protective performance.
If you buy a used helmet you won't know if it has been dropped. When a helmet has fallen onto a hard surface from any real height, even out of your hand, the impact can compromise the integrity of the shell. You can't tell by looking at it. The tough truth about helmets is they are designed to work once, then be thrown away. Avoid buying a used helmet; always replace a dropped one.
How to keep your lid in top condition
Transporting your helmet
Never ride with your arm shoved through the aperture or fastened strap of a spare helmet. It affects your control, and can cause severe injury in an accident. The same goes for carrying one in a normal rucksack. Also, don't ride with it strapped to the helmet hook. You'll likely damage the helmet and your bike. Use the hook only when parked.
The only ways to carry a helmet are:
In a purpose-designed backpack – with back protector
A big tankbag or tailpack
Inside a locked topbox or pannier
Prevent damage by wrapping your lid with soft cloth or bubble wrap.
Storing your helmet
Store helmets collar side down on a shelf or use a helmet bag. Don't use a mannequin head, it will compress the interior padding. Never hang them by the chin strap.  Don't store your helmet near fuel, cleaning fluids or excessive heat as these can damage materials used in the construction.
Posted on Wednesday, September 15th, 2021 in News