Riding with a mate or family member can be a great way to show them your love for biking, it may even get them interested in a bike of their own, but first have a look at our tips and advice for taking a pillion rider, especially if it's your first time.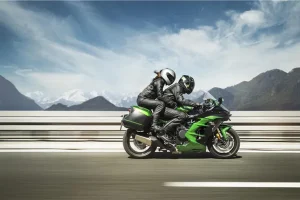 Make sure you're legal and covered
You can only take a pillion passenger with a full motorcycle licence, riding with a pillion while still on L plates is illegal. Check with your insurance that you're still covered to ride with a passenger and check your bike's manual. You don't want to be exceeding your bike's maximum weight capacity.
An initial chat
If this is your pillion's first time, this is very important. Explain how their body will react under acceleration and braking, let them know that they need to relax and stay seated centrally in the seat, and go with the lean when you tip into a corner.
Discuss signals (if you don't have Bluetooth) for things like slowing down, warnings for bumps in the road, or hold on tight if going for an overtake.
Prepare your bike
Make sure your tyre pressures are correct and adjust your suspension for the additional weight on the rear. Up the compression on the rear shock by around 25%, or the steering could get very light.
Prepare your pillion
Your passenger by law has to wear a helmet, but we strongly recommend they have full gear too including gloves, armoured clothing and boots that cover their ankles. Earplugs are also recommended as wind noise can be off putting to a new rider. Also if you have a backpack, give it to the pillion so it doesn't get in the way.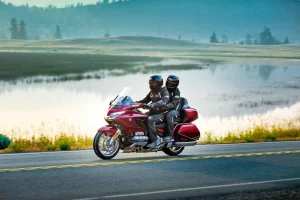 Where should the pillion hold on?
If your pillion is a first timer, it's unlikely they will want to rely on just holding the rear grab handles behind them, even seasoned pillions don't like this, as it throws your centre of gravity off. Maybe suggest one hand on the grab handle and the other around your waist, or both hands around your waist. You may get hit in the back under braking the first few times and there may be a few helmet taps, but they will learn how the bike moves and how to adjust their body to counteract it.
Communicate with your pillion
A 2 way Bluetooth system is ideal for this, but hand signals also help. As mentioned these should be discussed before setting off in the initial chat.
Don't be daft
Don't ride like an idiot. Popping wheelies, weaving through traffic and riding fast will only put off your pillion, especially a first timer. Just the thrill of being on the bike will feel fast and exhilarating for them. Take it easy, keep it smooth and make them fall in love with biking.
Smooth gear changes, braking and acceleration
When accelerating think of the attitude of the bike and try to maintain it in as flat a position as possible, as weight transfer will unsettle the pillion, who is sat further back, doesn't have the power to anticipate what you're going to do and doesn't have handlebars to hold. Running a taller gear will make the bike pitch less.
If your bike will allow them, clutchless shifts up through the box make for a smooth ride. Just roll the throttle off slightly to reduce the engine load and then slip the lever up into the next ratio.
The exception is for the shift from first to second, which will need the clutch. For downshifts, slipping the clutch at the end of the lever travel will reduce the severity of the deceleration.
A pillion's weight over the rear wheel will mean the rear brake is more effective as there's less weight transfer forwards and you want to keep the bike more level to avoid those head butts, so use more rear brake, maybe 60/40, or even 50/50 front to rear instead of the more usual 75/25 front to rear for solo riding.
Pull over for a chat
After about 20 minutes, pull over and make sure you and your pillion are both happy. Make any recommendations if they need it as to what they need to be doing, and ask them if there is anything you could do to make the ride any better.
After the ride hopefully they will want to repeat it and go out with you again.