Tank Grips
Motorcycle Tank Grips, or Stickers and Pads as they are otherwise known, are seen on race bikes throughout the World. British Superbikes, World Superbikes, MotoAmerica, ASBK and MotoGP bikes nearly all have them, and their riders won't ride without them. So, what are they, and why should you have Tank Grips on your bike?
What Are Motorcycle Tank Grips?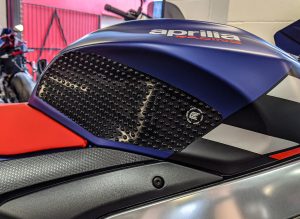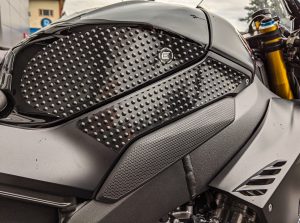 Tank Grips are self adhesive, usually bespoke cut, pieces of material that go on the tank where your knees sit.
We offer 3 materials for our Tank Grips, Evo, Pro and Silicone because grips are very much a personal choice, and what feels best for one rider, may not suit another. The Evo surface has pronounced domes and offers the highest level of grip. This is our most popular grip for racers, as they are usually hanging right off the bike with their knees and elbows down. The Pro is smoother and offers slightly more movement on the bike. Pro is our most popular grip with road users and riders that take part in the odd track day, as it covers both aggressive and leisurely riding. Silicone is our cushioned material that is best for commuters and touring, creating comfort as well as grip.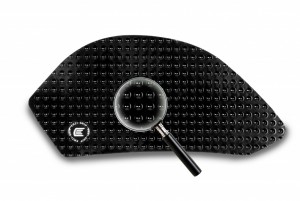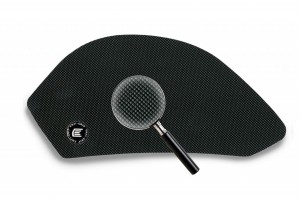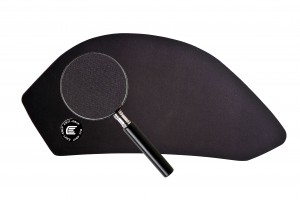 Our Pro and Evo materials are available in black or clear, while our Silicone material is charcoal grey.
What do Tank Grips do?
Our Tank Grips are designed to reduce pressure on your shoulders and wrists whilst riding by creating more contact points between yourself and your bike. Without Tank Grips it takes a surprisingly amount of work to keep planted to your bike, as you have to grip harder with your knees and assist with your arms and shoulders. With our Tank Grips, they take the pressure off your body so you don't have to fight to stay in position and therefore make riding your bike even more enjoyable.
Eazi-Grip Motorcycle Tank Grips also protect your tank from clothing rubbing the paintwork, as well as zippers/buttons scratching your tank, therefore keeping your bike's resale value and its looks safe.
What race teams use your Tank Grips?
BSB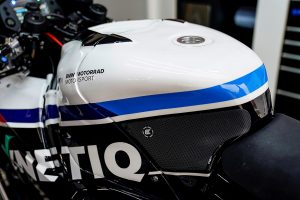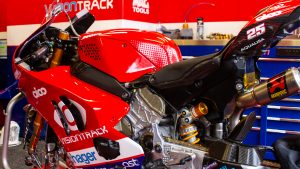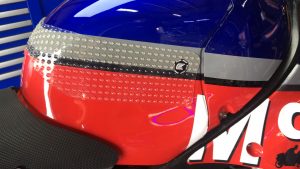 IN Competition Aprilia, Synetiq BMW, Bathams Racing, PBM Motorsport Ducati, True Heroes, John McGuinness, Oxford Racing Ducati, Honda Racing UK, DB Race Services, FS-3 Racing, Lee Hardy Racing, GR Motosport, Silicone Engineering Racing, Dynavolt Triumph and McAMS Yamaha.
WSBK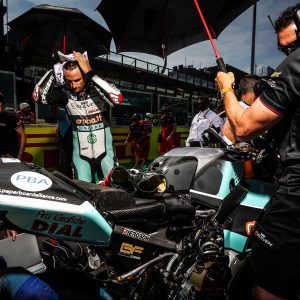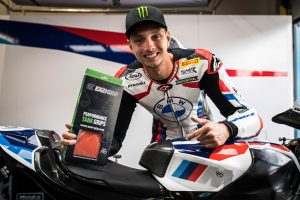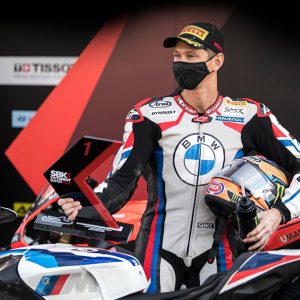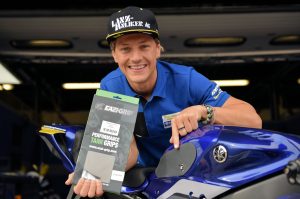 BMW, Team Go Eleven, Puccetti Racing and Ten Kate Racing.
Moto2 and Moto3
Red Bull KTM Ajo, Italtrans, Aspar, Liqui Moly Intact GP and Flexbox HP40.
Australian Superbikes
DesmoSport Ducati and BC Performance Kawasaki.
MotoAmerica

Westby Racing, N2 Racing and Fresh n' Lean Attack Performance Yamaha.
There are videos of some of our supported riders on our YouTube channel sharing their thoughts on our products. Click here to watch them. 
What if I cannot find Tank Grips for my bike?
Get in touch with us. If it's a new model it may already be in production. If your bike is an older model we may be able to create them, or our Universal cut-your-own sheets are an option too.
Can Tank Grips help with a pillion rider too?
Sometimes if you ride with a pillion passenger, they can slam into you under braking and force you forwards into the tank. A gentle squeeze on the Tank Grips with your knees helps you manage the weight of a pillion better, avoiding the dreaded 'nutcracker' experience.
How are your Tank Grips made?
As we design and manufacture our own Tank Grips we ensure the best fit and quality. Each is bespoke to each motorcycle model and is specifically cut to size. We cut our Tank Grips to order usually the same working day, or day after your order, on our specialist machinery. They are then packaged with instructions, IPA wipe and Eazi-Grip badges to ensure you have everything you need to install them on your bike.
Are they easy to install?
Yes…
Clean the surface thoroughly with the included IPA wipe
Lightly warm the tank and grip with a heat gun or hairdryer
Using a sharp blade carefully peel back a small portion of the release
liner to expose the adhesive
Press the tank grip down firmly onto the tank
Slowly pull back the release liner while applying firm pressure to
activate the pressure sensitive adhesive
Allow the tank grip to set for 48 hours for optimal bond
We are only a phone call away or on social media messaging if you have any questions.
Are there any independent reviews for your Tank Grips?
We have over 26,000 positive feedback reviews on Ebay which you can see here https://www.ebay.co.uk/usr/hillcroftnw
We are rated 4.4 stars on Trustpilot which can be seen here https://uk.trustpilot.com/review/www.eazi-grip.com
Visor Down have reviewed our Tank Grips which you can read by clicking here.
Michael Neeves at MCN has also reviewed our Tank Grips. Here is the article…
So, now you know why you should be using our motorcycle Tank Grips, visit https://www.eazi-grip.com/cat/eazi-grip/ to get a set for your bike.
Paint Protection Kits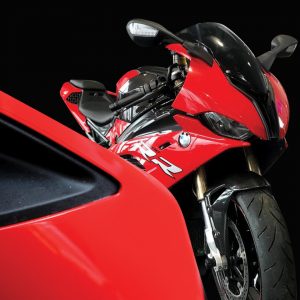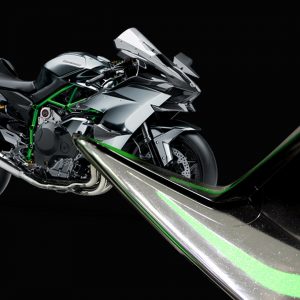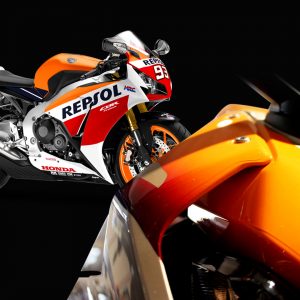 Do I get everything I need to install my motorcycle Paint Protection Kit?
Yes. Our Paint Protection Kits are supplied with your bespoke cut Paint Protection Film pieces, a bottle of application solution (just add water), a squeegee, cleaning wipes and fitting instructions. Eazi-Guard Motorcycle Paint Protection Kits are easy to fit, with sectional pieces, that in conjunction with our advanced fitting solution, simply float into place. 
Is the Eazi-Guard Paint Protection Kit easy to fit?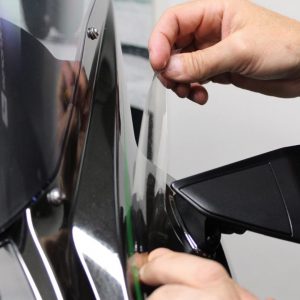 Our kits have been specially designed to be fit by anybody at home. The film is extremely conformable around even tight radii and compound curves. It does take a little patience and time, but the results are more than worth it. Check out Bennetts' review further down the article to see John fitting a kit to his S1000XR for more details.
Clean the surface to be applied to thoroughly, using the enclosed isopropyl wipe or degreaser. Do not use products such as methylated spirits, lighter fuel or white spirits, as these leave behind a greasy residue that will affect the ability of the adhesive to bond to the surface to be protected.
Use the enclosed diagram to identify the parts to be fitted.
Fill the spray bottle with water, the spray bottle contains a small amount of concentrated lubricant that when mixed with water will produce a fitting solution. Once the surface has been cleaned and all contaminate removed, spray the fitting solution onto the area of paintwork to be protected. At the same time, generously spray the adhesive face of the part to be fitted with the fitting solution. This will significantly ease positioning of the protection film and float into position. Avoid touching the adhesive when dry, as this will leave a fingerprint in the film. If you don't wear gloves, wet your fingers to avoid fingerprints.
Once the film is correctly positioned, start applying the film, working with half the film at a time, using a squeegee to expel 100% of the air and liquid from the centre towards the edges. Also spray the top face of film to allow the squeegee to slide smoothly and avoid scratching the film. For curved surfaces, pull gently in the direction required and you will find the film will naturally take to the curvature of the panel. Continue to push out all the remaining water or air bubbles from under the film, ensuring the squeegee slides smoothly from the middle area of the film to the outside edges. This will produce a perfectly clear look. If the film needs to be repositioned during the application process, remove it partially and respray some liquid on both the surface being protected and the adhesive side of the film. If any creases appear in the film work out towards an edge using either the squeegee or your thumb to gently spread the film. Dry off any excess fluid with a paper towel and finally, use a hair dryer or heat gun to warm up the film to ensure a strong and lasting bond. Do not exceed 80°C.
If you have any questions or need some advice when fitting your kit, we are just a phone call away, or message us on social media.
Will it protect my motorcycle's resale value?
Our Paint Protection Film is super thin, but very tough and is non-yellowing. It disperses gravel and stones and protects against scratches, road tar, bird droppings, tree debris, salt, UV rays and abrasions. It self heals too. This is shown in more detail when Bennetts tested our Paint Protection Film properties. Click here to watch the video. This means your paintwork remains untouched beneath and therefore retains your bike's resale value.
Is a motorcycle Paint Protection Kit affordable?
Wrapping a motorcycle isn't cheap, it is from around £1500. Our Paint Protection Kits provide a much more affordable form of protection with prices starting from just £55 + VAT.
Do you design and manufacture the Paint Protection Kits yourself?
Our designers personally visit our local dealerships to trace any new models. All kits are scanned, designed and cut by our fully trained staff. We do not use template libraries and all our bespoke kits are trademarked registered designs.
Is it noticeable on the motorbike once installed?
As our film is so clear and thin, it provides an almost invisible finish when applied, so it not only protects the look of your bike, but it looks good on your bike too. It is available in Matte and Gloss.
Do any of the leading race teams use your Paint Protection Kits?
Our Paint Protection Kits are used in the TT, BSB, WSBK, MotoAmerica, ASBK, Moto2 and Moto3 paddocks. BMW Motorrad World Superbike Team, Westby Racing, McAMS Yamaha, DesmoSport Ducati, Silicone Engineering Racing and Synetiq BMW all use our Paint Protection Kits. Our teams have thoroughly tested our Paint Protection Film and helped us make it the best it can be.
Are there any independent reviews for your Paint Protection Kits?
We have over 26,000 positive feedback reviews on Ebay for Eazi-Grip Racing Products, which you can see here https://www.ebay.co.uk/usr/hillcroftnw
We are rated 4.4 stars on Trustpilot, which can be seen here https://uk.trustpilot.com/review/www.eazi-grip.com
John Milbank at Bennetts has also reviewed our Paint Protection, which he fitted to his personal BMW S1000XR, which you can read here https://www.bennetts.co.uk/bikesocial/reviews/products/motorcycle-accessories/eazi-grip-paint-protection
More reasons to protect your motorcycle with Eazi-Guard Paint Protection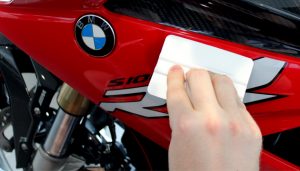 High durability – Eazi-Guard™ protection film provides lasting scratch resistance, puncture resistance, stain and chemical resistance.
Self healing – Eazi-Guard™ protection film will regenerate with the help of heat from the sun or hot water.
Self cleaning – Eazi-Guard™ protection film contains an anti-adhesion component, ensuring that dust and dirt will adhere much less to the protected surfaces, making cleaning less frequent and significantly easier.
Oxidation and acid rain resistant – Eazi-Guard™ protection film provides an effective barrier against harmful acid rain resulting from air pollution and the damaging effect of UV rays.
Over 125 kits available
We have created bespoke kits for all the major manufacturers including BMW, Ducati, Honda, Kawasaki, Yamaha, Aprilia, KTM, Suzuki and Triumph, as well as universal sets. Together with our standard range of pre-cut kits, we also offer rolls of PPF in 75mm, 100mm & 150mm widths , ideal for protecting front forks, chassis rails and swingarms.
What if I cannot find a Paint Protection Kit for my bike?
If there isn't a kit listed for your bike, just let us know and we will see if we can create it. If it's a new bike, it's probably already on our list. We also have universal kits for sale, which can be cut to suit as an option.
To buy an Eazi-Guard Paint Protection Kit for your motorcycle, visit https://www.eazi-grip.com/cat/eazi-guard/
Dashboard Protectors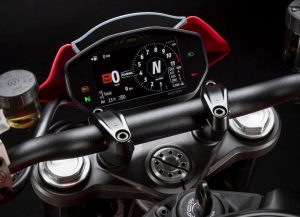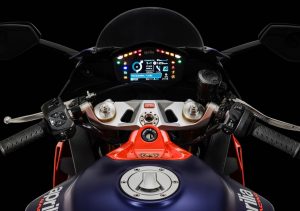 Will the Dashboard Protector protect against scratches?
Yes. Our Dashboard Protectors cover your motorcycle screen with a thin, ultra tough, super clear film that shields your dashboard screen from stones, fingerprints, scratches and marks.  Dashboard screens can easily pick up small irritating scratches that are especially noticeable when riding with the sun behind you, or worse, a scratch that affects your display and obstructs the information shown to you. From just £9.99 + VAT it's a small price to pay to keep your dash like new.
Do you manufacture your Dashboard Protectors yourself?
Yes. We work with a network of local dealers and visit them to trace the dashboard screens of any new models. The tracing is then developed into a CAD drawing, cut from our film, then tested at the dealer until we are happy with the fit. It is then signed off and listed for sale. This way we can ensure a perfect fit and the highest quality.
Do I get everything I need to install my Dashboard Protector?
Yes. As well as the Dashboard Protector itself, we also include a squeegee, fitting instructions, an isopropyl alcohol wipe and fitting solution.
Is the Dashboard Protector easy to install?
Yes, our motorcycle Dashboard Protectors have been designed to be fitted by anybody at home. Click here to watch our fitting instructions video. 
There are also a couple of videos from John Milbank at Bennetts further down this article that shows him fitting our Dashboard Protectors to his bikes.
Fill up the supplied bottle of solution with water. Once done, clean your dashboard using the enclosed Eazi-GripTM wipe, ensuring that all dust and dirt is removed from the surface.
Place the dashboard protection film above its intended surface with the backing liner still on, making sure the shape is correct for your dashboard. Be aware that there is a 1-2mm gap to the edge to allow for fitting errors and reduce the chance of the film peeling up.
Once you are happy with steps 1 and 2, spray your finger tips with the solution and begin slowly removing the film from the backing liner. As the film removes from the backing liner, begin to spray the adhesive side until the shape is completely removed.
Place the adhesive side down onto your dashboard and begin to use the squeegee to start pushing the solution out from underneath. As you keep pushing the water to the edge, the film will begin to stick and sit in position. Make sure all air bubbles are removed and you are happy with how the film is sitting on your dashboard.
If you are unhappy with the installation in anyway, you can easily lift the film up and do the fitment process again as long as you attempt this within 30 minutes of the original installation.
We are only a phone call away or on social media messaging if you have any questions.
Is the Dashboard Protector suitable for TFT and LCD screens?
Our Motorcycle Dashboard Protectors are suitable for TFT and LCD screens as well as instrument clusters.
Virtually invisible once applied
Our protection film is super clear and thin, so it provides a near-invisible appearance on your dashboard screen, meaning your information isn't distorted or unclear.
Does the Dashboard Protector film self heal?
Yes. Our protection film has the clever ability to self heal scratches and marks. If a scratch occurs, gently rub your finger over it and it disappears. See Bennett's video here of them testing our film.
Bennetts reviewed and tested
Speaking of Bennetts, they have carried out reviews on 2 of our Motorcycle Dashboard Screen Protectors, and John Milbank was so impressed he bought one for his MSX125 Grom too. Read the review for his BMW S1000XR Protector here. John also reviewed the Yamaha Tracer 9 Dashboard Protector as part of his long term Tracer 9 test, which you can watch here.
Are there any independent customer reviews for your Dashboard Protectors?
We have over 26,000 positive feedback reviews on Ebay for Eazi-Grip Racing Products, which you can see here https://www.ebay.co.uk/usr/hillcroftnw
We are rated 4.4 stars on Trustpilot, which can be seen here https://uk.trustpilot.com/review/www.eazi-grip.com
Over 200 to choose from
We have Dashboard Protectors available for over 200 motorcycles from all the major manufacturers including BMW, Ducati, Honda, Kawasaki, Yamaha, Aprilia, KTM, Suzuki and Triumph.
What if I can't find a Dashboard Protector for my motorcycle?
Get in touch, we may already have it on our list to do if it's a new bike. If it's an older bike we may be able to produce it for you. We also sell our protection film in pieces if you would like to create your own.
Get your Eazi-Grip Motorcycle Dashboard Protector here.
Silicone Hoses Kits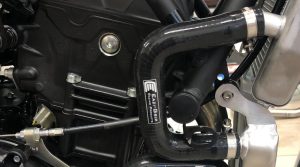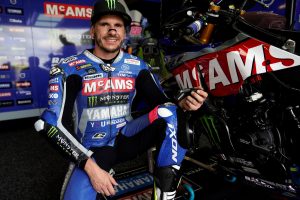 Eazi-Grip Racing Products produce our Silicone Coolant Hose Kits exclusively for road and race motorcycles. Our specialist knowledge has been gained by supporting leading race teams in paddocks worldwide from road racing, through to World Superbikes, where the Eazi-Grip™ brand is trusted and respected as one of the foremost suppliers of high quality performance products.
Eazi-Grip Racing Products high performance motorcycle silicone coolant hose kits replace the OEM rubber hose kit that is fitted as standard to all bikes. It is an essential upgrade for both racers and road riders alike.
Our motorcycle silicone coolant hose kits feature an easy to maintain heat resistant surface that also offers fantastic abrasion resistance and remains pliable during the life of the product. Manufactured from only the highest quality silicone, our silicone hose kits are designed to operate at temperatures from -50°C up to +180°C and at operating pressures of 2.5 – 15 bar meaning running temperatures can be reduced by up to 5°C.
Working Pressure: 4.5 Bar. Burst Pressure: 13.5 Bar.
Meet or exceed requirements of SAE J20 R1 Class A.
Hardness Shore: 60±5 A.
Silicone rubber with 5 ply polyester reinforcement.
Working Temperature: -50°C – +180°C.
Why are silicone hoses better than rubber?
There are a few reasons why silicone hoses are often considered superior to rubber…
1. Flexibility and resilience
Silicone hoses benefit from superior flexibility compared to rubber. They maintain this flexibility over their lifespan unlike rubber hoses. This reduces the risk that your hoses will split, harden, or become dry rotted.
2. Lifespan
Because silicone hoses have such a long lifespan, they can average out to a lower cost per mile compared to rubber hoses, even though their upfront cost is higher. We are so confident in the longevity of silicone hoses that we offer a lifetime warranty for all our branded hoses if used for the correct application and in conjunction with our clamp kits.
3. Operating Temperature Range
One of the main reasons people change to silicone is the operating temperature, it's all about thermodynamics. The idea of a silicone hose is that you replace the standard hose so it doesn't expand and get hot under pressure. Silicone hoses are capable of carrying fluids at much higher temperatures than rubber. If you're building a race bike or adding extra power to your engine, silicone is the way to go.
4. Noise and vibration control
Silicone has a good ability to dampen sounds and vibrations, keeping a quiet and stable profile. Rubber has been known to be a source of noise due to the friction between the rubber and the mating surface.
5. Aesthetics
One of the most obvious advantages of upgrading hoses is how they look. The vibrant blue, green (Kawasaki) and red hoses can really set off an engine. But if you're not into colours our silicone hoses are also available in black.
6. Weather resistance
Silicone demonstrates better weather resistance than that of rubber.  This is an important choice if you are living in a climate with challenging environmental conditions such as rain and humidity.  Silicone will stand up better to the tests of time when the weather is a factor to be considered – strong durability to weather conditions is one of the key benefits of silicone radiator hoses.
7. More resistant to chemicals
Silicone hoses demonstrate an increased resistance to chemicals such as coolant.  Compared to rubber, silicone hose structure displays greater physical integrity when it comes into contact with common garage chemicals such as coolant.
Do silicone hoses improve performance?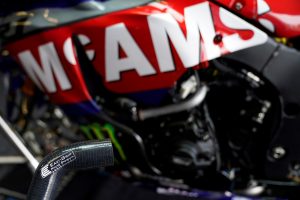 The reason people started manufacturing silicone hoses for the automotive industry in the first place was because silicone material offers such a valuable performance enhancement. So the simple answer is yes.
As we have mentioned above silicone has superior heat tolerance when compared to rubber, this is the major reason why silicone is the material of choice for performance-enhanced motorbikes. If you modify your engine, you'll get some great power, but if you neglect to upgrade your hoses at the same time, you will potentially drive all that extra heat into hoses that aren't equipped to handle it.
Silicone is a very stable material that acts almost like new, even when it's not. While rubber hoses are prone to cracking, getting stiff, or becoming dry rotted over time the resilience of silicone means that this is less likely.
Which race teams use your Silicone Hose Kits?
2021 BSB Champions McAMS Yamaha, BSB team Synetiq BMW, World SBK team BMW Motorrad and 2021 World SSP Champions Ten Kate Racing. Check out 2021 BSB Champion Tarran Mackenzie's Crew Chief, Chris Anderson's recommendation here. https://www.youtube.com/watch?v=XWckba8GkRk
If you are looking for high quality Silicone hoses to replace your standard motorcycle hoses then please click here to view our range.