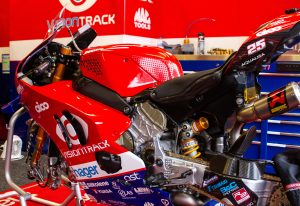 Our Eazi-Grip Motorcycle Tank Grips are used throughout the World by some of the best race teams and riders including the BMW World SBK Team, Team Go Eleven, McAMS Yamaha, Westby Racing, DesmoSport Ducati and Ten Kate Yamaha (there are many, many more but we will be here for a while).  So why do racers use our grips, and why should you too?
Can Tank Grips keep me in position on my motorbike?
One of the main benefits of using Eazi-Grip Tank Grips is to keep position on your bike. It's very easy to slide about when cornering and under braking. This puts more pressure on your upper body as you try to keep balanced. Our Tank Grips keep your knees and legs onto the tank, so reducing pressure on shoulders and wrists and the risk of arm pump.
What options of Tank Grips are there?
We offer 3 materials for our Tank Grips, Evo, Pro and Silicone because grips are very much a personal choice, and what feels best for one rider, may not suit another. The Evo surface has pronounced domes and offers the highest level of grip. This is our most popular grip for racers, as they are usually hanging right off the bike with their knees and elbows down. The Pro is smoother and offers slightly more movement on the bike. Pro is our most popular grip with road users and riders that take part in the odd track day, as it covers both aggressive and leisurely riding. Silicone is our cushioned material that is best for commuters and touring, creating comfort as well as grip.
Our Pro and Evo materials are available in black or clear, while our Silicone material is charcoal grey.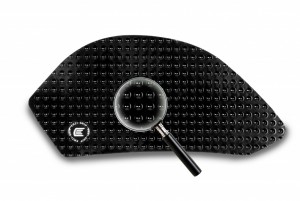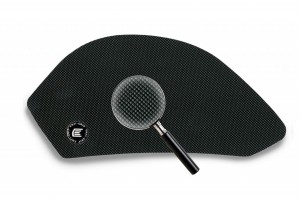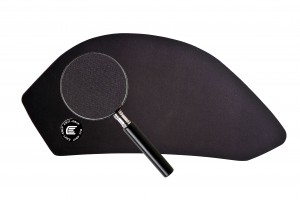 Can Tank Grips reduce tiredness?
Without Tank Grips it takes a surprisingly amount of work to keep planted to your bike, as you have to grip harder with your knees and assist with your arms and shoulders. With our Tank Grips, they take the pressure off your body so you don't have to fight to stay in position and therefore make riding your bike even more enjoyable.
Will Tank Grips protect the paint on my motorcycle tank?
Eazi-Grip Motorcycle Tank Grips protect your tank from clothing rubbing the paintwork, as well as zippers/buttons scratching your tank, therefore keeping your bike's resale value safe and its looks.
Can Tank Grips help with a pillion rider too?
Sometimes if you ride with a pillion passenger, they can slam into you under braking and force you forwards into the tank. A gentle squeeze on the Tank Grips with your knees helps you manage the weight of a pillion better, avoiding the dreaded 'nutcracker' experience.
Designed and Manufactured By Ourselves
As we design and manufacture our own Tank Grips we ensure the best fit and quality. Each is bespoke to each motorcycle model and is specifically cut to size.
So, now you know why you should be using our Tank Grips, visit https://www.eazi-grip.com/cat/eazi-grip/ to get a set for your bike.