Dominant Aegerter wins for Ten Kate with Motonext in Barcelona, impressive 11th place for Leonardo Taccini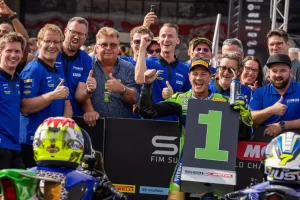 Dominique Aegerter has completely dominated the first two days of the eighth round of the FIM Supersport World Championship in Barcelona. During practice, qualifying and the first race, the Swiss rider outclassed the entire field together with his Dutch employer. Leonardo Taccini had a more difficult start in the Catalan capital and was classified 26th after both practice sessions.
Aegerter's supremacy was further underlined during the Superpole on Saturday morning where he set a new lap record with 1'43.983 at the Circuit de Barcelona-Catalunya. Taccini clearly struggled more with his one-lap speed and qualified 26th for the two World Supersport races.
With the new bio flax fairing and livery of the Motonext project presented on Friday night, the first World Supersport race started on Saturday afternoon. However, the race was red flagged after one lap due to an incident on the opening lap which meant the race would be restarted later over 12 laps.
Aegerter did not start well and fell back to sixth place on the opening lap but that did not bother him. With measured overtaking, the Swiss came back to the front and took over the lead on the fifth lap. With his superior pace, the Ten Kate Racing rider managed to ride away and cross the line as the winner by a margin of over three seconds, taking his eleventh win of the season and increasing his championship lead by another five points.
For Taccini, it was going to be a difficult task from 26th on the grid but the Italian showed that he has the speed to get to the front. In twelve laps, Taccini made up no less than 15 places and eventually crossed the finish line in 11th place, scoring five points.
Dominique Aegerter: "It's a fantastic day, we have been fast all weekend and this morning I did a 1'43 around this track. My first start was good but then we got a red flag and a restart of 12 laps. The second start was not great and I struggled a bit in the first two laps. Then I was able to ride my own pace and get to the front, finally I managed to create a gap of three seconds and took my 11th victory of the season.
We were lucky with the weather as a lot of rain was predicted. To finish this race first is fantastic, our goal was to finish ahead of Baldassarri and now we have increased the gap by another five points. To give Ten Kate Racing victory with the new project they have presented is great. It is important for the future of racing that there are eco-projects like this. Proud to be the first to be part of that. Tomorrow is another day of racing where I will try to repeat today's performance."
Leonardo Taccini: "The race of today was not too bad, we put a patch on the bad qualifying I did this morning. We need to continue in this way although it will be very difficult coming from the same position again. I want to thank the team for their work and congratulate them with the new parts they introduced."
Kervin Bos – Ten Kate Racing team manager: "The first win for the Motonext project in the World Supersport championship is a fact, we are immensely proud that we did it in the first race straight away. Dominique and Leonardo both rode with the plant-based fairing and that shows the innovation we have brought works right away. Dominique took another dominant win and showed that he is the best rider at the moment. Perhaps I am even more proud of Leonardo's race who came back from P26 to P11, insane. Surely he shows why we signed him, there is something in him and we need to get that out a little more often. Hopefully we can continue this upward trend with him tomorrow.
Thanks everyone for the comments on the Motonext project, nice to see that it has been received with open arms by the media worldwide."
Aegerter finishes perfect weekend in Barcelona with twelfth win of the season, Taccini impresses again with personal best P9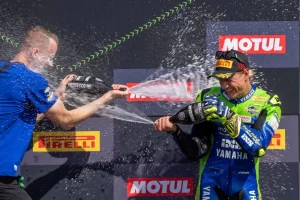 Dominique Aegerter also won the second World Supersport race at the Circuit de Barcelona-Catalunya on Sunday afternoon. The Swiss rider had to work hard for it but was ultimately superior once again, giving him his 12th win of the season, which equals a record. Leonardo Taccini followed up his impressive Race 1 on Saturday with an even better Race 2 on Sunday in which he achieved the best result of his career with ninth place.
At the start, Aegerter once again lost a number of positions and a which meant he had a difficult task ahead of him. The Swiss champion kept his cool and tried to make up the lost places with precision but his rivals managed to counterattack every time in the opening phase. On the twelfth lap, Aegerter made a small mistake in Turn 1 and lost more than a second on the leading group. However, this did not stop him from fighting back and in less than two laps he was on the back of the leading group again.
On lap 15, Aegerter took over the lead and immediately managed to leave his competitors behind. With a two-second lead, the reigning world champion once again crossed the line in first place and took his twelfth victory of the season. Furthermore, it is the fifth time this year that he managed to win both races in one weekend, in the championship Aegerter has now built up a 36-point lead.
Taccini again had to come from 26th place on the grid but, as in Race 1, he managed to get to the front in very impressive fashion. After three laps he had already made up 11 places and the Italian did better lap times than he had done in the Superpole session. In the end, Taccini crossed the finish line ninth, scoring his best World Supersport result so far. It also saw him score seven valuable points for Ten Kate Racing.
With Aegerter winning both races from pole position and doing the fastest race lap in both, and Taccini getting his best result in the World Supersport class, it has been a perfect weekend for Ten Kate Racing with the introduction of the Motonext project proving that nothing is sacrificed in terms of performance with the introduced plant-based bio flax parts.
Dominique Aegerter: "It was the perfect weekend for us and we took the 50 points. On Friday we were already very fast, on Saturday morning we took pole position with a new lap record and a gap of over a second to the rest and in the afternoon we won the first race. Today I started a bit better but it was more difficult because all the riders tried to save the tyres as there a lot of consumption on the right side.

I tried to be around the first three positions but there was a big battle with five other riders. I made a small when I tried to take the lead and I basically gave myself a Long Lap penalty. I lost some time there but I could close the gap again quickly and then overtake them. The slipstream on the main straight was a good overtaking spot for me and I think it was a fun race to watch from the outside, at least I had a lot of fun being part of it. Now we focus on the next round in two weeks' time in Portimão.

It was an important weekend for the team with their Motonext project and the introduction of the new fairing, I am glad I could give them these results. Let's hope we can continue in this way."

Leonardo Taccini: "This weekend in Barcelona was not too bad. We definitely have to improve our qualifying as we cannot afford to start so far in the back. For sure we showed that we can be fast and I am happy to have achieved my first top-ten result. In Portugal we need to start from here and do our best again."

Kervin Bos – Ten Kate Racing team manager: "What a weekend for Ten Kate Racing and the Motonext project. Leonardo got his best World Supersport result with ninth position, insane what he showed today. He came towards the front again from P26 and proved that yesterday was no fluke and continues the upward trend, we as a team are extremely proud of that.

What Dominique has shown again this weekend is amazing, from the first practice to the last lap of the second race he has dominated. He always builds his race in his own way and for the team that is sometimes nerve-wracking to watch. For him, everything was under control and we are proud that he continues to grow. With these two wins, we have also made another big step in the championship and increased our lead.

The Motonext project has also been launched like a rocket and a lot of positive things have already come out of it, we look back on this weekend in Barcelona with immense pride."
The next round of the World Supersport championship will be held at the Autódromo Internacional do Algarve in Portugal over the weekend of 7-9 October. It is the last European round of the season after which the WorldSBK championship will travel to Argentina, Indonesia and Australia.