Manzi puts up great fight for podium in Barcelona, Navarro finishes seventh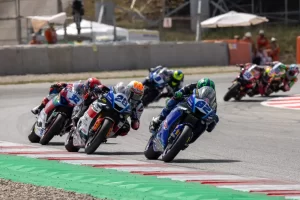 Stefano Manzi and Jorge Navarro finished sixth and seventh respectively in the first World Supersport race at the Circuit de Barcelona-Catalunya on Saturday afternoon. Manzi crossed the finish line in third but received an unjustified penalty that cost him three places.
The start of the weekend in sunny and warm Barcelona was tricky for Ten Kate Racing. After two free practice sessions on Friday, Saturday morning saw the Superpole session in which Jorge Navarro managed to qualify sixth. Stefano Manzi recorded the eighth fastest lap time.
In the race, however, Manzi provided spectacle. After a difficult opening phase he managed to catch the leading group and join the battle for the podium. The Italian managed to hold his own against faster machines thanks to some clever overtaking. Manzi eventually crossed the line in third but received a three-second penalty for cutting off turn 2, even though that had already cost him time.
Navarro also had a difficult opening phase and lost several places, however this did not ruffle his feathers and with a constant pace he eventually managed to finish seventh.
Stefano Manzi – P6: "I cannot say too much about today. It was disappointing because our qualifying wasn't the best and in the race I was penalised. It was a hard fight and I don't think this punishment is fair. However, we are looking ahead and we'll try to find something in the warm-up session. We will do our very best again tomorrow."

Jorge Navarro – P7: "I think we have to take the positives from the race, we are getting there. I am improving my feeling and getting closer to the top guys. With the information we collected and the lessons we learned, tomorrow we can make a step. Our goal is to be fighting at the front tomorrow."

Kervin Bos – Ten Kate Racing team manager: "What a race, both riders performed very well. Jorge made a huge step but just missed the connection of the leading group, his pace was very good until the end. If we make another small step with him, I expect him to be there at the front tomorrow.

Stefano gave his maximum today. We do not agree with the penalty he received, unfortunately we could not protest it. It is becoming more and more clear that the different machines in the World Supersport class are not balanced at the moment, this is obvious to anyone who watched the race.

We are currently in a growth phase with both riders, now it is up to the organisation to get the Next Generation Supersport balanced again. We are confident that, once that happens, everyone can see how fast Jorge and Stefano are. We are satisfied with this day, we should have been on the podium but unfortunately we didn't get it because of this rule. We are looking forward to racing again tomorrow."
Manzi finished in third after impressive battle for victory in Barcelona, Navarro ends up ninth because of tyre woes
Stefano Manzi finished third in the second World Supersport race at the Circuit de Barcelona-Catalunya on Sunday afternoon. The Italian crossed the finish line second but had to give back a position due to exceeding the track limits on the last lap. Jorge Navarro was ninth after facing problems with his front tyre.
With the start, Manzi again could not make up places but he managed to settle into the leading group in the opening stages. By mid-race, the Italian had moved up to fourth position and was fighting for the podium places. In the closing stages, Manzi even moved up to the lead and looked to be on his way to his first win with Ten Kate Racing, however, the competition was able to stay ahead of him on the Next Generation Supersport machines.
Manzi eventually crossed the finish line in second place but he had exceeded the track limits on the final lap, resulting in him losing one position. With 116 points, the 24-year-old Italian is third in the championship.
Navarro started well but soon faced excessive front tyre wear. This caused the confidence in the front to disappear and he could not ride his actual pace. In the end, the Spaniard scored important points by finishing ninth in his home race.
Stefano Manzi – P3: "I touched the green on the last lap so with that penalty I was demoted to third place, which is a shame because I already have that trophy from this circuit at home. In the end I am happy to finish the weekend on the podium, although it is not the victory I wanted. After a bad Saturday we recovered well. The grip on the track was a bit better today, although it felt hotter because of the higher humidity. I want to thank the team for their hard work and Yamaha for their support as well.

Now we have a month off and I'll train hard to be ready for Misano. It will be my home race and it is a track that I like, so I will do my very best there to achieve good results."

Jorge Navarro – P9: "Today's race was very difficult. Already from the beginning I felt that the front tyre was dropping a lot and in the end we could see that it was completely destroyed. We need to understand what happened and keep working. From the beginning I was struggling a lot with the front feeling and it wasn't possible for me to attack. We took some points and hopefully we can solve this problem for Misano."

Kervin Bos – Ten Kate Racing team manager: "Another podium finish for Stefano, I do think he was the showmaker of this weekend. Again, it was very disappointing that we had to give up second place for third: it's hard to accept but rules are rules. We showed this weekend that we know how to fight back from every position and that we can be extremely competitive.

We assume the FIM will do its homework for Misano, Ten Kate Racing will be working hard in the coming weeks to improve some details. Then we will be more than combative going to Misano and we are already looking forward to that. We've now had a home race for the team and a home race for Jorge, next time it's Stefano's turn. In the championship we gained a point in the end and we finished the weekend on a high with a podium.

The Yamaha Thailand Racing Team unfortunately could not bring today what we had hoped for. It is clear that they need to find their way in Europe, however their potential is great. Overall, we can look back on a successful weekend in Barcelona and conclude that the future looks bright for the team."
After a three-week break, the fifth round of the World Supersport championship is next up. It will take place on the weekend of 2-4 June at the Misano World Circuit Marco Simoncelli.