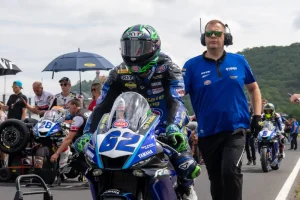 This weekend the ninth round of the FIM Supersport World Championship will be held at the Circuit de Nevers Magny-Cours. After a long summer break, the team is optimally prepared to get good results again with Stefano Manzi and Jorge Navarro, starting in France where it will be very hot this weekend.
After a busy July month with three race weekends, there was a five-week summer break for Ten Kate Racing. The team has not been sitting still during that period as a lot of development work was carried out during this break and a test was held at Motorland Aragón last week. As a result, Stefano Manzi, Jorge Navarro and the team are fully prepared for another busy month with three rounds in four weeks time.
This weekend, the WorldSBK championship returns to the Circuit de Nevers Magny-Cours, located in central France. It will be a very challenging weekend for the riders, material and team with plenty of sunshine and temperatures above 35°C. The 4.41-kilometre French circuit is a classic venue on the calendar and features nine right turns and eight left turns. Ten Kate Racing has enjoyed successes there in the past and hopes to follow that up this weekend.
Stefano Manzi: "Finally we are back racing again after a long summer break and the test we had last week. It went well and it was good to be back on the bike and work with the team again. I cannot wait to start working on Friday and build up our weekend in a good way, with the races being the moment where we need to perform in the best way possible. I am looking forward to go racing."

Jorge Navarro: "After another long break it is finally race week again. I am looking forward to go to another new track for me and it is the last one of the season that is 'new'. I used this break to train a lot and we had a very productive test in Aragón last week so therefore we go to France in a very good shape. I am looking forward to start working on this new track and try to make a step forward. The target is to achieve the best possible performance."

Kervin Bos – Ten Kate Racing team manager: "We had a good test at Motorland Aragon with both riders so therefore we are looking forward to go racing again this weekend at Magny-Cours. I expect both of them to start the weekend at a very high level.

For Stefano it is a track he already knows and he likes coming there whilst for Jorge it is another new track. I don't expect any problems in that regard as we have seen in Most that he can learn a new track very quickly. We can very clearly see an upward trend on his side so we believe we can come out very strong with both riders.

It looks to be warm and sunny this weekend, which is quite different from what we are used to at Magny-Cours. I think that makes everyone look forward to go racing there this weekend, as far as we are concerned the fight is on."
The race weekend at the Circuit de Nevers Magny-Cours starts on Friday with two free practice sessions, followed by the Superpole session on Saturday morning at 10:25am. Race 1 kicks off Saturday afternoon at 15:15 with Race 2 on Sunday afternoon at 12:30.