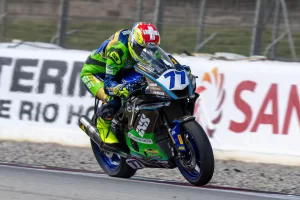 This weekend the ninth round of the FIM Supersport World Championship will be held at the Autódromo Internacional do Algarve in Portimão, the south of Portugal. It is the last race weekend of the year in Europe after which the season will conclude with three overseas races.
Ten Kate Racing travels to Portimão full of confidence with a fantastic weekend in Barcelona still fresh in its memory. Dominique Aegerter took pole position with a new lap record and then won both races handsomely in which he also managed to set the fastest lap. Leonardo Taccini also made the Nieuwleusen-based team smile by turning a difficult starting position into a points finish twice with ninth place in Race 2 as his best result so far in the World Supersport class.
Aegerter has a 36-point lead in the championship and the aim again this weekend will be to increase that margin once again. With 1/3 of the races to go, the season is still long but both sides of the pit box will not lack motivation to perform as well as possible again in Portimão.
Dominique Aegerter: "We're coming to Portimão with good feelings from Barcelona where it was the fifth time this year that I took both wins from pole position, it has been incredible what we have achieved so far. I also signed a contract to go to World Superbike next year and I have celebrated my birthday, together with a lot of training it definitely was a busy couple of weeks.

I like the lay-out of Portimão a lot with up- and downhill sections and fast and slow corners, it will be fun for sure. Last year we only had one podium finish there but for sure we were not on the level we are this year, I think our current package is a lot stronger. I am looking forward to ride there and it looks like the weather will be nice. As always my goal is to extend the lead in the championship and fight for the podium in the races. Some of my personal sponsors will be coming as well as my whole family, so I'm sure we will have a great weekend."

Leonardo Taccini: "The goal for the Portimão round is to continue the progression we showed in Barcelona. We were fast in the races but our starting position prevented us from getting an even better result. Therefore we need to make more than a little step in qualifying, the team and I will work hard to achieve that. I look forward to race again in Portimão as it's a fast and flowing track."

Kervin Bos – Ten Kate Racing team manager: "Barcelona was a great success in all aspects. Dominique took pole position, broke the lap record and won both races: something that can't be improved but can be matched, that's what we're going for in Portimão. But I will take my hat off when Leonardo achieves the same feat. He finished ninth in Race 2 on Sunday, which is very impressive especially considering where he had to come from. Both riders' performances are also important because as Ten Kate Racing we also want to increase our lead in the teams' championship."