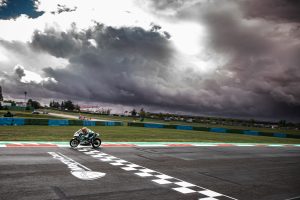 Five weeks after Most, WorldSBK's long summer break ends with Round 09, Magny-Cours, in the heart of Borgogne. Historic track, rather flat but incredibly exciting, which, thanks to its layout, allows for highly spectacular braking and overtaking. The spectators are usually very warm and "noisy", which makes the French event one of the most awaited of the entire calendar. For the 2023 edition the weather seems really promising; sun, warm days, no rain, perfect weather for this tail of summer.
Philipp and Team Go Eleven achieved good performances in the past year, here at the Circuit de Nevers, showing excellent performances within the Top Ten. At Most we saw a step forward in terms of performance, unfortunately penalized by an unlucky qualifying; staying focused in the hot moments and bringing home the best possible result is Round 9's goal. One of the important issues will be the reaction of the asphalt and tyres to the expected high temperatures (over 34 degrees); Here asphalt has experienced several cold or rain races. Last note, Magny-Cours is the theatre of one of the most famous braking sections of WorldSBK, the famous Adelaide, a first gear hairpin, very slow and really difficult to interpret and in which it is important to find the right references.
All we have to do is take note of the times, stay connected and don't miss a single session of Round 9!
Here's the schedule for Round 08:
Friday 08-09-2023:
9.45-10.15, Supersport 300, Free Practice 1
10.30-11.15, Superbike, Free Practice 1, 
11.25-12.10, Supersport, Free Practice 1
14.15-14.45, Supersport 300, Free Practice 2
15.00-15.45, Superbike, Free Practice 2, 
16.00-16.45, Supersport, Free Practice 2
Saturday 09-09-2023:
9.00-9.30, Superbike, Free Practice 3
9.45-10.05, Supersport 300, Superpole,
10.25-10.45, Supersport, Superpole,
11.10-11.25, Superbike, Superpole, 
12.40, Supersport 300, Race 1,
14.00, Superbike, Race 1, 
15.15, Supersport, Race 1,
Sunday 10-09-2023:
9.00-9.15, Superbike, Warm up
9.25-9.40, Supersport, Warm up
9.50-10.05, Supersport 300, Warm up
11.00, Superbike, Superpole Race, 
12.30, Supersport, Race 2,
13.45, Supersport 300, Gara 2, diretta
15.15, Superbike, Gara 2, diretta
Philipp Oettl (Rider):
"After the long Summer break, I can't wait riding again my Ducati. It will be funny, I will enjoy it. I like Magny-Cours, but I really enjoy all last four tracks on the calendar. We will restart with the set-up we had in Most, I was strong there, but we just didn't achieve what we deserved. Of course we have to work step by step and see where our opponents will be compared to us. I am focused on our work and let's see what the first practices tell us."