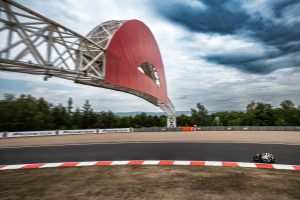 The WorldSBK summer break is just around the corner, Most circuit in the Czech Republic, not far from the border with Germany, is hosting Round 08. A circuit that has recently entered the calendar, highly spectacular and very fast, with a first chicane that created contacts during the first stages of the race.
Philipp and the Go Eleven Team come in Most after a difficult home race with few points scored, due to a completely new track for the German rider. Here, on the other hand, last year Oettl was able to take a good Top Ten at the end of Race 2. Most has a very particular and expensive layout in terms of tyre wear, so much so that Pirelli only brought the hardest solutions here; no SCX and SCQ, the Superpole will be played with the SC0. Furthermore, the weather for this weekend seems rather unstable, especially on Friday the risk of rain is very high. Precisely in this last summer round, Go Eleven will bring something new to the track: a new Spark exhaust equipped with a more fluid delivery, revised and adapted to the new engine revs imposed by Ducati regulations. During Day 1 there will be a comparative that will give us information on how it works.
The goal for Philipp's (almost) home race is to get back inside the top ten; in today's Superbike it's not easy, but the potential is there!
Here's the schedule for Round 08:
Friday 28-07-2023:
9.45-10.15, Supersport 300, Free Practice 1
10.30-11.15, Superbike, Free Practice 1, 
11.25-12.10, Supersport, Free Practice 1
14.15-14.45, Supersport 300, Free Practice 2
15.00-15.45, Superbike, Free Practice 2, 
16.00-16.45, Supersport, Free Practice 2
Saturday 29-07-2023:
9.00-9.30, Superbike, Free Practice 3
9.45-10.05, Supersport 300, Superpole,
10.25-10.45, Supersport, Superpole,
11.10-11.25, Superbike, Superpole, 
12.40, Supersport 300, Race 1,
14.00, Superbike, Race 1, 
15.15, Supersport, Race 1,
Sunday 30-07-2023:
9.00-9.15, Superbike, Warm up
9.25-9.40, Supersport, Warm up
9.50-10.05, Supersport 300, Warm up
11.00, Superbike, Superpole Race, 
12.30, Supersport, Race 2,
14.00, Superbike, Race 2, 
15.15, Supersport 300, Race 2,
Philipp Oettl (Rider):
"Most is always an interesting weekend, it's a kind of home race for me! Imola was really difficult, so we will try to bounce back here, we have a competitive package. Here it will be good to understand how tyres will work, cause the allocation it's completely different compared to the other races. Weather will be unstable, too, but we have to see practice after practice. I am looking forward to the last race before the summer break!"