Friday – First time at Imola for Philipp Oettl. Ends in P13.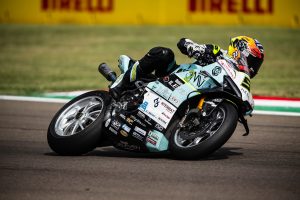 One word to describe Imola? Hard, really hard. The first laps on the Santerno track left Philipp speechless; really spectacular and complicated to understand the blind corners. As the German rider himself admitted, here the "timing" with which to set the lines is fundamental. After a complicated first session, Oettl was able to improve on his references, finishing close to the top ten. Today he was used to know the track, from tomorrow it will be essential to look for the laptime.
In the first free practice Philipp made a long run at the beginning of the session to get familiar with the track. Following some riders he managed to improve, however showing some difficulties in the second sector and in the last chicane. Few changes required, the Imola track has very little grip and the heat made it even more slippery. Position out of the fifteen, for a really arduous session, in which the German rider took more than a few laps to understand the layout.
Free Practice 1: 
P 1   T. Razgatlioglu   1.47.661
P 2   J. Rea   + 0.003
P 3   A. Bautista    + 0.030
…
P 19   P. Oettl   + 2.011
The second session was decidedly better; track over fifty degrees of asphalt, Oettl immediately improved going down to the low 49. Today the track was much slower than in 2019, due to the high temperatures. Three red flags interrupted the session, so it was not possible to show a real race pace over the long distance. In the final Philipp was able to improve further, staying close to the top ten, but the gap from tenth place is quite high, around seven tenths. Tomorrow, after an entire day, things will definitely be much simpler for all the rookies at Imola and we will see the real values on the track.
Free Practice 2:  
P 1    M. Rinaldi    1.47.128
P 2    A. Lowes   + 0.151
P 3    G. Gerloff     + 0.326
…
P 13   P. Oettl   + 1.558
Philipp Oettl (Rider):
"I am not unhappy about today; from FP 1 to FP 2 we had a big step and we found the right way for tomorrow. I will check all the data, cause I think I have a bit to improve in the riding here. Imola is really difficult, the first laps I really had to understand where were the corners. I think here I have to ride smooth, but there are really hard breakings, the timing here needs to be perfect to find the best lap!"
Saturday – No points in Race 1 due to a technical problem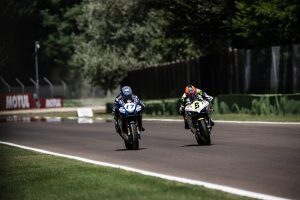 Once again, after Donington, Saturday does not smile at Team Go Eleven. First an unfortunate crash in Superpole due to a misunderstanding with another rider, then Race 1 finished after just a few laps. A not exactly lucky period, which will have to turn around from tomorrow on!
In FP 3 Philipp made a comparison between the rear compounds; first he evaluated the drop of the qualifying tyre with a view to the Superpole Race, then the B800, in view of Race 1. The cooler temperatures and above all a tyre that was perhaps not perfect did not allow for a real time attack. However, the datas collected for the weekend are useful.
Free Practice 3: 
P 1   M. Rinaldi   1.46.389
P 2   A. Bautista   + 0.073
P 3   S. Redding    + 0.312
…
P 18   P. Oettl   + 1.644
In qualifying, once again, practically everything happens; Oettl on the first lap finds Ruiu slower in turn two, he tries to avoid him on the outside, but the track is finished. Crash at high speed, fortunately little damage to the bike, so much so that the German rider manages to return to the garage. Excellent work by the mechanics who put it back on track in about 4 minutes. In the last available lap he manages to snatch an eighteenth position, which slightly saves the race. Definitely better than starting last, but we need a good comeback and lots of overtaking in Race 1.
Superpole:  
P 1    T. Razgatlioglu    1.33.017
P 2    A. Locatelli   + 0.058
P 3    A. Bassani     + 0.103
…
P 18   P. Oettl   + 1.722
About Race 1, once again, there is little left to say. After just six laps, when the German number 5 was fighting with Gardner, a technical problem forced him to pit. He had to stop and really a lot of disappointment for the whole Team. Too bad not having been able to see the race pace and having collected information for Sunday.
Race 1:  
P 1    A. Bautista    34'10.316
P 2    T. Razgatlioglu    + 3.672
P 3    J. Rea   + 7.847
…
DNF   P. Oettl   
The beauty of Superbike is that Sunday allows you to delete Saturday, providing two new opportunities; two races, it will be necessary to find a good set-up today to try and recover as many positions as possible tomorrow.
NEVER GIVE UP!
Philipp Oettl (Rider):
"Today is a really bad day for us! In Superpole I had an incomprehension with another rider and I had a quite hard impact. The bike was ok, i rejoined and my mechanics did a fantastic job. I could qualify in P 18, that's not our goal, but was a couple of rows better. Race 1 was unlucky again, engine problem and the Race was over. During these last races things are not going as we would like to, I think we have the pace for the Top Ten, but every time something happens. Two more races tomorrow, I will go for it!"
Denis Sacchetti (Team Manager):
"Today was truly a day to forget; this year in qualifying luck never turns on our side, something external happens that penalizes us almost always. Today Philipp had to avoid another rider, crashing on the first lap of Superpole. The guys in the garage did a great job getting Philipp back on time, and he managed to gain a few rows. The race didn't last very long, we were fighting close to the top ten and a technical problem excluded us. We identified the problem, unfortunately it happens in racing, it will be solved for tomorrow, but we are really sorry. Philipp deserved to finish his first race at Imola!"
Sunday – Positive Superpole Race, frustrating Race Two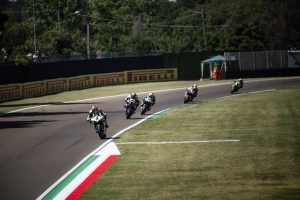 If the Go Eleven Team was able to show a good step forward on Sunday at Misano and Donington, the same cannot be said of Imola. In the Superpole Race Philipp was able to fight close to the Top Ten, but in the long race the pace was never in line with the reference group. It's really a shame to end the home weekend taking one point, but now we need to work and understand the reasons for this Round below expectations.
In the Warm Up the SCQ tyre was evaluated to understand its use in the Superpole Race; the qualifying tyre works really well here at Imola, and above all it gives Philipp a good feeling. At the end of the session, the German rider said he was satisfied with the bike, but his shoulder was slightly suffering following yesterday's crash in Superpole.
Warm Up: 
P 1   T. Razgatlioglu   1.46.350
P 2   A. Bautista   + 0.054
P 3   G. Gerloff    + 0.195
…
P 11   P. Oettl   + 1.355
Superpole Race, Oettl manages well in the first laps, and thanks to an excellent start, manages to conquer four positions. He tries to close on Gardner, but can't get into an overtaking position. In the final laps Lecuona ignites a good battle, resolved at the finish line after a contact in the final chicane in favor of Philipp. A good race, unfortunately without points scored, but which gives confidence in view of Race 2.
Superpole Race:  
P 1    T. Razgatlioglu    17'49.590
P 2    A. Bautista    + 0.244
P 3    A. Locatelli     + 1.720
…
P 12   P. Oettl   + 15.879
Race 2 was definitely the best of the whole weekend; aggressiveness in the first laps, overtaking Gardner and Aegerter, then Scott Redding and Gerloff, with a really good pace, always in line with the Top 5. Philipp followed Petrucci for most of the race, together he closed on Locatelli, often riding faster of Vierge, too. Both the Ducati Barni and the Go Eleven never found the starting point to press the Yamaha rider, and in the final stages the Go Eleven rider was overtaken by Gerloff. Ninth position, back in the Top Ten that had been missing so much in the last few races, but even more importantly a very small gap from fifth position. Practically from the first to the last lap it increased by a total of two seconds, which certifies the excellent pace of the German number 5.
Race 2:  
P 1    T. Razgatlioglu    27'00.997
P 2    A. Bassani   + 1.966
P 3    J. Rea   + 2.458
…
P 15   P. Oettl   + 31.141
Race 2 at Imola proved to be much more painful and difficult than expected, the very high temperatures, over 40 degrees of air and about 60 of asphalt, caused even greater loss of grip, and Philipp suffered as a result. It was even difficult to defend against Baldassarri at the end to get a point. Now it's hard to say what was missing, it will be necessary to analyze all the data well and find the right direction.
Philipp Oettl (Rider):
"Today the Warm Up was not so bad, in the Superpole Race I had a really good start and I was in the right group, I had an interesting race. But all over the weekend was nothing particularly positive. Today I had also a bit of pain in my left shoulder after Superpole crash. In the morning the feeling  with my Ducati was ok, but in the main Race I felt really bad with the front, I got one point, but i gave all my best to end there. Let's see what datas show us. We just have one and a half week to get ready for Most, we have to be back in our positions!"
Denis Sacchetti (Team Manager):
"This Sunday at Imola we achieved less than we expected. We wanted to make up for yesterday's day, but especially in Race 2, the one that awards the most points, something didn't work. The front closed and Philipp had to fight to stay in the points. Too bad because in the Superpole Race he managed a good comeback. Now we have to work in view of the last round before the summer break, we have to get back to our positions at Most. I wanted to thank everyone here at Imola, despite the heat it was a wonderful weekend, Imola is a track that I personally adore, one of the most beautiful in the world, it was wonderful to be back with WorldSBK!"