Tarran Mackenzie
Tarran Mackenzie had a tough start to his Bennetts British Superbike Championship title defence but the McAMS Yamaha rider has been gaining ground, despite missing out on the podium points at Cadwell Park.
The reigning champion arrives at Snetterton in seventh place in the standings, holding a 22-point advantage over Danny Buchan currently in ninth position. Five places remain to be confirmed in the Showdown, with eight riders in contention and Mackenzie is bidding to consolidate his spot at the earliest opportunity.
Last year Mackenzie claimed a double victory and a second place finish at the Norfolk circuit, winning the Race of Aces title, and so has high hopes for next weekend's races.
Mackenzie said: "Cadwell Park was a lot more positive for me than in previous years. I know our race didn't look great with the result of P10, but the pace was a lot better. I felt really good in myself and I was with the group in front from tenth/eleventh, to fourth and the pace was just as good as theirs really.
"For some reason, maybe it's a little bit of me, and little bit of Cadwell, the advantages I had with my bike, I didn't feel like I was ever in the position to be able to pass. I was a bit of a sitting duck. If I could ride my own lines and do my own thing, then riding in the group in front was no problem, but in the first race on Monday I got stuck behind Tom Sykes and I just couldn't pass him to save my life.
"In the last race I got a much better start and was following Glenn for most of the race and felt a lot better in myself and the pace improved. We never changed anything with the bike so I was just learning more, which was good.
"I left Cadwell in much more of a positive place than I did last year and I'm going to a track like Snetterton which I really enjoy. Last year was great for me with two wins and a second and we nearly did the triple, we were fast all weekend.
"I'm sure it will be just as tough as it was last year and everyone will have upped the pace and improved as well. It'll be a fun weekend, I'm not quite confirmed in the Showdown just yet, but I feel like we can have a strong weekend and try and be back on the podium and try and win some races again. Most importantly confirm myself in that Showdown."
Kyle Ryde
Kyle Ryde arrives at Snetterton for the Title Fighter deciding round of the Bennetts British Superbike Championship next weekend (9/10/11 September) holding the much sought after eighth place, but the Rich Energy OMG Racing Yamaha rider won't be relinquishing it without a battle.
Ryde claimed a victory and a further three podiums earlier in the season, but has had a tough run of results in recent rounds, meaning his buffer over ninth placed Danny Buchan is now just 14-points ahead of the three crucial races at Snetterton.
Ryde said: "My head has been really thinking about Thruxton to be honest, I have always been fast there and I was this year, I just had a few issues. I was gutted to not get a trophy there. We had fixed it for the last race and I felt comfortable, but I crashed and that was a handful of points I missed out on.
"I knew Cadwell was going to be hard but I didn't expect it to be that hard! As I broke my heel there last year, I hadn't done a race there so I wasn't expecting major things, but it is what it is. Danny got 70 points out the weekend and that has now made the Showdown spot close with 14 points between us.
"I know that I need to go to Snetterton and ride how I know I can ride, bring a trophy home or something, then I should be there or thereabouts. I was determined to do it at Thruxton and it just didn't happen, I didn't think too much about Cadwell as the pace was ridiculous and under the lap record and it was my first year there on the Superbike. That is just BSB for you though!
"I was on the opposite end of the stick at Oulton Park where we had the lap record pace when nobody thought we would do that, riders always do it every weekend, it is just not nice when you are on the other end of that stick, but that is racing!
"Snetterton is one of my favourite tracks so I am looking forward to that, the test went well there earlier in the year and I know the Yamaha is a good bike there, so I just have to make the most of it and hopefully that secures my place in the Showdown.
"I rode the BMW there last year and it wasn't one of its favourite tracks, so I suppose that is something in my head that I am a little bit happy about. Everyone has their bad luck, so I am just glad it is Snetterton that we are going to where we sort it out."
Danny Buchan
Danny Buchan launched himself back into contention for a place in the 2022 Bennetts British Superbike Championship Showdown with his double win and third place at Cadwell Park. The SYNETIQ BMW rider has the top eight now firmly in his sights ahead of Snetterton with a 14-point deficit to Kyle Ryde ahead of him.
After Thruxton, Buchan faced an uphill task to get within striking distance of a place in the Showdown, but an incredible weekend at Cadwell Park slashed the deficit from 60 points to 14, with three races now remaining at Snetterton to decide the Title Fighters.
Buchan said: "I am obviously still on cloud nine after a great weekend at Cadwell Park! We had a good Superpole and that set me up for a great weekend. I was over the moon with a third and two wins, and bigger than that – we are in with a fighting chance of getting into the Showdown.
"That was massive for myself and the SYNETIQ BMW team as before the weekend I genuinely didn't think I could get that 60-point gap back down. I just didn't think it was a realistic gap to close, but 14 points now to Kyle in eighth is realistic.
"Snetterton is a great track for me and the BMW works well there from the first day I hopped on it this year at the test pre-season, so I am looking forward to going back and having a good consistent weekend.
"Ultimately the goal will be to challenge for the podium in all three races, because podium points are important. That is the goal and we will do everything we can to be in the top eight at the end of Sunday."
Leon Haslam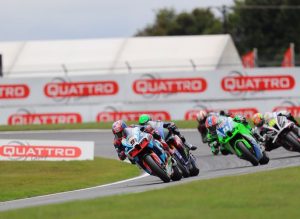 Leon Haslam remains the last rider in the standings with a mathematical shot of making the cut for the 2022 Bennetts British Superbike Championship Showdown and the VisionTrack Kawasaki rider has not given up ahead of the Snetterton round.
The 2018 champion holds eleventh place in the standings and is 35-points adrift of Kyle Ryde who holds the last place in the top eight ahead of the final three races of the Main Season, with a maximum of 75-points available from the three Snetterton races.
Haslam said: "I am looking forward to Snetterton as I feel that we have made some good steps over the last few races. We didn't have the greatest start to the season and so we are a bit outside of the top eight, but it is still not impossible so hopefully we can try and make a good weekend of Snetterton and see where we end up in the top eight fight.
"Cadwell Park wasn't too bad for us; we were the top Kawasaki and had two top fours so I was happy with that but obviously I am still wanting more. We are all working really hard towards that and so we will keep on pushing."
Tommy Bridewell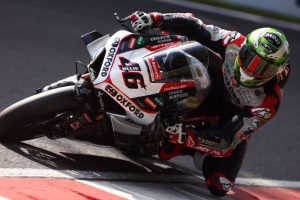 Tommy Bridewell finished runner-up in last year's Bennetts British Superbike Championship title fight and the Oxford Products Racing Ducati rider heads to Snetterton this weekend (9/10/11 September) determined to consolidate his position in the top eight ahead of the Showdown.
Bridewell celebrated a double podium finish last time out at Cadwell Park, elevating himself to sixth in the standings, arriving at this weekend's crucial round with a 37-point buffer between him and Danny Buchan who is just outside the top eight, holding ninth.
The Oxford Products Racing Ducati rider claimed a hat trick of podium finishes at the Norfolk circuit last year, battling with the McAMS Yamaha pairing to put himself into title contention in the Showdown, so has high hopes for the weekend ahead.
Bridewell said: "Cadwell Park was ok; it was really ticking the boxes with two podium finishes, three stable positions to continue clocking up solid points and beating the Showdown guys who are around me in the championship standings at the moment. That was the main objective of the weekend and that was what we did.
"It would have been nice to have been able to fight a bit harder for the win, but you have to evaluate the risk versus reward – we need to be in the Showdown.
"Snetterton we need to focus on what we need to achieve. We are here and expect to fight for the championship and we have had a steadier start to the season perhaps compared to what I had hoped but the beauty of the Showdown is that it gets reset almost after Snetterton.
"There is an element of we still just need to keep our nose clean this weekend, more so for the Saturday race. It would be nice to be in a decent position after the Saturday race so we are more relaxed for the two Sunday races. I don't really ride thinking about needing to confirm the Showdown because if I don't make the Showdown, somewhere along the line this season we have underperformed.
"Obviously we got some good mileage at Cadwell with the new things we had to test and got an understanding. There was an instant improvement for me, where I went out and thought 'this feels better'. But with Cadwell you almost reach a point and that is it, because we were on lap record pace and there isn't much else you can find.
"At Snetterton there are corners and areas where I think we can almost maximise the newer potential of the bike, around turn one, three, the last long right hander. The new spec of the bike should help us there to be honest so I think we need to roll out on Friday, see where we are, and go from there.
"I have rode the bike in '19, '20 and '21 and three years of experience of when the bike was born as such to how far we have come with it now. There have been ups and downs along the way but I can compare it, so that is the main thing. I know how it felt in other seasons and it is the feeling I am searching for to get it exactly as we want it. I don't think we are far away, so I am hoping at Snetterton, my expectation is that we can get the bike where I want it and if we can do that then I can fight for the race wins for definite. That is the plan. If we can get the bike where I want it, we can be strong for sure.
"To be fair to Brad and Jason they have had a mega season and they have been the most dominant two riders, they are ahead of us on podium points and it will be difficult to overhaul that so I can only try and beat them. That will get me so far and then some luck, we have seen it before, we get to the final three rounds and anything can happen – the weather, there are a lot of factors that can come into play. We need to get the Showdown confirmed and then hit the reset and then look at our targets for the British Championship and we will keep working."
Glenn Irwin
Glenn Irwin has a 50-point buffer over ninth place in the Bennetts British Superbike Championship standings ahead of the decisive round at Snetterton this weekend (9/10/11 September) and the Honda Racing UK rider is gunning for victory to secure his place at the earliest opportunity.
Irwin holds fifth place in the standings, 11-points adrift of Lee Jackson ahead of him, knowing that a strong opening two races could confirm his place before the final race of the weekend.
Irwin had top ten finishes at Cadwell Park, but is seeking a return to the podium for the first time since Brands Hatch at a circuit where he has previously celebrated the Race of Aces victory with a strong performance.
Irwin said: "Cadwell Park was an enjoyable, Superpole was good and that was refreshing. As much as I fluffed it, it was good fun and you do your lap and you think you know where it would put you, then you watch where you end up and that was exciting. It was also the Honda team's home round, you know with that came a lot of fans and presence and that was great too.
"The three races, I feel like I fought hard. I recovered positions that I lost in the early laps, particularly race one and two where I had to pass Taz, Tom and Kyle, Christian, so there was a lot of recovery going on with riders that are hard to pass. I always try to make clean passes at Cadwell and I was able to get through hard and fair, which was good. That was enjoyable and I didn't fall out with any riders, which is a big tick!
"At the same time it was a little bit underwhelming as we had greater expectations going in and we had good pace in our private test but in reality our good pace was similar to that in race three, which was enough for an eighth, which was disappointing.
"I felt like I rode well and bridged a gap to do that when I was feeling low on energy resources after fighting two difficult races before that. We were still working on improving the change of direction with the Fireblade, so to have the strongest race in the last one was pleasing.
"Eighth isn't something you would do somersaults about but it was a step closer to the group in front and that was progression and I always try to be happy with progression. All in all it wasn't a disaster, championship points, and when you get close to the cut off you don't want to start throwing in weekends like some of the other riders fighting for the Showdown.
"We go to Snetterton, a track where myself and the bike have won at in the past, I enjoy it there and we will crack on. It is a good margin we have at the moment, but there is always a twist and it started at Cadwell Park so fair play to Danny. I am aware they can go strong at Snetterton as well so we need to continue to score high and at the moment 26 points secures the Showdown so we want to get that done before race three if we can.
"There is so much to it that you can't focus on single riders; I need to keep Taz, Tommy and Kyle to be the drop zone target – the ones in eighth. Leon, Hicky and Danny are all still looking to get in so to be honest there are that many I need to concentrate on beating that I might as well concentrate on trying to beat the whole grid, which is what we try anyway! It doesn't change our plans, we just need to keep working."
Lee Jackson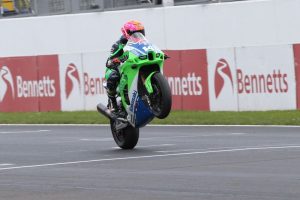 Lee Jackson heads into this weekend's decisive Bennetts British Superbike Championship event at Snetterton as the rider leading the hunt to join the Title Fighter line up in the Showdown, with the Cheshire Mouldings FS-3 Kawasaki contender holding fourth in the standings.
Jackson is the only rider who can mathematically be confirmed on Saturday following the eBay Sprint race. He can confirm his positon in the opening race if he scores 15 points more than Danny Buchan, who currently holds ninth in the overall standings.
Jackson had a tough home round at Cadwell Park but has vowed to bounce back stronger this weekend as he bids to make it both of the Cheshire Mouldings FS-3 Kawasaki riders feature in the final title fight.
Jackson said: "I was of course disappointed with my home round. Up until Sunday, I was pretty happy with how the weekend was going. You get to your home round, the pressure is always on and I was happy until then.
"The Superpole qualifying lap was probably more pressure than getting ready for the race but I felt pretty good and then obviously not scoring points on Sunday and then a couple of points on Monday wasn't ideal for the championship and then Rory also overtook me in the standings. It isn't the worst thing to happen as we have a good buffer to the guys behind.
"I have been looking at the gap and thinking I only need 15 points more than Danny, but it is so close between me, Glenn and Rory – I have been getting my head around it! To be confirmed on Saturday I need to be on the podium and Danny not finish that race, so it is probably going to go down to Sunday – we will see!
"Up until this weekend, even at Thruxton, I was racing for that individual race and then. I think going into Snetterton I don't think I will think about it like that as you can do something silly pushing too hard for just a place which might cost you dearly. For me at the moment, I am not thinking about the Showdown scenario and will just be trying to get myself back up on the podium and be back in the fight.
"In the test earlier in the year, my crew chief Ian wasn't there as he had Covid and I was just getting back up to speed. I don't think I was too far away, so I am looking forward to getting back on the bike and having a proper go so that we make sure we are fighting at the front again.
"I one hundred percent want to bounce back this weekend after Cadwell Park and prove it was just a little blip but I don't want to do anything stupid. We need to get the Showdown place confirmed and if we can also get some of the last podium points then that is what I am going for."