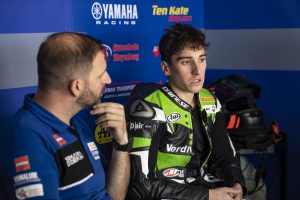 Ten Kate Racing has signed Leonardo Taccini as its second rider for its 2022 FIM Supersport World Championship campaign. The 19-year-old Italian will be the teammate of reigning world champion Dominique Aegerter who recently extended his agreement with the Dutch team.
Leonardo Taccini will make his debut as a regular rider in the FIM Supersport World Championship in the colours of the Dutch Ten Kate Racing in 2022. For the 19-year-old Italian, who raced in the European WordSSP challenge – a competition within the World Supersport category –  last season, the partnership is not entirely new. Last season, during the penultimate round of the season in Argentina, he rode for Ten Kate Racing as a replacement for Galang Hendra Pratama who could not travel to the South American country due to visa problems.
This cooperation was deemed successful, resulting in that both parties decided to continue their collaboration in 2022.
Leonardo Taccini: "Let me start by saying that I am very happy to be riding for Ten Kate Racing in 2022. This is a great opportunity for me to be able to show my true potential, especially in such a professional team that has already proven itself several times. In fact, it is one of the best World Supersport teams in the paddock. Not only did they win the world title last season with Dominique Aegerter, it even was their tenth world title in this category. Again, I see this as a fantastic opportunity and I will do everything I can to repay the confidence in me with stellar results. At the end of 2021 I already got to know the team during my replacement ride in Argentina, and there I already experienced how professionally the team works. Thanks to Kervin [Bos], thanks to the Ten Kate family and thanks to all my sponsors for the trust and this great new challenge."
Kervin Bos, Ten Kate Racing team manager: "We are proud as a team to have signed Leonardo [Taccini] for next season alongside Dominique Aegerter. Leonardo has already shown us his talent during the race weekend in Argentina where he managed to score an eleventh-place finish. He brought a lot of energy to the pit box there, and what was very important for us to see was that he got faster every session throughout the weekend. This shows that the talent is there and we expect with his arrival that, next to the experienced Dominique, we have a young and talented rider in the team that we will have a lot of fun with. We are therefore looking forward to starting our 2022 World Supersport campaign in early March."
The 2022 FIM Supersport World Championship season kicks off in the weekend from the 6th to the 8th of April at the Motorland Aragon Circuit in Spain.
Posted on Friday, January 14th, 2022 in News