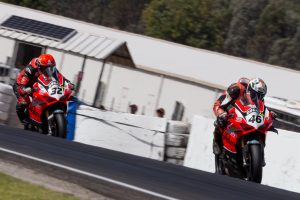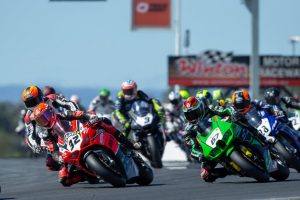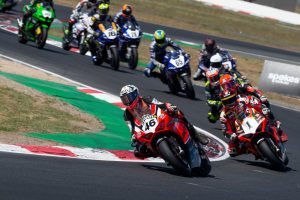 The 2021 Australian Superbike Championship has fired into life with the first two races of the seven-round series at Winton Motor Raceway over the weekend. Aboard the DesmoSport Ducati Panigale V4 R, Mike Jones led the charge taking second overall, while Oli Bayliss impressed, securing 6th in his first official ASBK outing.
Mike Jones
Qualified: 3rd
Fastest Lap: 1:19.806
Results: 2-3, 2nd Overall
Championship: 2nd
Oli Bayliss
Qualified: 7th
Fastest Lap: 1:20.903
Results: 7-4, 6th Overall
Championship: 6th
Team Co-Owner, Ben Henry: "I'm really happy with how both guys raced their bikes this weekend. It's fair to say that Oli impressed with his progression and consistency, and to set his fastest lap of the weekend on the last lap of the last race just shows the potential he has. Two podiums for Mike is a solid start, but what many people won't be aware of is that his Panigale V4 R was essentially stuck in third gear after a piece of the fairing became dislodged and interfered with the lever for the entire race. The more you look at the results, and process that fact, the more impressive his third place is".
Mike Jones: "Two podiums and second overall for the round is a good start to the season, and I leave Winton with a lot of confidence in myself, and the package we have. We showed good speed early in the weekend, topping timed practice, ultimately qualifying third and racing to second in race one. Race two was a little more challenging though when the gear lever became obstructed and I could only move from third to fourth and back again. Sometimes these things happen in racing, and it was a challenge for sure to manage the bike through the race, however I maintained good speed and track position to finish third".
Oli Bayliss: "I'm really happy with my first ASBK race weekend. My aim heading in was to try and reach the lead group, and my 7-4 race results show that we did that. The pace at the front was really fast, and it's still a bit of jump to get to that speed, so for now, my goals are the same, and we'll concentrate on trying to race in the group at the next round".
DesmoSport Ducati now return to their Burleigh Heads base within Cube Performance Centre to begin preparations for the next round at Wakefield Park Raceway next month, with testing beginning in just two week's time.