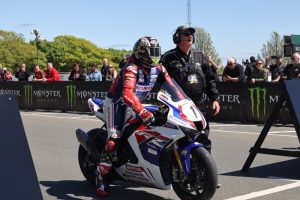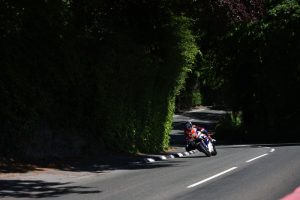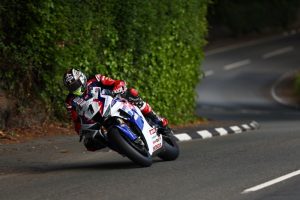 The Honda Racing UK team started the Isle of Man TT Races fortnight with a strong first outing for John McGuinness MBE and Glenn Irwin on the Honda CBR1000RR-R Fireblade SP. Under blue skies and blazing sunshine, albeit coolish temperatures, John finished fourth fastest in both the Superbike and Superstock classes, while Glenn was an impressive ninth fastest in the Superstock class as he made his TT Races debut.
The Honda Racing UK teammates made the most of the conditions with John putting in two laps apiece on his Superbike and Superstock Fireblade machines – and was immediately into his stride posting the fastest first lap of any of the Superbikes – before rounding out the day with a lap on his Supersport bike. Glenn meanwhile rode lap after lap after lap, completing seven in total, as he worked at learning the 37.75-mile Mountain course.
After a first lap behind TT Rider Liaison Officer Richard 'Milky' Quayle (also riding a Honda CBR1000RR-R Fireblade SP), Glenn then put in an astounding five quick-fire laps on his Superstock bike, building up his lap speed from a first lap of 111mph through to his best 121.535mph on lap five. He then took advantage of an option for newcomers to ride a second session to put in two laps on his Superbike and posted an even faster lap, clocking an impressive 122.616mph, despite being slowed on track by other riders.
After three years the fans were back in force, enjoying the first night of Qualifying packing the paddock and the course alike, and with such great late-spring weather it all made for a highly enjoyable, atmospheric return to road racing for the island.
The Honda Racing UK team will be back in action tomorrow evening, as they look forward to five nights of Qualifying next week, before the first race of the TT fortnight takes place on Saturday 4 June, with the six-lap RST Superbike TT Race.
#1 John McGuinness MBE
"That definitely got my attention, that first lap down Bray Hill! Wow! I haven't been on a Superbike for a while, 2016 I think was last time I was on something that was competitive and I felt confident with. And after four laps I feel like I've been run over! This places pulls muscles you forgot you ever had. But look at the weather, feel the atmosphere in the paddock, it's a cool place to be, and out there on the track I've never seen so many people trackside for the first day of practice! It's cool to see, great to be back.
The new Fireblade is feeling good, it's faster, sharper, and the Superbike certainly gets your attention, it's that fast and of course demanding. I'm also learning some new stuff, there's a lot of nice new tech that's come with this bike. So I'm happy to be inside the top five in both classes today, that's probably down to experience, and for sure the pace will get faster and faster as the week goes on, but it's good to be at the sharp end and to have four good safe laps under our belt. I'll just need to digest what's gone on today, what the bikes were doing – I'll need to sleep on it, lie in bed and let it come back to me! But no question, the bikes are good and it's great to back here at the TT."
#22 Glenn Irwin
"First impressions – it's absolutely mental! For now, I'm just learning the course but I'm really happy with the homework I've done on this, it's really helped. I know where I'm going, but what I need to understand is how these guys take some of these big corners  flat out. But all that will come with time, for now I'm concentrating on hitting my markers.
I'm not paying any attention to the lap times, but ninth, that's alright isn't it!? I came in after that first newcomers lap saying I didn't like the sections under the trees, I still feel that way, it's easy to be drawn into the hedges, because the straights aren't straight and then there's the strobe effect, I've never raced under so many trees. So I've put in the maximum laps I could and I've learned lots by following the guys as they've come past. I think my favourite corner so far would be Cronk ny Mona (the left after Hillberry) – they say never go over the white line or you might crash, so I don't go over it, but I enjoy really sitting on it!
So I've had lots of fun today. The Superbike felt good and the Superstock I felt very comfortable on, so I think we can improve it a lot over the week."