Saturday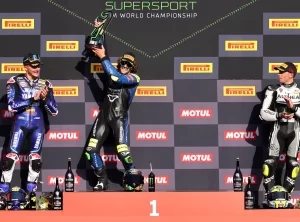 Dynavolt Triumph's Stefano Manzi delivered the team's maiden World Supersport win, the first Triumph World Supersport win, and the first new generation World Supersport victory in today's historic FIM Supersport World Championship race in Portugal.
After qualifying in fourth on the second row, his best Superpole position to date, Manzi , instead of having to fight through the field, rode both defensively and assertively powering to the front of the freight train by lap 3 of the shortened race.  Manzi exchanged places with Caricasulo, Baldassarri and Aegerter over the 12-laps before he reclaimed the lead to take the win just 0.011s ahead of Baldassarri.
Stefano Manzi: "I'm quite happy because it is the first win for me in World Supersport and also for Triumph so I am very proud of the work we have done up to now.  It's very difficult to find the words because now we have another race tomorrow so we have to stay focused but I'm super happy for the team, for me, for Triumph and we will try to do our best tomorrow and we will see what happens."
Teammate Hannes Soomer also had his best Superpole result to date, starting race one in ninth position despite a crash in the opening laps of the qualifying session this morning. The young Estonian injured his finger in the crash but still delivered a fantastic performance to cross the line in eighth.
Hannes Soomer: "First of all I am very happy for Stefano and our team.  This victory, it's a big thing in this first year for the bike and I'm happy for all of us.  From my side, I had quite a good day, I had good qualifying but a small crash and hurt my finger a little bit.  It's not too bad and I will try again tomorrow."
Dynavolt Triumph Team Manager Simon Buckmaster: "To be honest I am so proud for this to be the first win for Triumph, I started racing on a Triumph way back in 1977, that's how old I am. The first win by a next generation bike so I am really proud of everybody in our little team to achieve such a fantastic thing .  A little side thing is that Parkalgar the Portimao circuit here, were the original title sponsor of the team so it's nice to achieve it here.  It couldn't be better I'm so happy for everybody involved at Triumph who have helped us and all our partners.  Congratulations to everybody I am proud to be part of it."
Sunday
After the highs of the first win for Dynavolt Triumph in race one yesterday came the lows of a DNF for Stefano Manzi in race two of the FIM Supersport World Championship today at Portimao.  Manzi was immediately in the mix from the start of the 17-lap race, battling Caricasulo for the lead and through no fault of his own, the Italian race winner was taken out in an ambitious move on lap 14 by Baldassarri who was consequently penalised for the manoeuvre. 
Stefano Manzi: "Not quite a good race because we made a DNF.  It was unlucky, not our fault, another rider hit me when there were 4 laps to go.  I was fighting for the win again today and I was fast, I felt very good with the bike. I'm a bit angry about that because I lost many points in the championship but it is what it is.  Now we are thinking on the next one."
From ninth on the grid Hannes Soomer got a good start and found his rhythm but the medication the Estonian was taking to prevent infection in his injured finger sapped his strength towards the end of the race and he couldn't maintain his pace.  Soomer still managed to equal yesterday's result of eighth in a consistent show of determination.
Hannes Soomer: "I think today for me at least was a better race then yesterday even though the position was the same. I wasn't feeling the best today after yesterday's injury and some medication that I have to take for it but the speed was there, the bike was good we were fast just not up to the end of the race.  I'm happy with the weekend, we were really consistent.  It's something to build on in Argentina."
Dynavolt Triumph Team Manager Simon Buckmaster: "After such a fantastic day yesterday it's a bit disappointing today.  Again, Stefano was fighting for the win in such a tight group in a really good race. Manzi was on the outside, Tuuli was on the outside and Baldissarri touched Tuuli and Stefano had nowhere to go and went down with him.  It's a shame but we've proved we can win and we are building now to fight for the championship next year.  Hannes rode really well, it's been his best riding performance this weekend. He was doing good but in the last five laps he got really tired.  It's not happened before, he's a really fit guy but it was because of the medication for his injured finger.  A lot of positives and we are looking forward to Argentina.  A really good job by the Dynavolt Triumph team this weekend."