Friday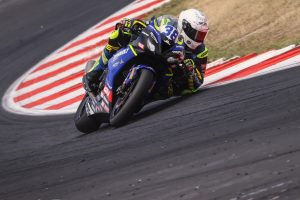 Despite never having been to the track before, Dynavolt Triumph's Stefano Manzi showed his class on the first day of FIM Supersport World Championship action at the Autodrom Most in the Czech Republic.  Dynavolt Triumph's Stefano Manzi ended the opening day seventh on the combined timesheets, demonstrating great race pace across the two free practice sessions. The Italian's time of 1'35.462 was set midway through the second session on lap twelve of the tyre and he sits just 0.5 seconds off the top going into qualifying tomorrow.
Stefano Manzi: "In general it was a positive first day if we consider that it is a new track for me and the team. They haven't ridden here before with this bike so we didn't have any data to put down this morning but I feel ok with the track, I feel very good.  This afternoon we made a big step in front and we missed a little bit with the last tyre of the single lap but my race pace wasn't bad this afternoon so I'm happy about that.  Now we see the weather tomorrow because we hope it is going to be dry, better than wet".
Hannes Soomer had a less positive day as he struggled to get a good feeling at the Czech circuit.  The Estonian ended a frustrating day in twentieth position managing only a small improvement across the sessions.
Hannes Soomer: "First day in Most, my first day on this track just trying to learn the track and trying to get the best out of the bike.  It was quite difficult we couldn't go fast with the new tyre but we will do a long night and try to figure it out for tomorrow."
Dynavolt Triumph Team Manager Simon Buckmaster: "Stefano's race pace was fantastic and for me that's a good performance.  We need to build on that.  We are in pretty good shape, the race pace is right there.  The one-lap pace is still our weak point, we need to look at that even if we have to maybe consider some slightly different setting just for qualifying because we know our setting for the race here, we can see the pace is good.  Not the best day for Hannes, the times are so tight and he can't quite get the feeling he wants.  He has a very different riding style to Stefano but we need to work with him and improve for qualifying and race one."
Saturday
Dynavolt Triumph's Stefano Manzi recovered an incredible result from his qualifying position on the seventh row of the grid to deliver his, and the team's first World Supersport podium with the Triumph Street Triple 765 RS, the team's first WSS podium since 2018 and Triumph's best ever WSS result.
Notwithstanding the melee that ensued at the start of race one at the Autodrom Most, the result of which brought down several riders, Manzi had already made a blistering start to begin to turn around a disappointing qualifying session and set about making passes through the field.  By lap 12 of the 18-lap race, the Italian was up to third but he was soon to take van Straalen and then managed to hold off challenges from Debise and Odendaal to take the chequered flag in second position.
Stefano Manzi: "So finally we got the first podium. I am very happy and proud.  After this morning I was very angry because of the issue with qualifying so I had to start in 21st.  It was a bit strange in the first lap, in the first corner the incident in front of me but I was able to not lose the time then I got back to work to gain positions. Then there was the fight to second and I am very happy also because I think it has been like 10 years since Triumph was on the podium.  I put the Triumph back on the podium and that is a good thing for me as a rider and also for the team.  Now we see tomorrow, we have to start again in 21st which is not very good but we will see and we will do our best."
Meanwhile the first corner incident impacted Hannes Soomer's race to such an extent that he came through the fracas dead last.  The Estonian was fortunate not to have been taken out but his race was effectively over at that point. The luckless Soomer crossed the line in nineteenth place.
Hannes Soomer: "Very disappointing race there was a crash in turn one when somebody hit me, I almost crashed I was lucky to stay on. The race was done then.  Congratulations to Stefano, it's good for the whole team and I hope we can make the step to reach the same level."
Dynavolt Triumph Team Manager Simon Buckmaster: "After the mistake by the team this morning when the fly by wire throttle wasn't connected properly and to only get a lap in at the end there when the tyres were cold, only qualifying 21st it was a fantastic job by Stefano to finish second.  Our first podium with the Triumph. Congratulations to Stefano's boys, Andrea and Calin but really to everyone in the team because there is me, Spanky and George who are the main core in the workshop and also Dan.  I'm so happy for our first podium, we know we've still got work to do to get to win a race but it's a big step. It's fantastic for Dynavolt, Triumph and all the partners of our team."  
"How Hannes stayed on I don't know and then he was absolute last, like he said, it was kind of done there. So we've sort of had the two spectrums of a day but we are right behind him we want to do the best we can tomorrow with both of our riders."
Sunday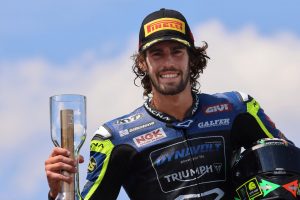 Dynavolt Triumph's Stefano Manzi made it two podiums in a row with a third place in today's FIM Supersport World Championship race two at the Autodrom Most in the Czech Republic.
Starting from way back in 20th position, Manzi had a fight on his hands to replicate anything like his performance yesterday.  Setting a string of fastest personal laps and the best race lap in the scheduled 19-laps, the 23-year-old once again scorched his way through the field almost faultlessly, save for a small mistake when he ran on and lost two places which he instantly re-took for fourth.  Just Oncu stood in his way of another podium position but he was swiftly despatched before the race was red flagged and called after fifteen laps due to a crash.
The podium was a historic World Supersport affair with a maiden all Italian lockout and the first time since Monza in 2007 there were five manufacturers in the top five positions.  Manzi now moves up to fifth in the championship standings after six rounds.
Stefano Manzi: "If after qualifying somebody had said to me that I would finish on the podium I would have said a word I can't say now!  Finally I made it, I am very happy and proud about the team because we did a very good job. Now there are forty days of holiday, that is a bit too long.  I am hoping I can do some training with motorbikes because I enjoy a lot of riding so I hope to ride a lot and come back in Magny Cours even stronger than now."
Hannes Soomer had a stronger second day with a much-improved top ten finish coming in ninth when the race was stopped.  Soomer brought home more points and remains in the top ten overall in the championship going into the long summer break.
Hannes Soomer: "Today was a better race than yesterday. I was more lucky in the first laps and I got a good start, good first corners.  Just basically a better race overall but still we are missing something compared to how fast this bike can go. Now we have one month to figure out how to find the missing speed."
Dynavolt Triumph Team Manager Simon Buckmaster: "Another fantastic ride by Stefano. Obviously this one was harder because there was no incident at the first chicane. He came from such a long way back, set the fastest lap and got another podium.  Such a superb job and a great weekend for the team on that side, really putting Dynavolt Triumph right there in World Supersport.  I'm proud of the whole team because it's a team effort.  An improvement for Hannes, like he said, he needs to find the missing feeling for him to be on the level of Stefano but I'm pleased for him to get a top ten result in with a good group he fought well.  So now we are going into the summer break, we are going to look at improving in every way we can.  Looking forward to seeing everyone at Magny Cours."