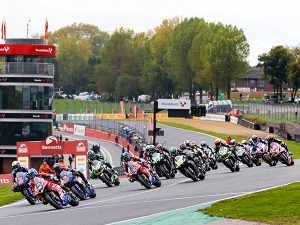 Eazi-Grip supported riders Josh Brookes, Danny Buchan, Jason O'Halloran, Rory Skinner, Christian Iddon and Glenn Irwin share their thoughts on Knockhill, and their hopes and expectations at Brands Hatch this weekend.
Josh Brookes – VisionTrack Ducati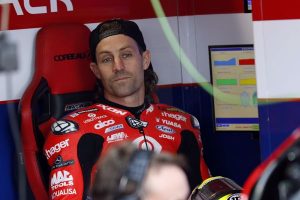 Josh Brookes has endured a nightmare start to his Bennetts British Superbike Championship title defence as the VisionTrack Ducati rider has yet to celebrate a podium finish and arrives at Brands Hatch for round three languishing down the order in 11th place in the overall standings.
At the opening round of the season, Brookes could only salvage a best result of sixth place in the third and final race of the weekend, opening his campaign with a tenth place in race one and a seventh place in race two.
At Knockhill the woes continued and Scotland became even more of a dent in his bid to score back-to-back titles, with a highest placing of tenth in the first race, which was followed up by 12th and 13th scores.
Brookes said: "I'm obviously disappointed with how Knockhill went and embarrassed to be that far back with the number one plate. It's not natural, and it's not normal for me to be in those positions and I'm in a bit of shock to be honest.
"The bike didn't feel right from the moment we rolled it out the truck and it doesn't matter what we have done, the feeling has been the same. I've had bad races in the past but not so many in a row like we've had so far this season. I've always been able to turn it round and end the weekend on a positive note, but that wasn't the case at Knockhill. But we won't give in; I'll work with my team to sort what we need to.
"We have had no grip in the rear, so I don't know exactly the source of the issue, but Oulton Park is normally a really good track for me, so starting there, I thought 'this is great', but then discovered that I didn't have any grip. Then I thought, we would go to Knockhill and we had a couple of good days testing there pre-season and it will get going there, but in fact it was worse at Knockhill.
"I have expressed to the crew the best that I can how I feel about the feeling of the bike is and at the moment it is difficult for someone else to understand as they are not on the bike with me. On paper, let's say the bike is supposed to be the same as we had last year, yet it doesn't feel like that. It's not a bad handling bike, it doesn't become difficult to ride like wobble or weave or head shake or anything untoward like that. It does all the things you want it to do but just slowly because I have no grip.
"For some reason, something is affecting how the tyre generates grip and everybody has suggestions of what we could do, and we have already tried or looked into it. It's a bit of a mystery," added Brookes.
The title challenge moves to Brands Hatch next and the Grand Prix circuit where the Australian has previously been so dominant, winning ten of the last 14 races on the 2.4-mile circuit and a total of 19 races since 2011 to equal the record of victories set by Shane 'Shakey' Byrne.
"I am bothered by it because obviously important races are being lost," said the reigning champion. "But I can't let it affect me as I know in myself that there is nothing wrong with me. I have ridden for long enough that I know when it is all correct, I will be away and ride it like I ever have, but at the moment it's a situation where if I try harder I feel like I could do damage to the bike or to me, which would be a worse situation.
"I have to unfortunately be patient and wait for either a solution or a resolution to be found. I don't think the track make any difference as Oulton Park has been good for me before, and we had good tests at Knockhill, so that would suggest that whatever track we went to next, the problem is going to create the same level of misfortune no matter which track.
"If anything it is worst to go to Brands Hatch next as it is a track I would like to continue my success rate at! If I have a similar problem, I might be able to ride around it a bit better, but I don't think it will be me racing the best bikes and riders in the championship where we should be.
"I hope that we can find a solution before Brands Hatch and just crack on as normal and just get things how they should be. It's a couple of tenths between winning and where I have been these last few races, it's the same amount of effort, but a couple of tenths is all it takes because of an issue to be finishing where we have been."
Danny Buchan – Synetiq BMW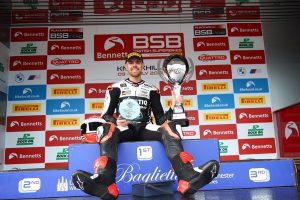 Danny Buchan became the third different race winner in the 2021 Bennetts British Superbike Championship at Knockhill, claiming the first victory for the new BMW M 1000 RR, and awarding the TAS Racing team their first win since Michael Laverty at Thruxton in 2016.
Buchan arrived at Knockhill as the only rider on the current grid who had been victorious at the Scottish track previously, maintaining the circuit as a happy hunting ground again in 2021. Now as the championship chase arrives in Kent, can the SYNETIQ BMW rider carry that momentum to Brands Hatch?
"I hope that we can carry the momentum from Knockhill into Brands Hatch," said Buchan. "It's a difficult track. I don't know what it is about Knockhill, maybe my size helps, but I just seem to get on with the track. What we had last weekend was obviously amazing, the bike was working fantastically and it is a credit to the team as they gave me an easy bike to ride.
"That was good, I know I had a lot of expectation put on me there, but to be honest I was ignoring that because with a new team and bike, it was unproven at Knockhill. The same with any track really; look at Oulton Park; Pete [Hickman] rode really well on the BMW and was on the podium."
After the opening round at Oulton Park, Buchan had bagged a best result of fourth place, but admits that he didn't expect to have been in the position he is ahead of round three.
"I went to Knockhill open minded and focusing on the championship and being there at the end. I had hoped for three strong rides, I didn't realise I would have such a strong pace there," reflected Buchan. "We had a good test there, but the bike is improving all the time I am riding it, so I have to thank the team for that.
"If someone had said pre-season that we would be winning at round two I probably would have laughed to be fair! I had always hoped that we could be on the podium at some tracks. I haven't had bad results at Brands Hatch in previous years looking back. I think some of the other bike will be strong there because of the way the engine works, but I think the BMW can be strong too. I am looking forward to seeing where we can be stronger.
"I think it is going to be more difficult at Brands Hatch as we haven't tested there like we had at Oulton Park and Knockhill, but we all know the track well and it should click straight away and it will just be like being home again."
Coming off the back of his first double win last time out, expectation is high for the SYNETIQ BMW rider now to prove that he can repeat the feat again, but admits he isn't fazed by his current position.
"I expect myself to do well at every round so to have that expectation from other people going into Brands Hatch doesn't bother me, as I always expect more from myself than anyone else could anyway," added Buchan.
"The championship is massively important and you could see from Knockhill I did pull a few harsh or brave moves, however you want to put it, but this is a championship and I need to take as many point as I can, when I can. I knew I had to get through to win those races and the championship is always at the forefront of everything you are doing, so at Brands Hatch we need to take what we can, when we can. If we are only good enough for a top six we take that, if we can be there fighting for the win, then we fight.
"I think it's going to be crazy next weekend! Everyone is going to be aggressive, everyone is out to win at the minute and stamp their authority. We all want to win as many races as we can and I don't think that will stop any time soon!"
Jason O'Halloran – McAMS Yamaha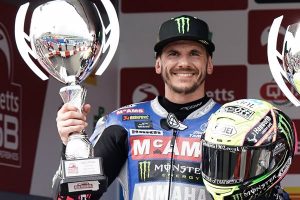 Jason O'Halloran lost the lead in the Bennetts British Superbike Championship standings at Knockhill when he crashed out of the action in the second race of the weekend, but the McAMS Yamaha rider admits that despite a DNF, he was happy with the results in Scotland given his previous luck at the circuit.
Before last weekend, O'Halloran had failed to stand on the podium at Knockhill and the Australian contender was determined to turn that around – which he did in the opening BikeSocial race of the weekend with a strong second place.
"To be honest, and I know it will sound pretty odd, but I was really happy with how Knockhill went because for the first time ever that I have raced there, I had speed," reflected O'Halloran. "I obviously got pole positon and showed when I started at the front, I could race at the front, with the second place in race one.
"It was just unfortunate in races; in the first one for instance I was think about winning the race, I wasn't thinking about a lap time as I was saving the tyre and get a result in the race, so that didn't give me an ideal lap time, which wasn't great for race two."
O'Halloran had been fighting his way through the field in race two when he crashed on lap 11, which again then put him down the order on the starting grid for the final race of the weekend.
"I started ninth in race two and I got a decent start and then I was in a battle," added O'Halloran. "I passed Taz at the Hairpin, but then ran really wide. I was struggling to get the bike stopped and then I got passed by Gino and Bradley Ray where I ran wide and then I got in a battle with those guys for a bit too long really.
"I managed to get through them, and I wasn't in so much of a rush to catch the others ahead, as I had plenty of time, but I wanted to get away from them so they didn't have a chance to try and make a pass again. I just made a small mistake into turn three; I went in a bit too fast and tucked the front, which was a shame.
"Obviously crashing out on lap ten, meant that my lap time I had done was behind people, so I was a tenth off pole but started ninth. That set me up for the next race, which isn't the end of the world, but when the lap times are so close, it makes it really tricky to get through and the closer to the front, the harder it is."
In race three O'Halloran had been carving his way up the order and was confident that he could have been in the mix to score even higher, had it not been for the red flag which bought a premature end to the race.
"I had a good race with Tommy and a few of the other guys and managed to get ahead of them with about six or seven laps to go and then the race got stopped a little bit early which was a bit of a shame," said O'Halloran. "It was what it was and to get a second and a sixth was pretty good for me there. I think the biggest thing I can take away was not so much the results, but that I had the speed, which I have struggled to have there in the past, so I think that sets us up for a good couple of rounds coming up really."
Next up in the title fight is the third round of the season at Brands Hatch and a circuit where O'Halloran was victorious last October in an epic dogfight between the title contenders.
"I think Brands Hatch will be a really good round for us and the circuit is a lot better for the McAMS Yamaha than Knockhill is, and has also been a strong track for me in the past," said O'Halloran. "Obviously winning there last year was good and we have improved since then as well, so we should be in a really strong place.
"Although I am going to Brands Hatch confident and thinking that we can win as it's a strong track for me, it is also a strong track for a lot of other guys too, so I think we will see some really good racing like we had at the end of last year there. You know, it will be close and as tight as ever and I think it will be probably some of the best racing we have seen this year or last. I think with the crowds coming back, it is going to add a new element to it with the atmosphere, getting everyone excited and I can't wait to get started!"
Rory Skinner – FS-3 Racing Kawasaki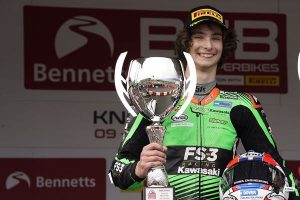 Rory Skinner has rapidly ascended to the forefront of the Bennetts British Superbike Championship following his performances at Knockhill last weekend, when the rookies claimed a pair of podium finishes at only second event with the FS-3 Kawasaki team.
Skinner made his Bennetts BSB debut this season after a dominating title victory in last year's Quattro Group British Supersport Championship, stepping up from competing as a privateer team with his father the year before, after taking the decision to join the class following title victory in the 2018 British Talent Cup.
"I never thought two years ago when we were running our own team in Supersport with a privateer Kawasaki, that now we would be standing on the podium at Knockhill with the factory Kawasaki team," reflected Skinner. "That was never even on the horizon at that point; I suppose me and my Dad and everyone around me have always just taken it one-step at a time and race-by-race. We did look at the bigger picture, but it wasn't the constant focus. We never put too much pressure on us, we just let me do the best job I could do and then see what happened from there."
The podium was the first for the new Kawasaki Ninja ZX-10RR and the opening second place finish for Skinner was incredibly in only his fifth race in the Superbike class, showing his ability to rapidly adapt to the new challenge.
Speaking after reflecting on the past week, Skinner added: "Obviously getting the podiums on Sunday I knew there would be a reaction that would come with that, it has been hectic, but nice and I am so grateful for all the kind messages of support from people all over the world as well as in the paddock."
Skinner had admitted before the weekend at Knockhill that he would have been happy with a top ten finish at the second round, but the young Scottish rider exceeded all expectations.   
"The races were pretty crazy and with the schedule it was a hectic weekend, but it was the same for everybody," reflected Skinner. "I said before the weekend that my goal was a top ten and that was a genuine, realistic target. I wasn't underplaying it; if I had been in the top ten I would have been over the moon, the top five would have been amazing, but to be right in fighting for the win over 20-laps, I never ever thought that would happen!
"I am going to continue to keep taking it as it comes; there has never been any expectation or pressure, other than aiming for the top ten and then the top five, and then in the first race I had already achieved that, so the rest of the weekend was just a bonus!"
The Championship now heads to Brands Hatch for round three and the FS-3 Kawasaki rider is staying grounded despite his early season success.
"The confidence I have from Knockhill is awesome and a nice boost to competitively ride with the guys at the front," said Skinner. "For me if I can get in the Showdown that would be awesome, but it is still so early in the season and I have so much still to learn about the Superbike that I am under no illusions. I will give it everything I can and I have a great team around me, who will be giving me every opportunity."
Christian Iddon – VisionTrack Ducati
Christian Iddon leads the Bennetts British Superbike Championship standings ahead of this weekend's third round of the season at Brands Hatch, with a victory and a further three podium finishes, he holds a narrow six point edge over Jason O'Halloran.
Iddon added a second victory to his career tally at Knockhill last time out to claim the VisionTrack Ducati team their first win of the season, which he followed up with a pair of fourth places.
"It was definitely nice to win at Knockhill, not that I was surprised to win because I expect it, but I hadn't felt that great on the bike all of that day, so it was a good start," reflected Iddon. "Then when I watched the race back in the evening, I thought 'yeah that was good', and a strong start.
"On Sunday, it was obviously a bit different as we ended up with two fourths, which was disappointing really. In race two I lost the place to Tarran on the last lap, but what I should have done was be more aggressive and attacking, that might have held him off, that was my little error.
"In the last race I just fell afoul of the timing with the red flag, as Danny had just pushed me a bit wide and it just so happened the red flag came out, but by the way it happens, I wasn't then in a podium position. That was frustrating as I felt that the race was coming to me a bit, even though I had just had the wrong end of the racing bit, I was getting ready for the last five lap battle, which I think would have been a good one."
Iddon's confidence is high; a trio of second places at the season opener, before victory at Knockhill puts him in a strong position and currently lead the charge for the title-defending team.
"I think I would have been on the podium in race three – it might be easy to say that once the race is done, maybe I wouldn't have, but I definitely felt that I would have been somewhere on that box," added Iddon. "That would have been nice to have come away with another trophy on the Sunday, but it was another strong performance and to be leading the championship is cool feeling."
On the last visit to the Grand Prix circuit, Iddon twice claimed a podium finish, and only narrowly missed out on celebrating another, so is eager to maintain the form that edged him ahead at Knockhill.
"In all honestly and I know I say it a lot, I always approach every event the same – I just go out and give my best and hope that we have a good first free practice, as that always sets the stall out for the weekend really," said Iddon. "By that I mean you can sometimes turn up to the track and feel the flow, but other times you don't and you generally know within the first ten laps.
"I always hope I get that first good feeling, which so far we have done at events, and I know that the VisionTrack Ducati worked well at Brands Hatch last year and I believe that our set-up has improved since then. Even though we didn't have anything new to try, we have a different set-up and that should be good at Brands Hatch too.
"Knockhill has never been too good to me in the past and this year it was reasonably good. Brands Hatch has been a reasonably strong circuit for me and I know from what Josh does there, that the bike is super competitive there. I also know that other riders have very competitive bikes there, like the Yam, and I expect a really strong weekend from Jason and probably more from Taz.
"But it is never easy – you never know what will happen until you get there and can never discount anyone, so I certainly won't be doing any of that and there is no room for complacency. It can be only a moment in time that you're in that position, so I am planning to keep it there for as long as possible."
Glenn Irwin – Honda Racing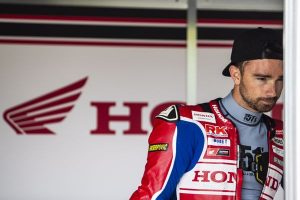 Glenn Irwin is determined to get his Bennetts British Superbike Championship campaign back on track when title fight reaches Brands Hatch this weekend (July 24/25), as the Honda Racing rider prepares to claw his way back up the standings.
Glenn Irwin led the standings for the majority of the 2020 season, but so far this year it just hasn't gone the way of the Honda Racing rider, who arrives at round three with a best result of sixth place and holding 12th position in the overall standings.
"Testing was obviously good in terms of we were able to be fast, so I felt really good," said Irwin. "Confidence-wise on the bike, I feel equally as strong as last year, but struggling a bit like at Knockhill, I have struggled a lot. I don't want to use the word fitness because I feel fit. I have done a lot of good work over the winter, I am strong, but something has happened if that is the best way of putting it. I am really drained at the minute and it has been a struggle."
The Honda Racing rider though is feeling positive ahead of the return to Kent this weekend, following the previous event at Knockhill as he bids to close the deficit.
"In saying that there has been a lot of positives to take as well so far this year. The bike at the end of Oulton Park and Knockhill was good and that is pleasing because Knockhill especially was a new circuit for us compared to 2020, added Irwin. "Our race pace in the last race was really good – I compared my sectors to those riders in the top five in the race, and we were right with them. We were very close in sector one, right with them or maybe stronger over an average in sector two, but we seemed to lose a lot out of the Hairpin, which we can take positively and look to improve when we go back there in the future.
"There are a lot of positives; the whole Knockhill weekend in general was tough physically but the last race from a bike and confidence point of view was good," reflected Irwin. "It is a case of we have tried a lot of different things this year so far without really realising how much we have tried! We have changed some things electronically as we need to go forwards not sidewards, but I feel maybe we went a little bit amiss, but in race three at Knockhill it was much more like last year and things felt normal. I think we need to be consistent together, as when the bike is consistent, I can also be consistent."
Arriving at Brands Hatch, Glenn Irwin is hopeful that he can fire himself back into the forefront of contention, at a circuit that proved to be the toughest for them last season.
"Overall I am not too disappointed as there have been glimpses of what it can do and Knockhill race three was a good example of that," said Glenn Irwin. "I went through and picked someone like Christian [Iddon] as he was having a strong race and I took out our four worst sectors in sector one and the same in sector two and three.
"Over a 24-lap race I looked through our 20 best in each sector and I lost seventh tenths to Iddon in the first one over 20 laps, but I gained four tenths in the second one and lost two seconds at the Hairpin! It shows how we are looking at it and analysing it; we are not a million miles away and the bike is good, I just have to get to the bottom of what's going on with me as it is frustrating.
"My feeling is we go to Brands Hatch now with where we left Knockhill in terms of the package and discovering something new with the chassis which seems to help us use the SCX tyre, so we go there and roll with that. We will work on our weaknesses from last year and maintain our strengths.
"I definitely do think that I can start my bid for more from here, of course you have to be in the Showdown before you think of anything else. The beauty of the Showdown is that I am only 18 points behind [eighth place]. Last year it was good having no Showdown in the position we were in but this year it's great having it!
"Of course we can start to build a tally of points and we go onto Thruxton where Andrew [Irwin] won on the old Fireblade, and wherever the old bike was good, the new one seems to be better.
"Then it's not long until Cadwell Park for our home round and all of the tracks we showed strongly at last year like Donington Park, so of course I would love to be better off right now, but I am not pressing the panic button! I have seen enough glimmers to show our positives and in my eyes one of the best teams in the paddock, if not the best, with a great motorbike and I am only going to get stronger."