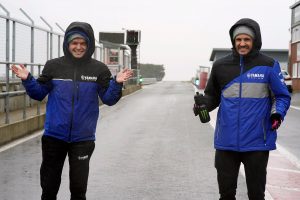 The second Bennetts British Superbike test of 2021 at Snetterton proved a frustrating one for the McAMS Yamaha team with the Great British summer interrupting proceedings throughout the three days.
 
The test was set to be a busy affair with the opening day on Tuesday to be a full, open pit-lane session for Superbike teams but with gale force winds and rain throughout the day, nobody turned a wheel.
 
Things looked a little more promising on Wednesday with the sun shining over the Norfolk circuit in the morning, albeit a little cold. With the second two days split into sessions, the BSB riders headed out on track for the first time at 10:30, although overnight rain and the cold temperatures left the track in sub-optimal, cold and greasy conditions. A further 30-minute session at lunch time saw better conditions, given the short session times the team was not able to get through a lot with both riders completing just a handful of laps each.
 
The heavens then opened rendering the final session of the day on Wednesday a write off, while further poor weather on Thursday led to the team calling it a day and heading home.
 
With the way the sessions fell, Ian Hutchinson and the Edwards 1902 Yamaha Superstock team managed a couple more sessions on track which proved fruitful for the Isle of Man TT start, who ended Wednesday tenth quickest, just 0.8 seconds off the top.
 
The team will be back in action at Oulton Park in just under two weeks' time, hopefully in better weather!
Jason O'Halloran
"It's been a frustrating few days as we were really looking forward to testing at Snetterton after a great test at Silverstone last week, but the weather just hasn't been on our side. Out of the two half our sessions we did get, one of them the track was still too cold and damp and in the second session we had to make some changes mid-session and with them being so short we weren't able to get back out and unfortunately that would be the last dry session! It's a shame, but hopefully the weather picks up in the time before now and the Oulton test." 
Tarran Mackenzie
"There isn't much to say really! Silverstone went well for us so we were looking forward to getting out at another track but the weather just hasn't been on our side here. It's a shame but there's nothing we can do about it, we've got some extra time on track scheduled in for Knockhill in June so now we just need to hope that the weather improves because you'd think it would be a lot better than this at this time of the year!" 
Ian Hutchinson
Edwards 1902 Yamaha – National Superstock
"I was lucky to get a few more laps than the superbike boys but even then we didn't get much time on track, 20 or so laps. The good thing is we managed to make a bit of a step forward with the bike, between the two sessions on Wednesday we made a big jump and things started to click. I was really happy with the time we did, all in all I've barely had any laps on the bike so far and we're already somewhere close so if we can keep making that kind of progress I'll be happy." 
Steve Rodgers
Team Principal
"Unfortunately it's just been one of those tests. You would think in early May you'd get at least some decent weather for a three day test, but it just hasn't happened for us here. If it was just wet, you might consider heading out to get some wet weather track time but the track temperature was as low as three degrees this morning, so the risk is far higher than the reward when we have such an intense season coming up. Hopefully with Oulton Park being a couple of weeks away, we'll be seeing the kind of weather you'd expect to see for this time of year. It's frustrating but there's nothing we can do about it."