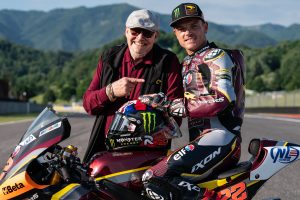 An exciting new chapter in the illustrious history of the Marc VDS Racing Team will start in 2024, with the squad thrilled to confirm it will compete in the World Superbike Championship for the first time with Sam Lowes and Ducati.
Briton Lowes will change competition but not livery for the latest challenge in his successful career, as he prepares to move to WorldSBK to ride a Ducati Panigale V4 R.
For both Lowes and Marc VDS Racing, the switch to WorldSBK together is the continuation of a fruitful relationship that began in the 2020 Moto2 World Championship. The 32-year-old has so far collected seven wins, 15 podiums and 12 poles in the world-renowned Marc VDS Racing Team livery.
Lowes has previously raced in the WorldSBK paddock when he won the 2013 World Supersport title, and he's determined to end his 10-year stint in the Grand Prix arena in style, starting with his home round at Silverstone in early August.
The new WorldSBK project is born with the clear goal and ambition of replicating the Marc VDS Racing Team's stunning success in the Moto2 World Championship where it has raced to over 100 podiums and taken three world titles in 2014, 2017 and 2019.
The Marc VDS Racing Team has been a constant presence on the Moto2 grid since the new category was first introduced in 2010 and currently leads this year's title chase with Tony Arbolino. And the squad is delighted to confirm it will continue its quest for more success in Moto2 in the 2024 season and beyond with a two-rider effort.
MARC VAN DER STRATEN, Team Owner
"I'm delighted and ready to begin this new adventure in the World Superbike Championship. And it gives me even more pleasure to do it with our great rider, Sam Lowes. I'm also very proud to start this new adventure with Ducati, which is undoubtedly the bike to be on in WorldSBK. This opportunity for expansion comes at the perfect time. After 14 years in MotoGP, where the Marc VDS Racing Team has shown great potential, we are ready to face a new challenge. We have competed in Moto3, Moto2, MotoGP and MotoE and won three titles. And our commitment to Moto2 remains as strong as ever and I look forward to enjoying a lot more success in the future in a class where our journey on two wheels started. Moto2 has been the platform for us to gain a wealth of experience to continue growing and replicate our achievements in another world-class championship like WorldSBK. As this is a long-term project, we'll be aiming to adapt quickly, so that we can get to the front of the pack as quickly as possible. It's also a source of pride to be taking this step with Sam Lowes, a great rider who has shown what he's capable of in Moto2, and who shares our team's values and know-how. Finally, counting on Ducati's experience and success completes a package that has everything to be perfect and exciting! I hope the whole Marc VDS family will be as happy as I am and that, as always, we can count on their support!"
PAOLO CIABATTI, Ducati Corse Sporting Director

"We are very pleased to welcome the Marc VDS Racing Team in the Ducati family for WorldSBK 2024! Marc VDS is one of the most professional and successful structures in the Moto2 World Championship, with three world titles won, and their participation in WorldSBK next year with the highly competitive Panigale V4 R will surely add more value to the whole championship. I would like to personally thank, also on behalf of Ducati Corse, Marc Van Der Straten for his trust and commitment to this exciting new racing project together with Ducati."
SAM LOWES
How excited are you to be taking on this new challenge in WorldSBK?
"I have a lot to learn with the new category including the bike, the tyres, and some new tracks. But I am very motivated and excited for this opportunity. I am very open minded and ready to adapt and learn what I need to be competitive in WorldSBK."
What are the key factors behind this decision?
"I always had a goal to race in World Superbike and after winning the World Supersport title in 2013 it was a normal step. But I chose to try the Grand Prix paddock. I'm happy and proud that I've had such a good GP career, and I've enjoyed it a lot. But I feel now it's a great time to move across to WorldSBK to try a different machine and learn how to ride a superbike. I also believe in myself and know I can achieve good things."
What does it mean to you to start this adventure with your current team?
"It's a privilege to ride for Marc VDS Racing Team and to make this step together is a great feeling, as I am sure it can be a strong and top team in WorldSBK as well. I am very grateful to Marc van der Straten for trusting me to start this new project. We have a great relationship; we have achieved some nice things together and we aim for many more!"
How much are you looking forward to riding the Ducati?
"The Ducati is performing very well in many categories now, and they are doing an amazing job. To be able to use their bike will be great and if you look at the history in WorldSBK, many British riders have had amazing results with Ducati, so it's already a big motivation for me."
How determined are you to finish your Moto2 career strongly?
"We still have 12 races to go this season and I'm a little sad to only have that many left as it's an amazing class. We have shown good speed this year but not quite got the end result every weekend. I have some goals I want to achieve and some stats I want to my name. I'm fully motivated to finish in the best possible way. We are leading the Team Championship and I want to fight for top three in the overall rider standings and help win the Team title. That would be a great end to my GP career."